We are getting SO close to the Olympics, and I am getting pumped! Jenny and I loooove the Olympics (so much so that we once photoshopped our faces on the bodies of Olympians. What? That's totally normal!) and we are both eagerly awaiting the upcoming games.
Which, as an aside, Jenny – what were you thinking scheduling your wisdom teeth extraction for today? You should have waited and made sure your couch-time was spent watching the skeleton!
So, while I'm sure ALL of you are totally with us in terms of anticipation, just in case you're not, here are a few things to get you excited.
First of all.
There. I'm done. If that doesn't convert you to an Olympiaholic, I don't know what will.
Except here are some more things.
There's now a TEAM Figure Skating competition. They've taken the most popular Winter Games event and made it even better. Here's how the US Figure Skating Association describes it:
Each team will consist of one lady, one man, one pairs team and one ice dance team to be selected from athletes who have qualified in their individual disciplines. Each team, however, will be allowed to make up to two exchanges after the short program/dance. Selected athletes named to the U.S. Olympic Figure Skating Team will compete in their respective disciplines in the team event. The team event will consist of the 10 best national teams from NOCs/ISU members. The five teams with the highest number of points after the short program/dance will qualify for the free skate/dance. In the team event, athletes will receive points based on their finishes in each segment of competition. So. Freaking. Cool.
If only the team contained these two.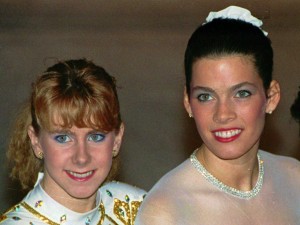 Other new events include Women's Ski Jumping, Biathlon Mixed Relay, and Luge Team Relay.
Also, keep an eye out for:
Here's a list of 10 female athletes to follow on Twitter and/or Instagram. The hashtag is #Sochi2014, in case you were wondering!
And finally, here's a link to my #Sochi2014 pin board, complete with tons of brilliant ideas that I will probably never get around to implementing.
What events are you excited to watch from Sochi?