Each evening since Friday, my family and I have put on our jammies and headed downstairs to watch the Olympics. The time we've spent cuddling on the couch together… all four of us, me sans the computer (I know, my family can't believe it either)… combined with my general love of the Olympics… it has been, in a word, perfect.
However, I have a few comments regarding the Olympic games. Isn't there a comedian whose thing is "What's the deal with that?" (Ok I just asked my husband that question and got a monologue about what a genius Jerry Seinfeld is.) In any case, back to my Olympic observations – to quote Jerry Seinfeld … "What's the deal with that?"
First of all, what is the deal with all the figure skaters being married and/or otherwise attached to their skating partners? When we were watching the short program the other day, it seemed like they described every team as "a couple on and off the ice." For example…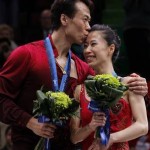 The gold medal winners, China's Zhao Hongbo and Shen Xue – married. And tell me this isn't the cutest picture ever.
The whole time I was watching the competition I was wondering how it is that all these couples find each other. I mean, do they pair up first? One day is the guy like "What do you want to do this weekend?" and the girl's like "I don't know. How about we become professional figure skaters?" Or is it more like "Since I spend three hours a day with my hand in your crotch anyway, let's get hitched!"? I don't know.
Also, what is the deal with the X-games champs who are competing in the two billion-year-old tradition of the Olympics and still can't bear to leave their freaking iPods at home? Seriously, are we boring you? You can't make it down the mountain at 80 miles per hour without some kind of entertainment? They're probably texting and checking Facebook as well.
Finally, for the love of God, what is the deal with all the commercials?? Andy and I are trying to instill a love of the Olympics in our children, and for the 15 seconds per half an hour that NBC is actually showing athletes competing, our kids are all about it. For the other 29 minutes and 45 seconds, where it's one part stories of heroic triumph over adversity and three parts McDonald's commercials, you've lost them.
And really, while we're on the subject, if I see the one with the hockey coach telling his team "You played like Olympians, now let's eat like Olympians!" one more time, I might throw a shoe through the television. I am pretty sure an Egg McMuffin isn't the breakfast of champions.

What is the deal with that?