I've written before about our adventures with the kids' swim team – how Kate's first year we had no idea what we were getting ourselves into, then how we'd grown to love it, and eventually how we'd become a total swim team family.
Today I want to tell you about a swim team moment that will stay in my heart forever.
So, as background, last year Sam was not such a fan of swimming.
Here's how he spent most of the season.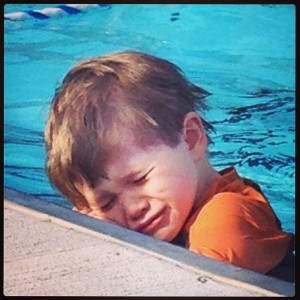 This year? He loves it. He wants to be at the pool all. the. time.
Last Saturday, Kate and Sam swam in a local invitational (Jenny, "invitational" means there were lots of teams competing against each other). It was an optional meet for our team, and our two were among five kids from the Gators. All season, Sam has been swimming in the "assisted swim" events, which means that he has had a coach-in-training in the pool with him. As the season has progressed, he's needed less and less assistance and had gotten to the point that the helper really wasn't even touching him as he swam. None of the coaches-in-training had made it to the invitational, but we were all sure that this time, he could do it on his own.
Before his first event – the 25 meter freestyle – he was pumped and ready to go. Does he not exude confidence?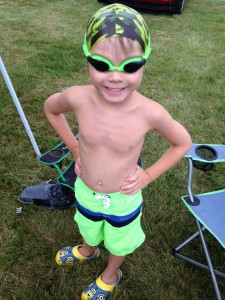 (Self-appointed) Coach Kate gave him some tips…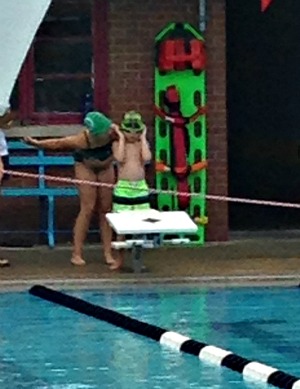 And he was off.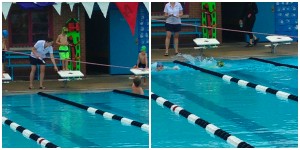 He did great. He put his face in the water, he kicked, he did "big arms."
For the first 30-ish meters.
Then he needed a breather, so he swam over to the lane line to hang on. At that point, the other kids (who all had helpers propelling them forward) were nearly to the end of the pool, and Sam was just a little more than halfway there. He looked around and saw that he was in the middle of the pool all alone, and he flipped out.
He clung to the lane line, looked at me and Andy and screamed "I can't do it! I can't do it!"
We both tried to reassure him, while at the same time motioned frantically to Kate to jump in the pool. It was probably 10 seconds, but felt like forever.
She had been standing by at the ready, and when we gave her the high sign she dove in and was by his side within seconds. When she reached him, I heard her say "Hi buddy, need some help?"
With Kate there, Sam decided to give it a go. As he swam – the only kid in the pool – all the parents, coaches, and other swimmers encouraged him. When he finally reached the end of the pool, the entire place broke into cheers and applause.
I was in tears.
Days later, I still can't talk about it (or, evidently even write about it) without getting choked up.
I don't know what it was, exactly, that made it such an emotional experience for me. I guess it was just the combination of things – seeing Sam in distress, watching Kate respond so quickly and assuredly, and witnessing so many people – complete strangers – support and hearten my little boy… it about did me in.
It's something I will never, ever forget.
And when Sam's backstroke event came around, Kate wasn't taking any chances. She was right beside him, just in case.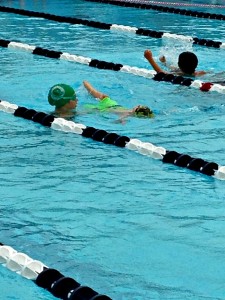 That's really all I want for them. To know the other is there, just in case.