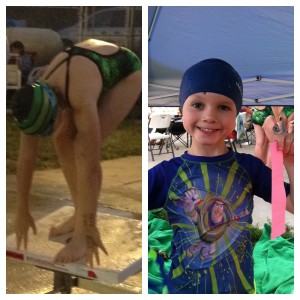 We're about halfway through summer swim team season, and I am going to be sad to see it end. This is the fifth summer Kate's been on the team, and the first year Sam's gotten to participate – officially, anyway.
I say "officially," because with swim team, the entire family participates. Needless to say, I'm not doing laps of the butterfly, but we really are all involved. Whether it's setting up our little campsite, volunteering as a timer or a cat-herder (otherwise known as clerk of course), or making sure no one misses an event, we're all a part of the team. That's what I love about swim team more than anything else – it's a family activity.
Swim team takes a lot of time – there are practices every day, and the meets last for hours. It's a whole bunch of hurry-up-and-wait – I remember calculating the time Kate actually spent in the pool vs. the time we spent AT the pool at last year's championship meet, and the ratio was something like 2.5 minutes : 12 hours. But during all the time that we're sitting around waiting, we're spending time with each other and with dear friends. It's a few hours of screen-free (ok, I have my phone with me at all times, I will admit) outdoor time for all of us, and I love it.
And I really, really love to watch my girl swim.