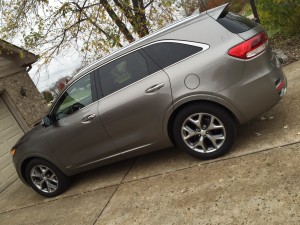 I recently had the opportunity to drive a Kia Sorento SXL 2.0T with all-wheel drive, and I loved it! It was super fun to have a brand new (incredibly clean) car delivered to my driveway… even though it was only for a week, I felt very fancy! It's a contender for 2016 North American Car & Truck of the Year for a week, and I can see why.
The Sorento has a very technologically-advanced feel to me. Andy and I kept talking about just how much information is available on the dashboard.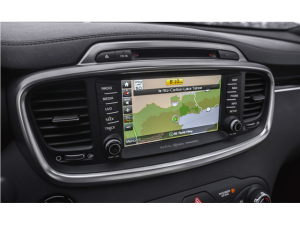 As you can see, it's got a great display for a GPS (why yes, I do drive to the Ritz Carlton in Lake Tahoe frequently. I told you I was fancy. Okay fine, I stole that photo) and it's set up for Pandora, among other things. It was really easy for me to pair my phone with the bluetooth system. I know that doesn't sound like a big deal, but considering I haven't gotten around to digging out the manual to figure out how to do it in my own van, I was excited about that. I could even use Siri through the voice recognition in the car.
And get this – it shows the speed limit of wherever you happen to be. We are living in the future, I'm telling you.
However. I haven't told you the best part yet.
The camera.
Check this out.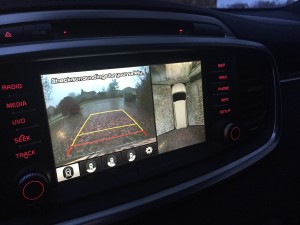 There are 360 cameras that show the entire area surrounding the car when you're trying to park. So not only can you see what's behind you, you can see what's all around. Which means you don't have to cross your fingers and hope you're not going to sideswipe the car next to you. (What? It can't be just me.) You can see the lines of the parking space. It is amazing.
To be quite honest, that camera/display system could be set up in a tin can and I would still love it, but the rest of the car was great too! My kids loved riding in it – they really, really wanted to keep it, actually. Andy and I enjoyed driving it as well. It drives kind of in between a car and a minivan. It is low enough that it was easy for my 90 year old grandma to get in and out of, but it is high enough to not break your back putting babies in a car seat. I'm a little past that stage of life, but I remember it well!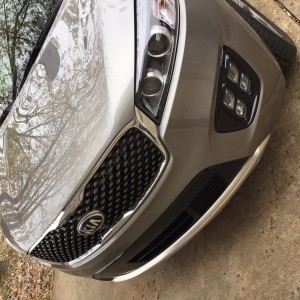 Learn more about the Kia Sorento here, and follow Kia on Twitter!