I am participating in a sponsored campaign with the Motherhood and OshKosh B'gosh. All opinions are my own. As are most of the children pictured in this post. Ha!
The official back-to-school countdown is just 14 days, people! WOOOOOOOHOOOOOOOO!!! Oops, was that too loud? Is my celebration a little too tacky? I DON'T CARE! I am so excited to get back to our school schedule, I can't even take it! Just to get in the spirit, we've already done some back-to-school shopping. The kids were really getting into the school supplies shopping! (Side note: I love the way Joshua is getting to be a ham as he gets older.)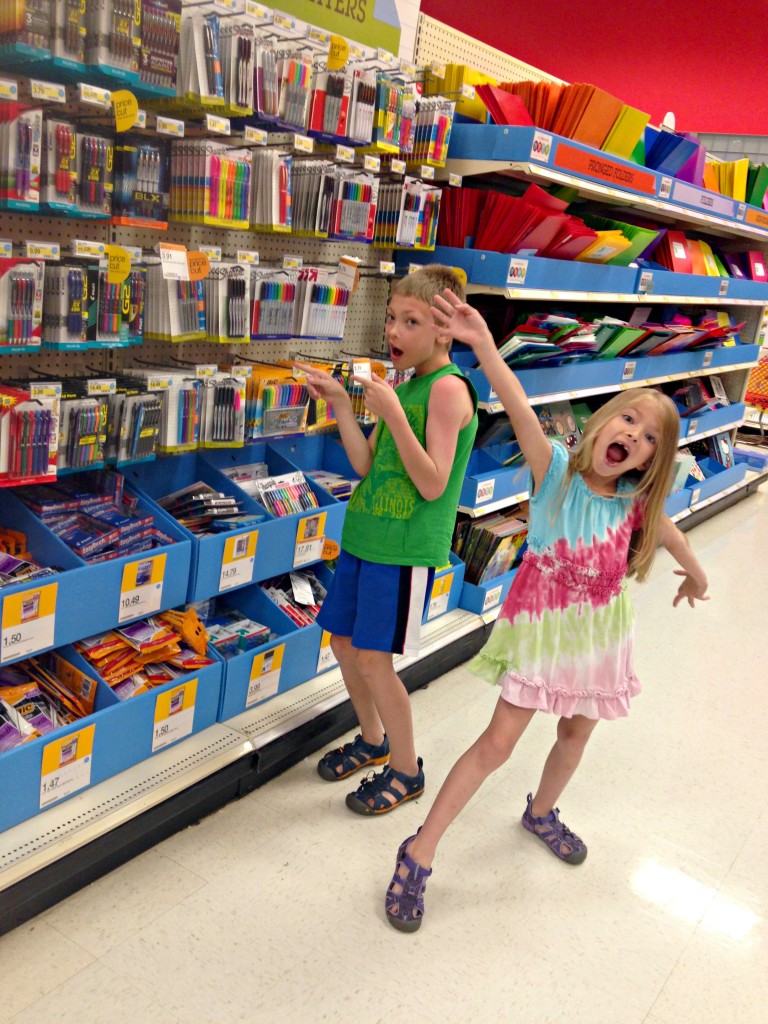 Man,  I love school supplies! Why is shopping for them so fun? Oh, I know, it's because it means THE KIDS ARE GOING BACK TO SCHOOL!
Soph enjoyed picking out her own folders.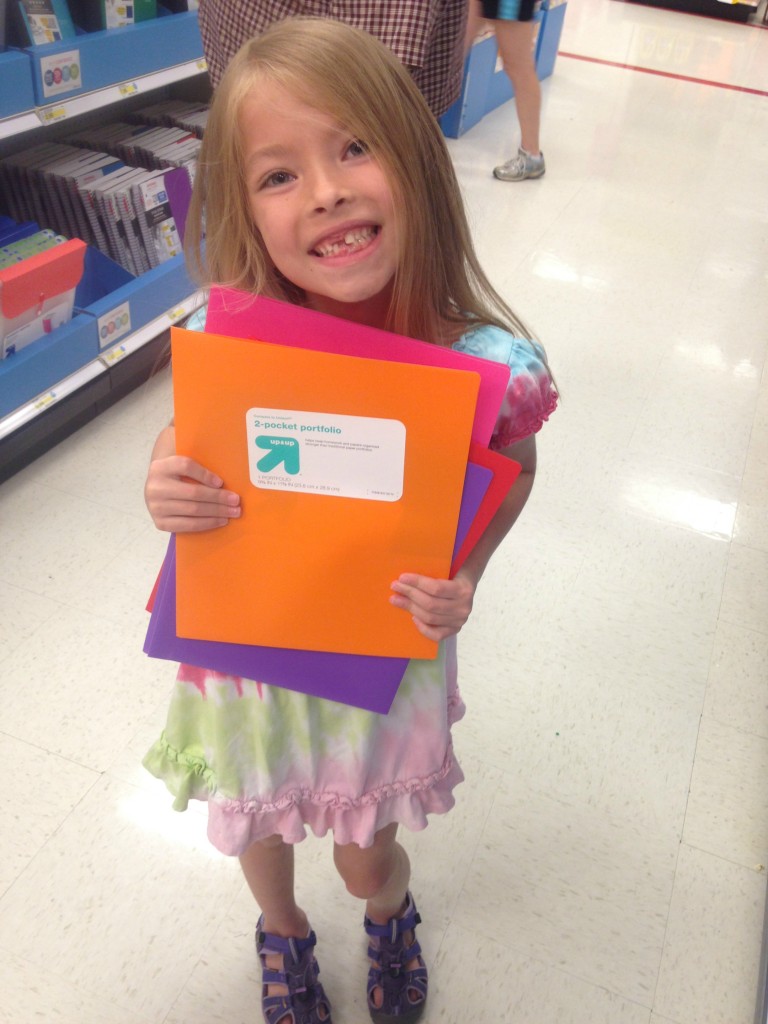 This girl still had all her teeth on the last day of school! She's lost THREE this summer!
But anyway, my very favorite part of back-to-school shopping as a kid was always shopping for clothes. I've always been a clotheshorse! And now I love shopping for my kids. As part of a sponsored campaign with the Motherhood and OshKosh B'gosh, I recently sat in on a learning session where I got some trend tips from the experts at OskKosh. I used to LOVE my OshKosh pink overalls when I was a kid – I loved them SO much in fact, that when they had bleach spilled on them, my mom dyed them purple for me so the bleach stain would be covered and I could still wear my beloved overalls! Classic I tell you! Well, the overalls will ALWAYS be in style, but here are a few other fashion trends that are big for back-to-school this year.

One trend I ADORE for girls is what OshKosh calls "TLC" – Tunic & Legging Collection. There's a whole slew of mix & match styles that are trendy, adorable, and oh-so-comfortable. When Sophie was in preschool she wore these styles A LOT. (Now she wears uniforms which we will get to in a second.) I also still love to put her in a tunic and leggings on the weekend. They are cute for church or just hanging out. L-O-V-E this collection!
Another comfy & cute trend is B'Gosh activewear. Sporty graphic tees mixed with super-soft track pants = win! For school, I almost always put Jonah in a comfy elastic-waist pant like these. And the B'Gosh styles make sure that active is also attractive!
Another trend you just can't go wrong with is denim, and OshKosh B'Gosh denim is on a hot special right now – just $10! I couldn't pass up the chance to get Jonah some jeans! Paired with this cute $5 graphic tee, that's a pretty trendy back-to-school look for a great price. And, it's so comfortable, he can run around and play in it. See?
(I am thinking maybe this kid needs to model!)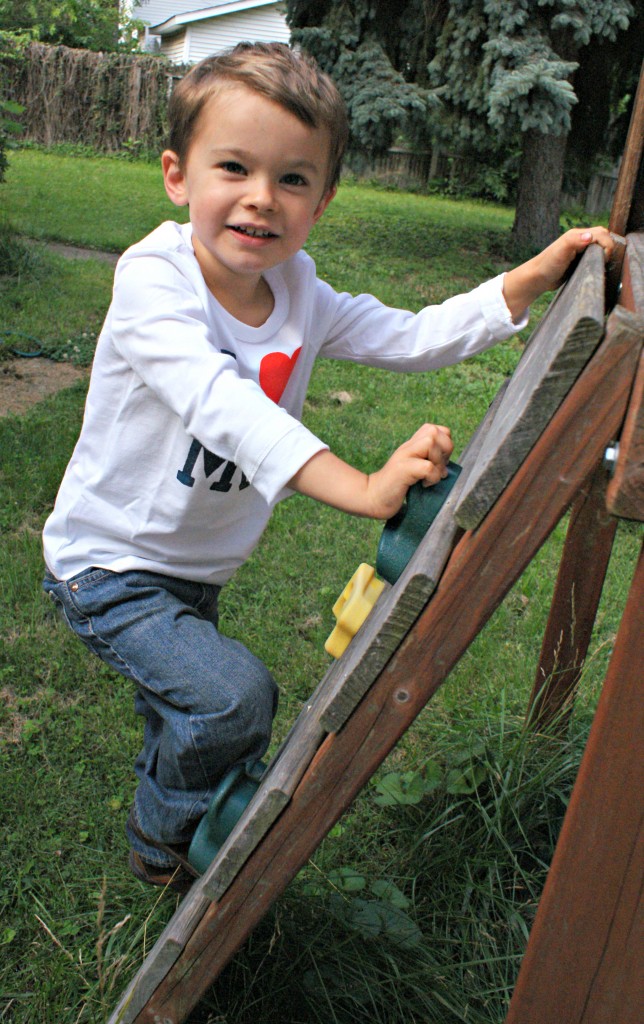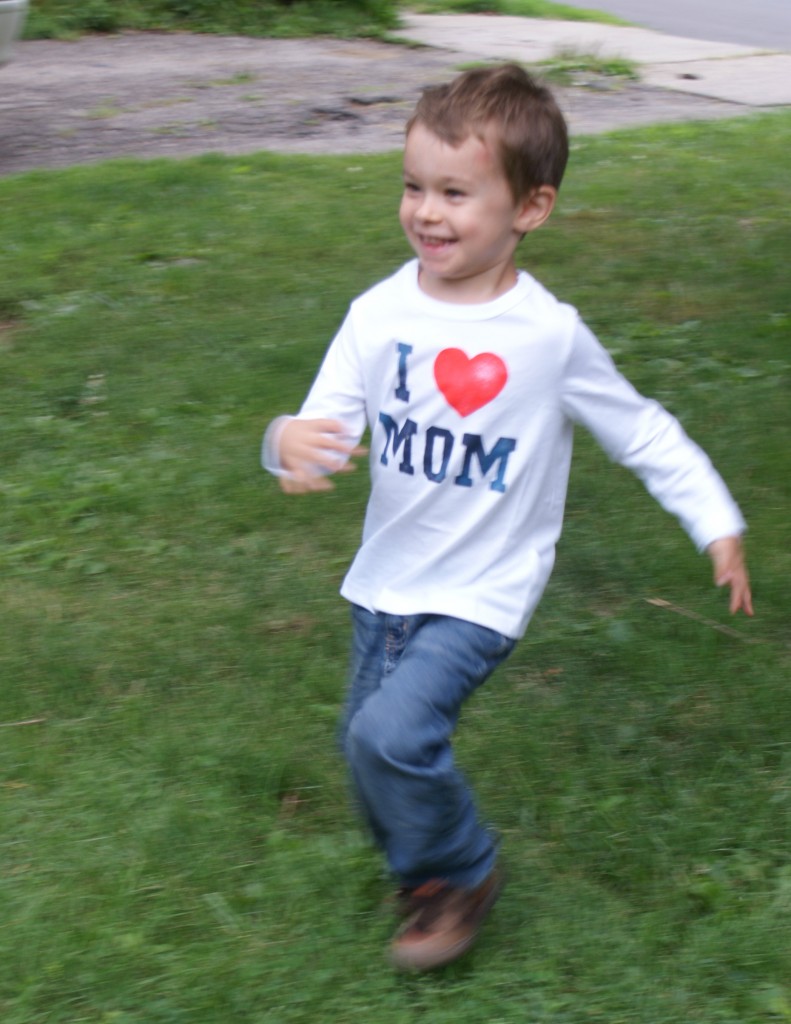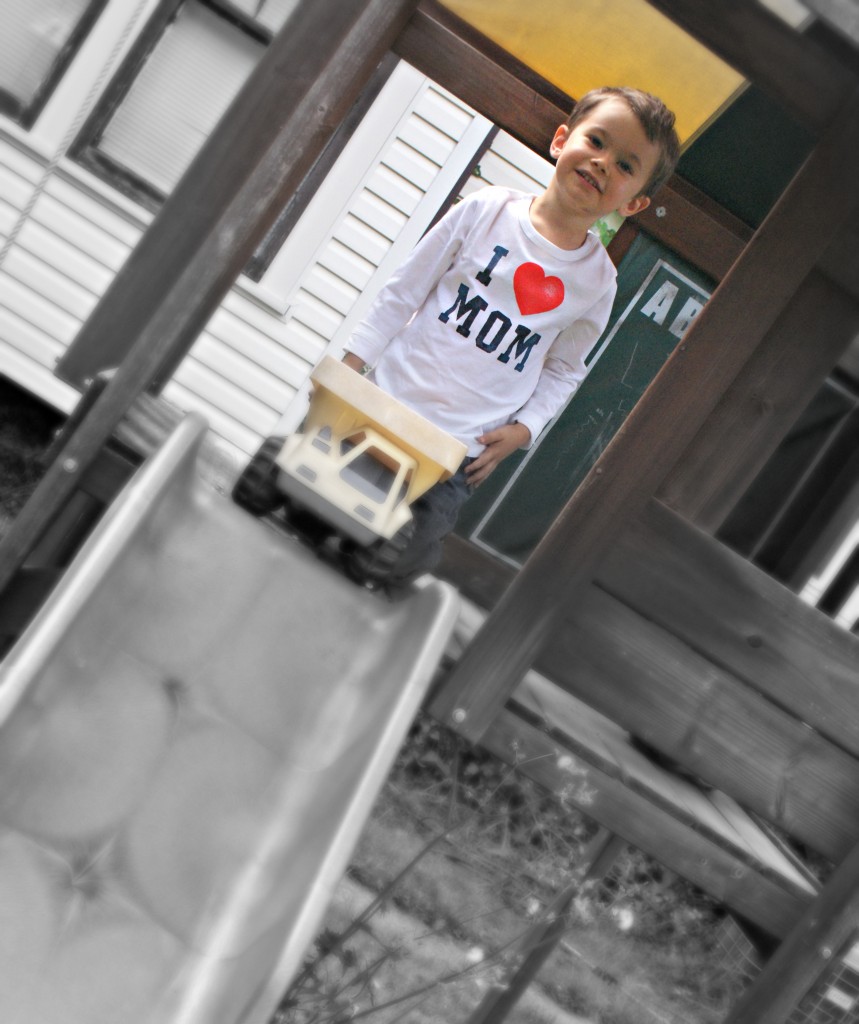 Isn't that just the CUTEST? Our church isn't very dressy so nice jeans like these are often the foundation of our "dressy" outfits. I think my boy looks pretty darn handsome!
As I mentioned before, Sophie wears uniforms, and fortunately her school allows her to wear some things that are totally cute and not boring! OshKosh B'Gosh has some adorable options! I chose this super-sweet polo dress for her. I love the hemline on the skirt.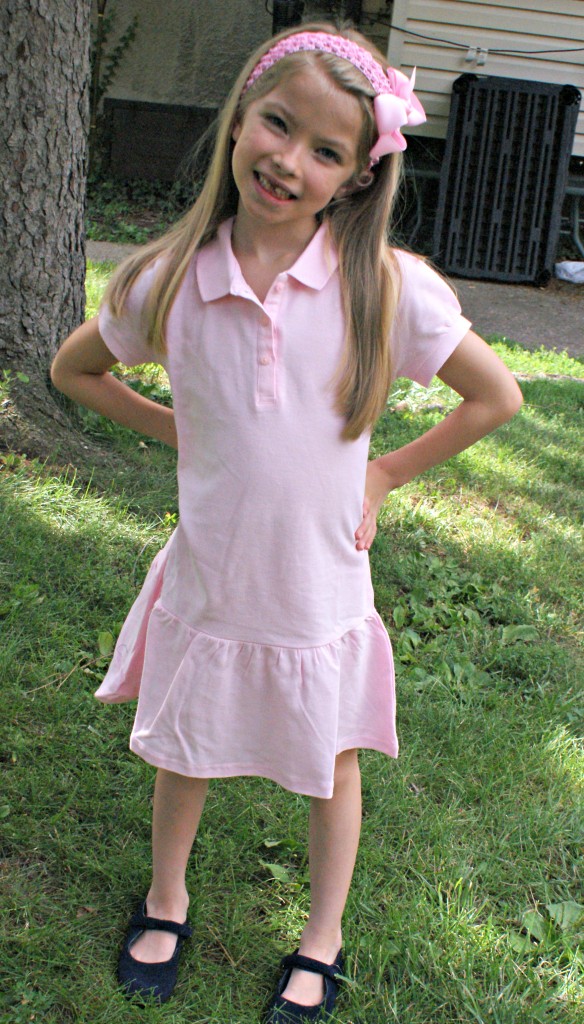 My big girl. I think she looks so sweet in this!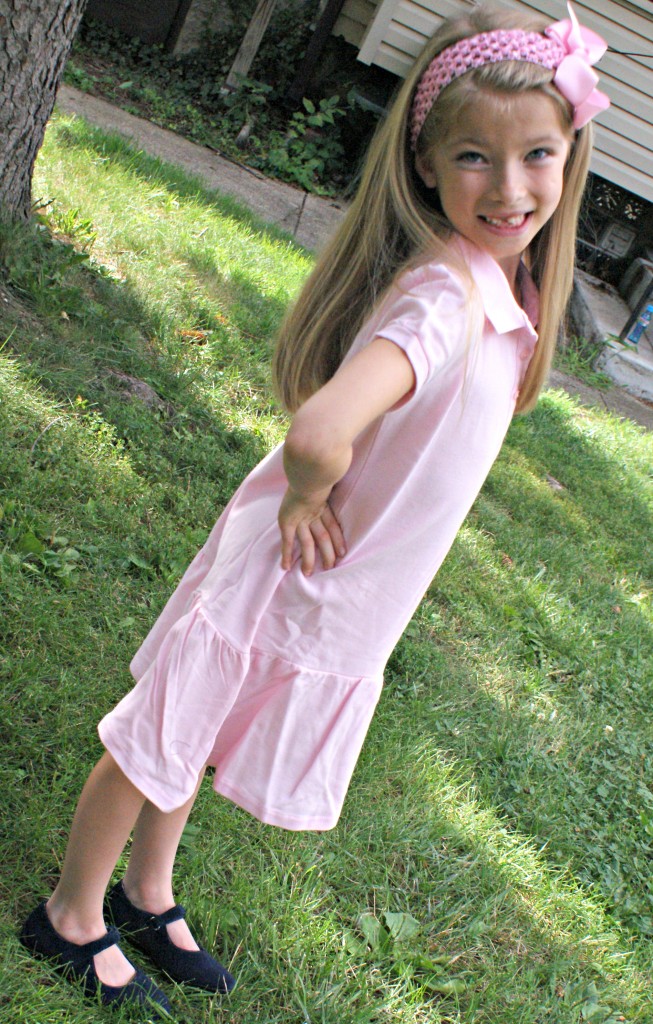 Of course I wanted to make sure she could run and play and be comfortable in this darling polo uniform dress, so she showed me that she could, for sure!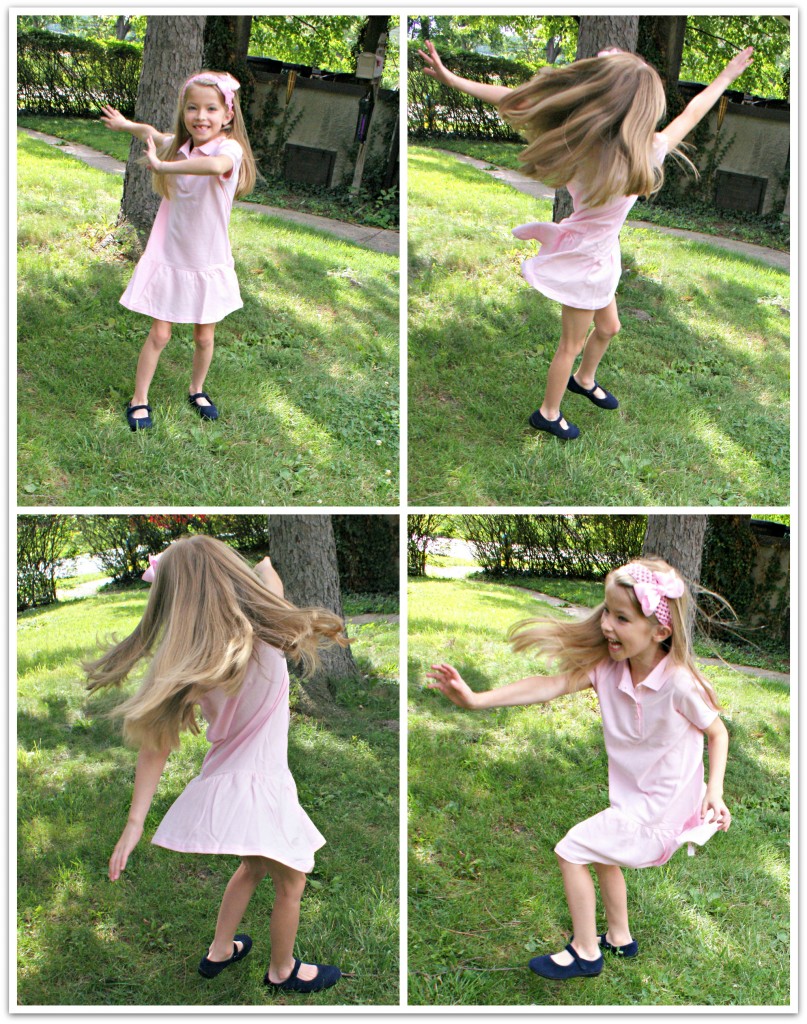 I am super-excited that my little kids are ready for their first day of school thanks to OshKosh B'gosh! You've got to go  online or get to a store near you for their big back-to-school sale – soon the entire store will be 50% off! WHAT? Crazy!
What favorite trends are sending your kiddos back-to-school in this year?