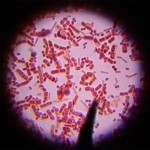 Photo by Kaibara on Flickr
Friday afternoon, my phone rang as Jenny, Cortney and I were lounging in our room at the Opryland. It was Andy.
"Oh no," I said. "Oh no. Oh no!"
As I hung up, I reported to them, "Kate is throwing up."
"Oh no!" Cortney and Jenny said in unison.
My poor baby girl had apparently picked up the stomach bug that was, based on the reports of other parents on Facebook, going around her school. Great.
An hour or so later, we were sitting in a session about blogging rock stars, and I was pretty pumped, so I tweeted this:
Getting ready to see my google reader in real life with @velveteenmind @bostonmamas @debontherocks and @mttsm #blissdom
In the middle of the session, Andy called. Of course we were sitting WAY in the front, but I left the room as quietly and quickly as I could.
"Sammy's puking his brains out," Andy reported.
And then I tweeted this.
Both my kids are at home throwing up and I suddenly feel very stuck in nashville #blissdom
I immediately started pulling up the schedule for Greyhound and the website for Enterprise Rent-a-Car. I really, really wanted to get home and take care of my babies.
Late in the evening, Andy called to tell me that they had stopped getting sick, and that I should just stay put in Nashville. I was truthfully glad not to board the Greyhound in a strange city in the middle of the night and in the middle of a snow storm, but the news of their sickness took a lot of the excitement out of the weekend for me.
I woke up Saturday morning with a sore throat, and by noon I was feeling pretty lousy. I spent most of the day in our room watching Toddlers and Tiaras (have you seen that? o.m.g.!!!!) I got up (at Jenny's urging. Or perhaps, insistence) and got dressed for dinner, and while I was sitting in a room with some of my very favorite people in the entire world, I wanted nothing more than to go upstairs and put on my pajamas. And watch more Toddlers and Tiaras. So I did.
I called Andy to check on the kids, and they were tired and worn out, but there was no more puking.
That is, of course, until Andy started puking.
So by the time I got home on Sunday, our house (though remarkably clean despite the weekend they'd had and with all the laundry done) pretty much needed a big black X on the door to ward off potential visitors. Actually we should have done that, because my grandma came to check on the kids and, bazinga, a day later she had the dreaded disease as well.
The kids and Andy, fortunately, were on the mend, but for me, the worst was yet to come. It turns out I had strep throat, which I hadn't had since I got my tonsils out circa 1989. Apparently it's one of those diseases that sucks when you're a kid but very nearly kills you when you're an adult. Or at least that's what it feels like. I really can't remember ever being that sick, it was awful. It felt like I was swallowing shards of glass. During the night on Monday, I told Andy it hurt worse than being in labor with Sam, and that was not an exaggeration. I would have done pretty much anything for an epidural that night!
We all lived to tell about the weekend from hell and things are nearly back to normal, despite the fact that in the midst of all this mess, Sam's beloved teddy bear went missing. But that's a story for another day!