We've all heard about the Mommy Wars, right? WOHMs (work outside the home moms) vs. SAHMs (stay at home moms) with WAHMs (work at home moms) thrown in every once in a while? It's all great fun, really. I mean, women pitted against women – rock on. Anywho, as it turns out, Sam's school is getting in on it as well, spreading propaganda. For the wrong side. I mean, we here at Mommin' It Up proudly support both (all three) sides of the fence, but hello – this is a daycare we're talking about. Don't bite the hand that feeds you!
Ok let me back up.
Yesterday was Sam's turn to take home the Book Sharing Bag from school. He picked a book to bring home to share with his family, and then he picked a book from home to take back and share with his friends.
When we sat down to read his selection, I was a bit perplexed.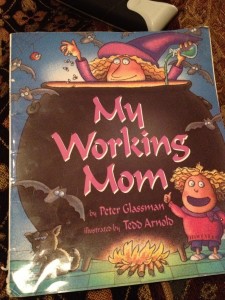 "My Working Mom" by Peter Glassman. A man. Shocking.
So the title caught my interest (not to mention the picture – Mom's job is being a witch?), but I thought perhaps it would be like a book we own called "When Mommy Travels," which is a great book about a mom taking a business trip.
Yeah, not so much.
Here's the first page.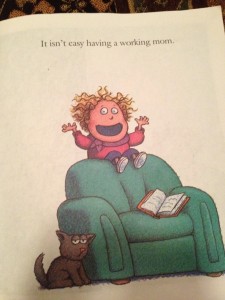 "It isn't easy having a working mom." Well, ok, strange, but it's probably rather accurate at times. But it just got worse from there.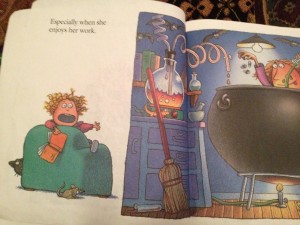 It was at this point (page 2) that I started thinking "What the $#@% IS this??" Especially when she enjoys her work? Oh man, that is the worst. I mean, it's one thing to have a mom who works because she absolutely has to, but to have a mom who likes her job? Sucks.
We read on. For some reason.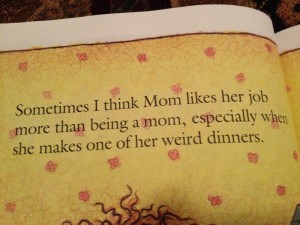 People. COME ON. Working moms not only hate their kids but they're also sucky at the things women are SUPPOSED to do, like cook dinner.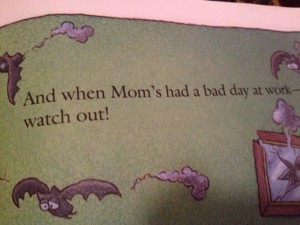 When she's had a bad day? Mom's a total witch! Oh wait, Mom being a witch the entire premise of the book.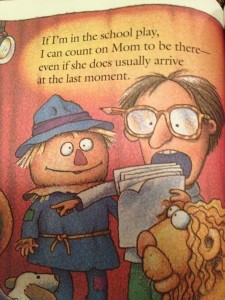 I totally got to Sam's school play last year 30 seconds before he went on stage, but that is beside the point. Er, I think.
As I was saying…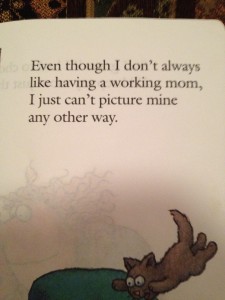 But wait! Do not despair – the book has a happy ending!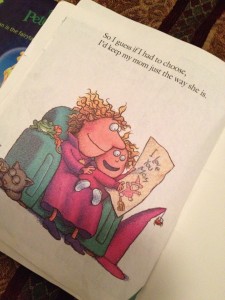 Moral of the story?
Having a working mom is slightly preferable to being an orphan. Sort of.
I can hardly wait to read the rest of the series. I've already put "My Crackhead Mom" and "My Street Walker Mom" on hold at the library.