A little over a year ago, I wrote about the, ahem, issues that Andy and I were having with our mattress. (And after re-reading that post, I've determined that Jenny is right – I am not very nice when I am sleep deprived!) Well, time went on and we tried to make do with the mattress we hated – we had paid an astronomical price for it and that fact in and of itself made us feel like we had to keep sleeping on it, even though I was terribly uncomfortable and Andy's back was killing him.
A couple months ago, we decided enough was enough – we needed to chalk that mattress up as a loss and replace it. Sounds simple, right? Well, you know me – I have to make everything as complicated as humanly possible. I wanted to make sure that we got the right mattress this time, so I started researching.
Let me tell you, buying a mattress is COMPLICATED. (When you're me, at least.) I had lists and charts and graphs detailing the benefits of foam and latex and coils, and of which brands were good and which ones aren't – it was really kind of absurd. (I threw them away, but now I wish I'd kept them so you could see the level of my neuroses.) Eventually I came across The Mattress Underground – a blog and forum dedicated to solving the eternal question – "which mattress is right for me?"
And I thought I took things too seriously. Lord have mercy, this site took it to an entirely new level. And left me more confused than ever.
Except – the mattress expert on that site recommended finding a specialty sleep shop, rather than going to the nearest department store (or to the sketchy looking barn on my way to work where they evidently sell mattresses on the cheap. I am not even making this up.) – and they had a handy search function that found stores in my area.
That is a very long-winded way of saying that one Saturday morning, Andy and I walked into Design Sleep in Yellow Springs, Ohio, and our lives were forever changed.
Okay, that's a little dramatic – but getting good sleep is serious business!
As soon as we walked in the store, my anxiety about buying a mattress vanished. I was sure these people knew their stuff, and that they'd help us make the right decision. Our salesperson, Stacy, was fantastic – he spent two hours with us, talking about our sleep habits and trying out mattresses and pillows. The only thing that made the choice difficult is that they were all so comfortable!
We placed an order for a mattress and also a EuroSlat foundation, which replaces a box spring. This video explains it better than I can, but here's what it looks like: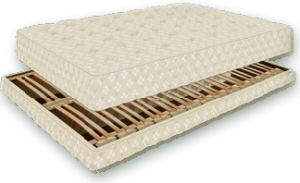 While we were in the store, they figured out how to configure the slats for both Andy and me, and when they delivered the mattress, they set it up to those exact specifications. Stacy told us to give it a few nights and to call him if we had any discomfort. I was sleeping so soundly from the very first night, but Andy was experiencing some hip and neck pain. He called Stacy, who told him how to adjust the slats, and that was all it took. The back pain he'd been experiencing for months was gone, and we were both finally getting good sleep.
The personal attention at Design Sleep sets it apart. The fact that Stacy focused on us exclusively for two hours and that he's available to help us adjust the bed as necessary from here on out is really impressive to me. It took something that had seemed so complicated to me, and made it simple and stress free. I love, love, love our new bed, and I would recommend Design Sleep to anyone!