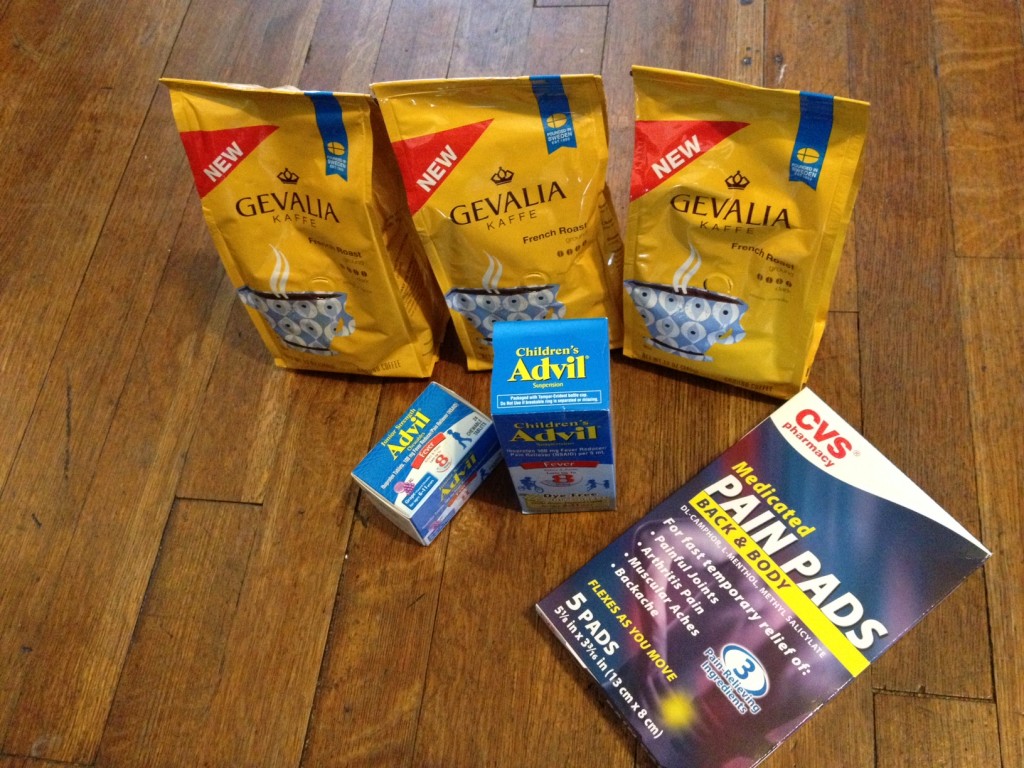 Well hello again, friends! I went SHOPPING again! I am doing so good with keeping up with my goal to drugstore whore every week.  This week I was especially excited to get a great deal at CVS on my FAVORITE coffee, Gevalia. Here's how it shook out:
I bought:
3 bags of Gevalia, $5.99 each = $17.97
2 Children's Advil (one liquid, one chewables) $4.99 each =$9.98
CVS pain pads $5.89 (because I am old, and my back hurts, and they were out of my favorite kind, the Ben-Gay brand. And this is already a purchase I am regretting. They suck.)
total = $33.84
coupons I used:
-$4.99 BOGO Advil printable from Facebook
-$1 Advil printable from I can't remember where
-$4.50 three $1.50 off Gevalia coupons (two printable from Facebook and one from a recent insert)
total =$23.35 + tax
I got back 9 ECBs (5 for the Gevalia and 4 for the Advil) plus I had a 75 cent ibotta app coupon for the chewable Advil as well. So my net expense was $13.60 for all that wheeee!
It would've been much better if I'd still had my 6 ECB from last week, but I had to spend that earlier in the week on – you guessed it – Ben-Gay pain patches for my BACK! I can't wait til this is healed up! They are so expensive but they are about the only thing that helps.
So, those are MY deals – I was super-stoked about the Advil because it came out more than free (and I am looking forward to using the chewables with the big kids) and the coffee came out to just $2.82 per bag ($4.50 is my "will-buy" price for Gevalia. Woot!!)!
What did you get at the store this week?