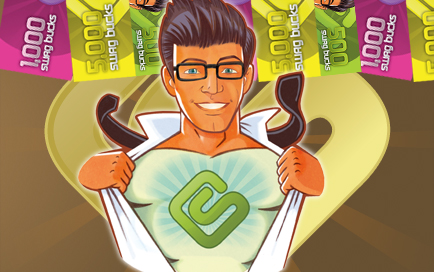 SO, it's Friday – which means your chances of winning big bucks on Swagbucks goes UP UP UP if you search today!  You know I love Swagbucks – I earn bucks for searching the internet (I use Swagbucks the way I used to use Google) and then I redeem those bucks for PRIZES.  My favorite prize is $5 Amazon gift cards.  Recently I've had some great luck winning, at least twice a day, and here's my big secret tip:
Use Swagbucks to search for EVERYTHING.  Not just things you're curious about, but use it to search for websites you already know you want to go to.  Like, Mommin' It Up for example! I enter the names of my favorite couponing sites in my Swagbucks toolbar or webpage every time I want to go there, because the more you search, the more you win!  Sure, it's one extra step, but it's a very tiny and very REWARDING step.  I have found that doing this has increased my odds of winning by a ton!
It's so easy!! Get on it and getcha some Swagbucks!