So as you may know if you've read this crap blog for awhile, I LOVE COUPONS! But since Jonah was born, and since the show Extreme Couponing ruined ALL THE DEALS for ALL THE COUPON LADIES, I haven't been as excited about them, or doing my best to get the best prices I can on ev-er-y-thing. I've found other ways to save, like shopping at ALDI a lot, but I do miss the good old drugstore whorin' I used to do on Sunday afternoons. Soooo I decided, it being a brand spankin' new year and all, to get with the program, hit the drugstores as best I can, and work hard at saving every dollar! I got off to a good start at CVS last week, and this week I was quite pleased with my trip there.  I think it's time to resurrect "See Jenny Shop"! So here ya go: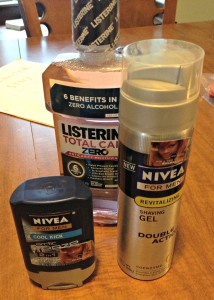 Today I purchased:
Nivea for Men aftershave $4.99
Nivea for Men shave gel $2.49 (because Nivea for Men was BOGO 50% off)
Listerine Total Care Zero $2.99
total = $10.47
Coupons I used:
-$2.49 – Buy one Nivea for Men product, get a free shave gel printable coupon from Facebook
-$2 Listerine coupon that printed from the CVS Coupon center when I scanned my Extra Care card
-$1 Listerine printable from coupons.com
-$2.87 in Extra Care Bucks (ECBs) I had from last week's shopping trip
total =$2.41 + 79 cents tax = $3.20 and I got back 5 ECBs for buying the Nivea for Men aftershave. WHAT UP!?
But wait, it gets even better! You see, there's this cool coupon app for iPhone and Android called ibotta that has really high value coupons on it. I also had an ibotta coupon for $1.25 on the Listerine so I actually profited $1.25 on that! All you do is take a pic of your receipt with your phone, scan the product bar code, and ibotta will deposit cash into your PayPal account when you get to $5 or more. It rules! In 3 weeks of using it, I've already gotten back over $13 from my shopping trips! I've gotten over $1 coupon on things I buy a ton like Capri Sun and Cheez-Its. ibotta coupons don't conflict with manufacturer coupons – you get to redeem them in addition to using manufacturer's coupons! Wheeee!!! You should totes sign up here, because if you do, I get $1 and you get $5 the first time you redeem an offer. $5!?!?!?! It's true. Wish I had signed up through someone else's link to get the $5 but I didn't hear about it that way.
ANYHOO.
I am shopping AND saving this year!  I'm going to hold myself accountable to posting for you all so you can see how I'm doing.
What are your goals for Lucky '13?