I did some online shopping today at Payless Shoes because I needed to get both kiddos some back-to-school shoes.  They are having BOGO get one 50% off now PLUS you can get an additional 20% off with coupon code 36093!  PLUS you get 3% back if you shop thru Ebates!! So I got a pair for each kiddo for $25.20 shipped, plus I am getting 3% back! You can get FREE shipping if you choose to have your order shipped to the store, but I paid for shipping because the whole reason I was shopping online was to avoid dragging my kids to the shoe store, as I already know their sizes. 🙂 Here's what I got.
For Joshua: These shoes by Smartfit.  (He wears uniforms so he needs pretty plain shoes.) They are exactly the same as the pair I got him last year, and they were GREAT!  I got him two pair (they had blue last year, disappointed they don't have that this time) and between the two pair they made it all year and he wore them 5 days a week!  They are only $14.99 – definitely got my money's worth on these! (I was surprised to see someone had posted a bad review of them on Payless' website – I had the exact OPPOSITE experience – loved these shoes!)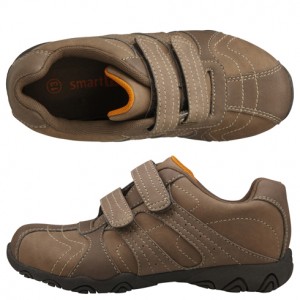 I got this pair for Sophie, also my SmartFit. I thought they were so cute! They were also $14.99, so just $7.50 with the BOGO sale:
The coupon code took $4.80 off my order, and with tax and shipping ($5.95, not too bad, and again, worth me not having to drag the kids to the store) my total was $25.20. I am pumped!
What back to school bargains have you gotten?  You can win some GREAT back to school prizes from us next week, so stay tuned!