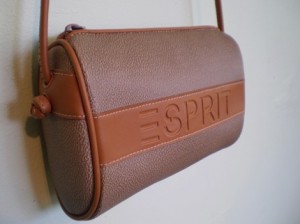 Many moons ago, my BFF Jess and I went to our local amusement park, King's Island, about every other day. They had a fake game show that we were dying to win, and one of the standard contests was to see who could come up with some random item in their purse. We'd stuff our little Esprit bags with a pen, a hair clip, some lip gloss, and hope for the best.
These days?
I could win that contest in a heartbeat.
Ladies and gentlemen, I give you… the contents of my purse.
This first one's not so bad…
But it's downhill from there.
Here's the serious randomness.
And finally – the crap.
It's no wonder I can never find my damn car keys.
What's in YOUR purse??