Drew Brads
937-344-8995
FOR IMMEDIATE RELEASE 7/24/14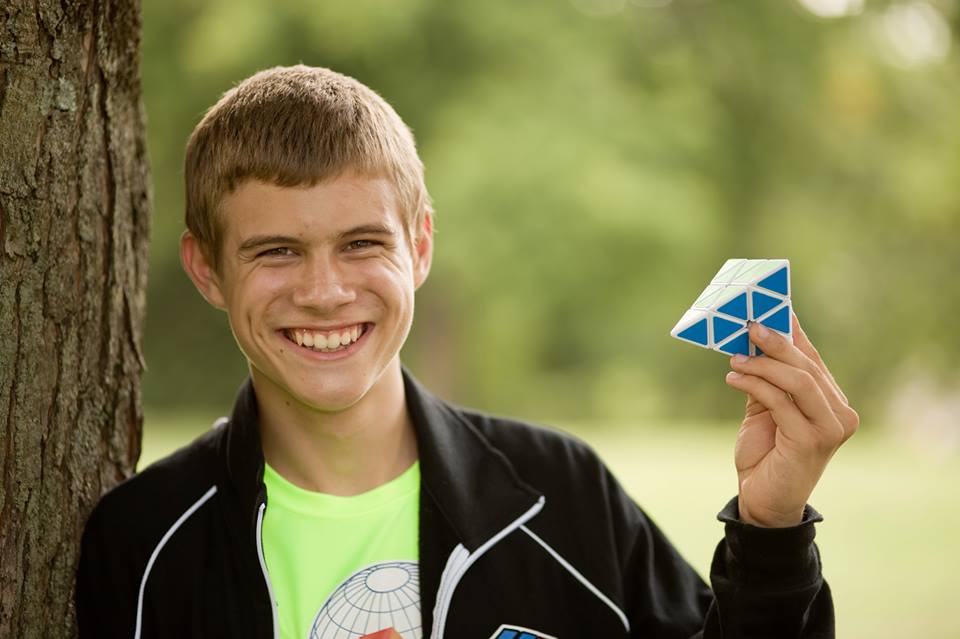 Photo: Aaron James

Xenia, OH: 14-year-old Rubik's Cube phenomenon Drew Brads of Xenia, who last July won the title of World Champion on the Rubik's Pyrmanix at the Rubik's Cube World Championships, announces today that he is partnering with the kids video review site KidzVuz.com. KidzVuz is Brads' official sponsor for the Rubik's Cube US Nationals competition which will take place in Jersey City, New Jersey on August 1-3, 2014.
"I'm really pumped to be partnering with KidzVuz.com to help get other kids excited about Rubik's Cubes, and their help in getting me to nationals could not be more appreciated. I started cubing at age nine and I would have loved to have had access to a site like KidzVuz at that time. It has a lot to offer kids no matter what their interests are."
KidzVuz.com co-founder Rebecca Levey says working with Brads is a great fit. "KidzVuz is all about empowering kids so we jumped at the chance to sponsor Drew and support his super cool skills and talent.  We know that our tween and teen audience will love to see Drew compete, and get inside tips and tricks from a teen master."
In addition to being the Pyraminx World Champion, Brads is also the North American Record Holder in that event, having solved it in 1.71 seconds at an official competition. As far as the U.S. Nationals coming up in just over a week, he says, "Although I mostly attend competitions in order to have fun talking to other cube enthusiasts, I do have a few goals that I would really like reach. First of all I would like to place in the top 8 competitors for the standard 3×3 cube, and achieve an average time of less than 9 seconds. Secondly, I would like to defend my title as Pyraminx National Champion. Finally, I would like to fulfill my long-term goal of breaking the world record for the Pyraminx, which currently stands at 2.96 seconds. Right now I'm only 0.05 seconds away from this record, so I have high hopes!"
As part of their partnership, Brads has made a three-part tutorial video series covering the Rubik's Cube on KidzVuz.com which you can see on his KidzVuz Channel at https://www.kidzvuz.com/kidz/xtowncuber/reviews/  and will also be promoting KidzVuz.com on his own YouTube channel at youtube.com/xtowncuber.
About KidzVuz: KidzVuz is videos by kids, for kids.  The ONLY safe, moderated video site for kids ages 6-14, KidzVuz.com is where kids make and share video reviews about the products and things they love like books, movies, toys, tech, fashion, food, travel and more.  On KidzVuz.com kids find other kids with the same interests and hobbies, make friends and share videos, and because KidzVuz is fully moderated it is a bully-free site where kids can express themselves and be who they want to be!
For interviews, contact Drew Brads at 937-344-8995 or armstrongbrads@netzero.com. For more information on KidzVuz, contact co-founder Rebecca Levey at Rebecca@kidzvuz.com.
###