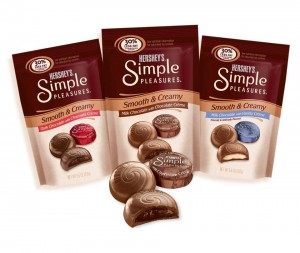 Tomorrow is Independence Day, and Hershey's wants YOU to declare independence from something… Facebook fans have declared their independence from dieting, gas guzzling cars, feeling guilty – whatever has been keeping them down.
Hershey's Simple Pleasures are designed to give you the independence to enjoy a treat any time – and to feel great about doing it.
Get this –
Hershey's Simple Pleasures chocolates have 30 percent less fat than the average leading milk chocolates.
And they are so good. My personal favorite was the milk chocolate with vanilla creme, but I liked them all. So did my husband and kids – three packages did not last very long around our house!
You can sign a declaration of independence on Hershey's Facebook page and have a chance at weekly prizes, including a $100 gift card.
Let's see… Things I'd like to declare independence from… well, my alarm clock, but that's not likely to happen!