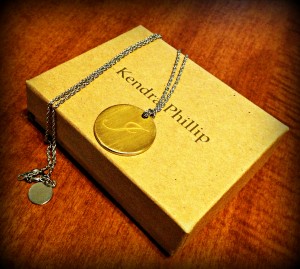 Let me tell you something about myself…I am a SUCKER for a monogram! I loooove personalized things. So when the team at Kendra Phillip jewelry asked me to review their initial pendant, I was all "you had me at initial!!" They sent me the classic mini reversible initial pendant pictured above. Yes, I said reversible! One side is gold and one is silver. Genius, right? Here's me wearing it on the other side:
Isn't it elegant? I love this necklace! The pendant is very weighty. It has a lot of heft to it and I love that I can really feel it all day when I'm wearing it. It really stays put, too! It doesn't flip-flop or travel around your neck to where it's not supposed to be (which drives me bonkers).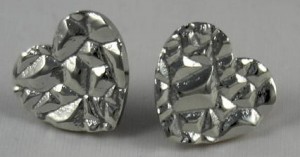 If you're looking for a quality jewelry gift this holiday, check out Kendra Phillip's website! Their jewelers make beautiful earrings, cuffs, and necklaces that will be beloved by the recipient. I'm loving their heart stud earrings, those are going on my wish list!
You can check out all the pretty things at Kendra Phillip here. Happy shopping!
_______________
Kendra Phillip provided me with a pendant to facilitate my review. All opinions about it are my own.