Well, my poor third child is probably feeling neglected already.  Here I am almost 14 weeks and I haven't posted a pregnancy update in quite a while!  I will do my best to make this up to him or her (GARRRR that is driving me NUTS!) for the remainder of this sentence pregnancy.
First, I would like to say, Zofran is the wonder drug!!  After puking my guts out for a couple of weeks in May, I called my doc in desperation and she prescribed for me the same drug I had been on when I was pregnant with Sophie.  (At that time I didn't get it until I was 14 weeks, because I assumed my morning constant sickness would be over by the end of the first trimester. HA!)  So this time I wised up earlier.  It worked like a charm (this is stuff they originally developed for nausea in chemo patients, yo.)  And within two days I had stopped puking and haven't puked since.  UNTIL…last Saturday when I ran out of the big Z.  You see, for some reason my insurance co. will only pay for 24 pills every 30 days. (And it's a GENERIC. C'mon Anthem, MAN UP. If you, my dear readers, knew how much we pay for our insurance every week, you would crap your pants.  They owe me 6 extra pills.)  So about a week before I realized I was really gonna run out, I started halving them, and that worked ok, not as great, but ok.  But I still didn't have enough.  So I woke up that Zofran-less day praying that since I was 12.5 weeks , maybe just maybe I'd be ok.
No such luck.  Violent stomach-twisting pukage by 9:30 am.
I called the pharmacy desperately and prayed they'd refill it. At that point I'd have paid whatever I could for just two pills to get me through the next 4 days.  I used the automated system.  No one called me back to say "hell no" -so an hour later I went to CVS and by some miracle, my refill was approved.  I have NEVER been so relieved.  I ripped that bottle open in the car and downed a generic Zofran and I've been fine ever since.  The WONDER drug I tell you!  I will start halving them earlier this time, with the hopes that by the time I need another refill I will really be done being sick. Cross ya fingaz for me!
Speaking of meds, part of the reason I was so sick in May is because I was weaning off my anti-depressant. WOW that was a B****.  I knew it was going to suck, but I had no idea how much. It was pretty much three weeks of torture, along with puking.  I really hope I don't have to go back on an anti-depressant again, just because now I know how terrible getting OFF of one is.  I really can't describe it, but the physical symptoms were miserable, and there's not much you can do about it.
Speaking of MORE meds,  (Geez I am a mess!) I am now (trumpets sounding) off of AMBIEN, which I never thought I'd be able to kick!  Fortunately pregnancy makes me very tired which helps with the sleeping. As soon as I found out I was prego I start halving the Ambien, then went down to 1/4, and now I am off of it! Yay!  Good times!  Thanks to my little baby for helping me kick the habit!
Bobby and I are pretty much dying to find out this kid's gender.  We really cannot WAIT but we have to wait six more weeks at least. UGH!!!  We have a couple of names in mind but we've sort of been lollygagging about that until we find out.  PLUS, my cousin Anna STILL has not named her baby girl who is due in four weeks and that is kind of holding me back on the girl name front *ahem* Anna get a move on!
Ok, I know this is getting long, but lastly, I finally have started wearing maternity clothes. I had to give up and start wearing maternity pants at 11 weeks because I couldn't breathe.  Thanks to Tricia for loaning me some things as I had pretty much given everything away, because, you know, we were done. Ooopsie!
Also, Belly 9 Maternity sent me this FABULOUS shirt: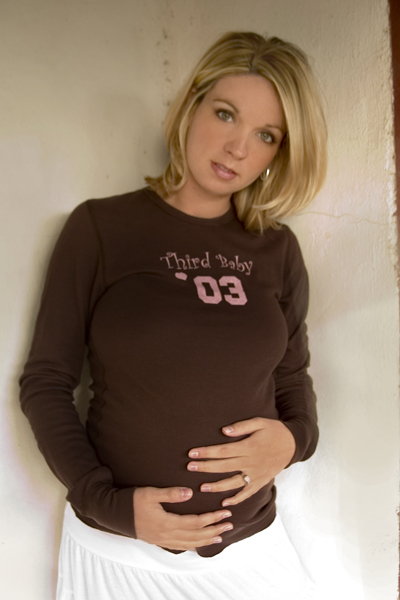 Isn't that the cutest??? 3rd baby! I love it!  And it is SOOO soft and wonderful. They have so many cute things.  If you are good at birthing babies, like Emily, you should get this one: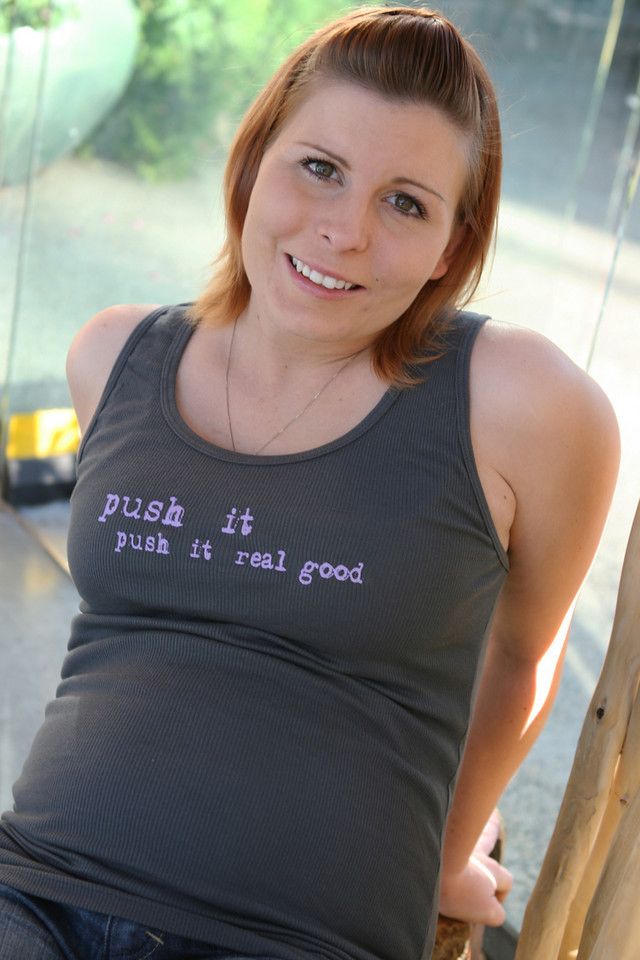 If you are like me (and Emily), and likes you some drugs, you should get this one: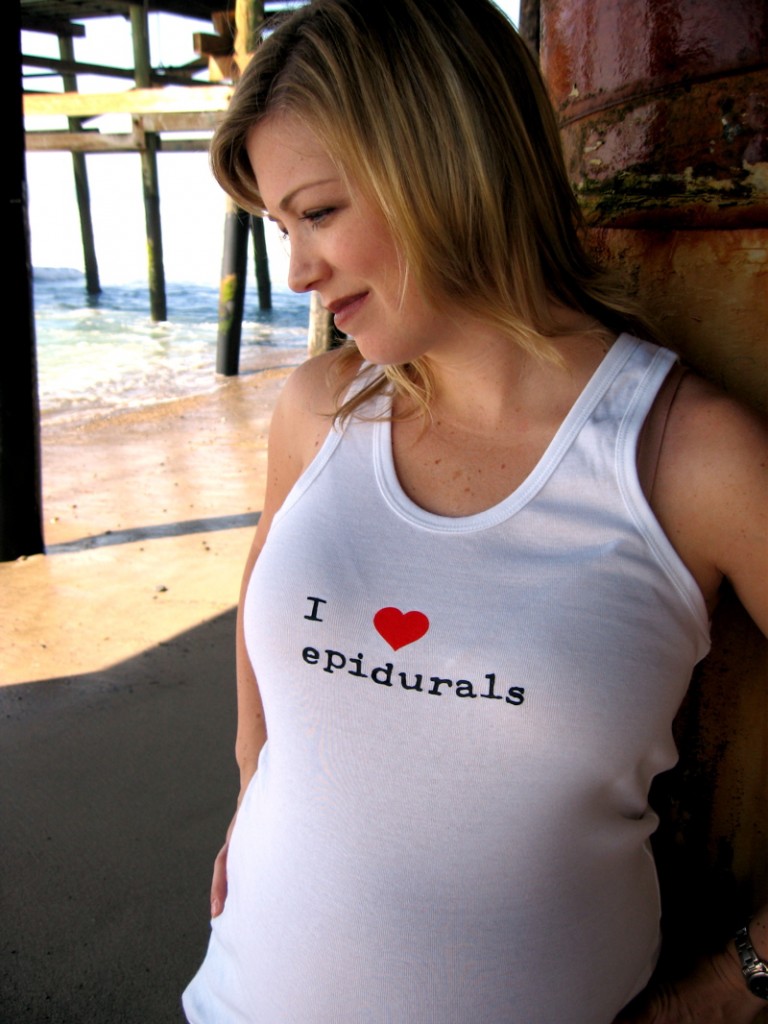 And if you are like my natural birthing friends Kelly, Krista, and Beth, you should get this one: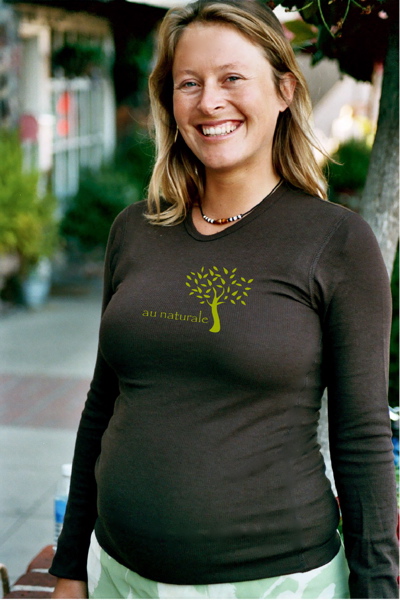 See?  Something for everyone! Those are just a few of my favorites.  They have LOTS of other cute styles, and even some other accessories for mom and cute baby onesies too!  You can check them out here.  Thanks Belly 9, for sending me the cute Third Baby tee!
So, that's my pregnancy update for now.  I am happily into the second trimester and I can't WAIT til December to meet my little munchkin.  And I promise to update sooner next time!