So, Monday was Sam's fourth birthday. In an effort to keep things simple, I decided that his "birthday party" would consist of cake and ice cream at our house. He wanted another Star Wars cake, and for some reason, instead of just being smart and ordering one, I decided to make it.
I blame Pinterest.
Last week I pinned this, and I thought I could try to make cupcakes like these.
Except there weren't exactly any directions. (Note to pinners: pinning a picture from flickr? Not helpful.) That meant I was on my own.
The lightsabers were obviously fondant, but because I had never worked with fondant before and I had had luck with pretzel lightsabers last year, I decided to go with a mini-version of those.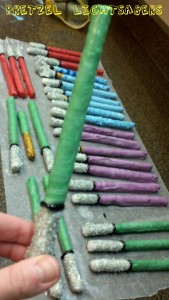 But I'll get back to the lightsabers in a minute.
Sam wanted chocolate cupcakes, so I went searching for a recipe. (Andy pointed out that there are good ones to be found on the backs of both Betty Crocker and Hines boxes, but I like to make life hard so I didn't listen.) I went with this one, from Annie's Eats. I also used her buttercream frosting recipe.
I am (clearly) not the best cupcake decorator in the world, but I thought they were pretty cute.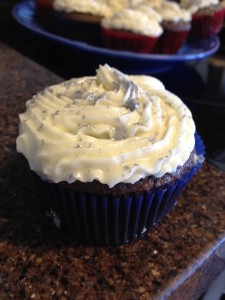 So, back to the lightsabers. As it turned out, I forgot to buy pretzels, so I decided to go with fondant after all. I used this recipe for easy marshmallow fondant.
It was a complete disaster. I'm 100% sure it was user error and not a faulty recipe, but it didn't work at all.
So, I was back to the pretzels, but I was running out of time. I took a short cut and used melted chocolate chips for the handles, which didn't harden quickly the way the candy melts do, and so they were super messy. Had I not been in such a hurry, I think they really could have been cute.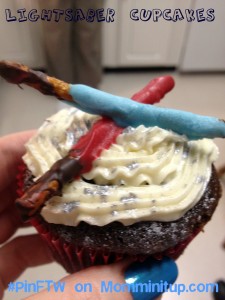 So, take aways from this post:
— Use candy melts, not chocolate chips.
— Don't pin from Flickr.
— Call Cortney and Luanne when in need of Star Wars-themed (or any other) birthday baked goods.
Well that was certainly a long-winded way to get to the point – your posts with your pins!
There are just a couple of rules:
1) In your post, please link to your original source  – the pin you got the idea from.
2) Make sure and link back to our original Pin For the Wednesdays Post here at Mommin' It Up!
3) In the Mr. Linky below, leave a direct link to your Pin FTWednesdays post, not to your main website.
4) Totally optional – grab our cute #PinFTW button!  The code box is over there in our sidebar.
No blog? Leave a comment!
Thanks for participating in Pin for the Wednesdays on Mommin It Up!