Happy Wednesday!  I've got a great pin to share with you today.  One thing Pinterest has really inspired me to do is make more things with my kiddos.  I am not even SORT OF crafty, so this is a major stretch for me.  But thanks to Pinterest, I have found some simple crafts that I can do or even that my kids can do and I can just facilitate.  Both Joshua and Sophie are big Angry Birds fans, so one rainy Saturday recently, we went on a hunt for Angry Birds crafts on Pinterest.  And we found an easy, fun one that took no time at all, thanks to this pin from the Party Animal Blog!   If you click on the pin, it will take you to easy instructions to make Angry Birds balloons with a printable template.  Just print, have your kids cut them out, and then tape or glue them on.  This was SO easy!  The kids did all the cutting and I helped them tape.  Here's how they turned out: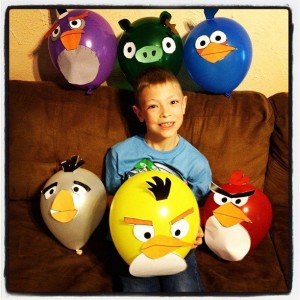 Adorable, right??  We couldn't have been more thrilled with the results, and nearly two weeks later, most of these are still floating around my living room.  This is a pin that was a HUGE win!  Love it!
What pins are you winning with this week? Link up below, or if you don't have a blog, leave a comment.  Just pretty please follow our rules:
1) In your post, please link to your original source  - the pin you got the idea from.
2) Make sure and link back to our original Pin For the Wednesdays Post here at Mommin' It Up! (please!)
3) In the Mr. Linky below, leave a direct link to your Pin FTWednesdays post, not to your main website.
4) Totally optional – grab our cute #PinFTW button!  The code box is over there in our sidebar.
Can't wait to see what you've been up to!