This post is sponsored by Savings.com
So as I mentioned a few weeks ago, I am not a part-time but full-fledged work-at-home mom. The new site I'm editing hasn't launched yet, but it will super-soon and I've been working super hard (along with a lot of other cool peeps). One of the joys of working from home is that I don't have to "dress up" – but that doesn't mean I don't look good. I stay casual, comfortable, and very fashionable all day with my very favorite clothing brand – can you guess – of course you can – Lands' End!
I have to confess, fall is my FAVORITE season, and the fabulous weather and gorgeous colors have a lot to do with that. The fact that long-sleeve tees, scarves, and boots come into play in the fall also has a lot to do with that. So this fall I've pretty much got a stylish comfy work-at-home mom uniform: a Lands' End cotton modal tee, jeans, and scarf. And now that it's cool enough, BOOTS! Here's my new favorites: the kids and Bobby just happened to get me all of these fave uniform things for my birthday (except boots):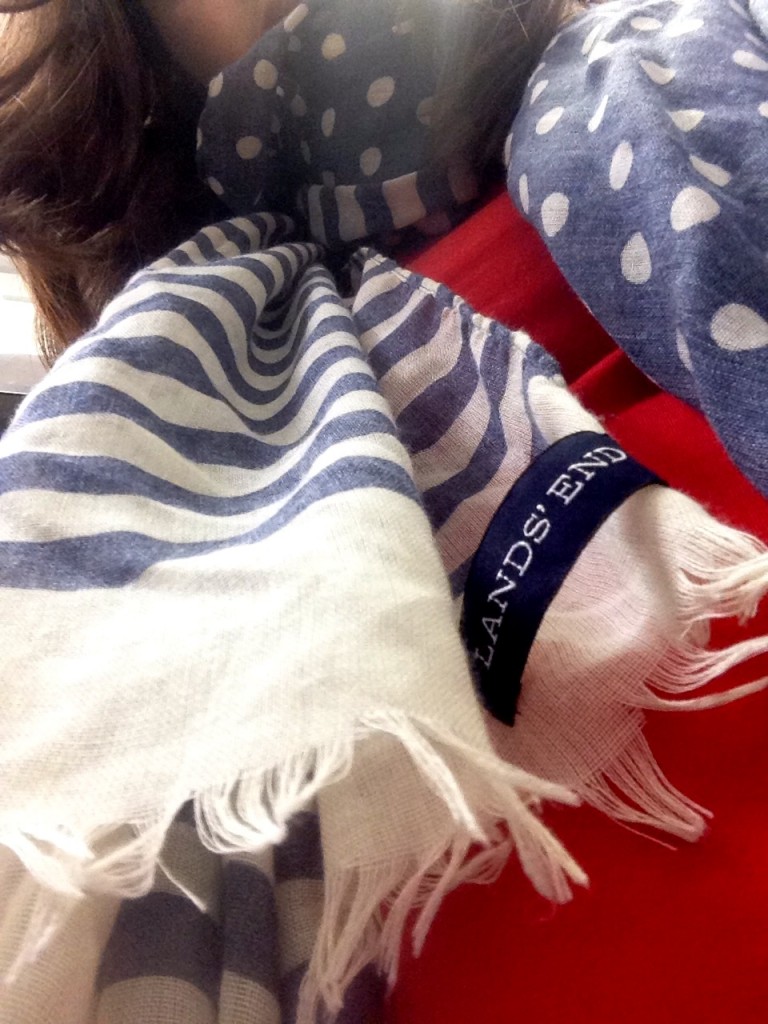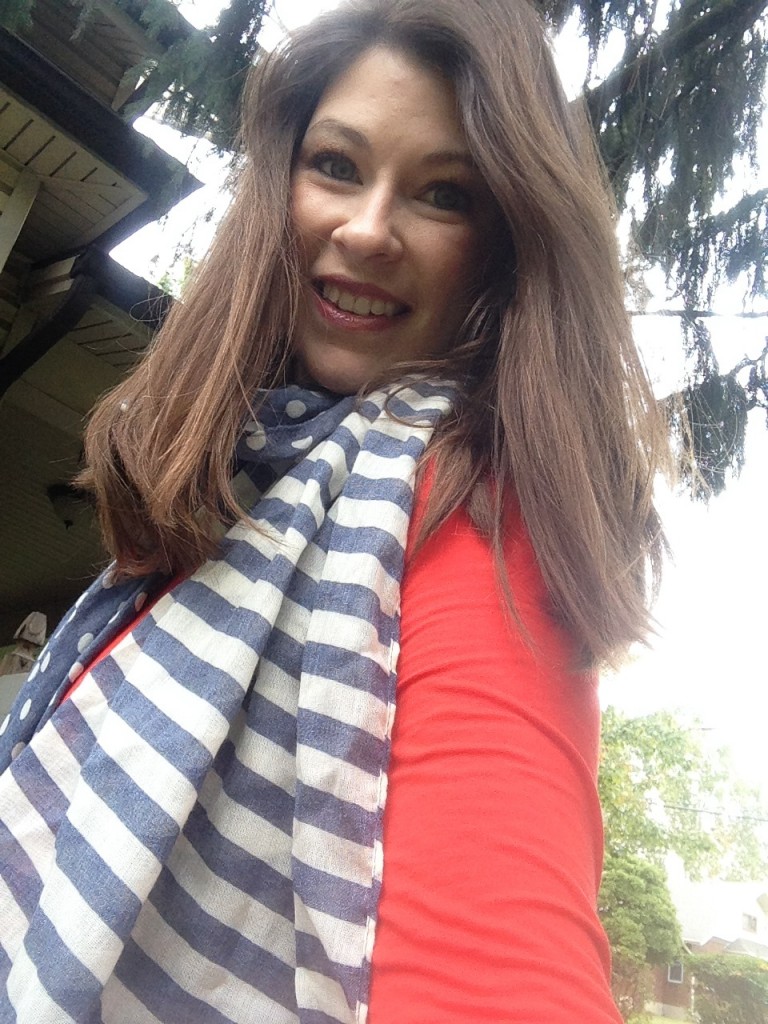 Sadly, no one was home to take my pics so I couldn't get a good shot of my jeans. But they're these Fit 1 Low Rise Slim Leg Jeans, and they're amazing!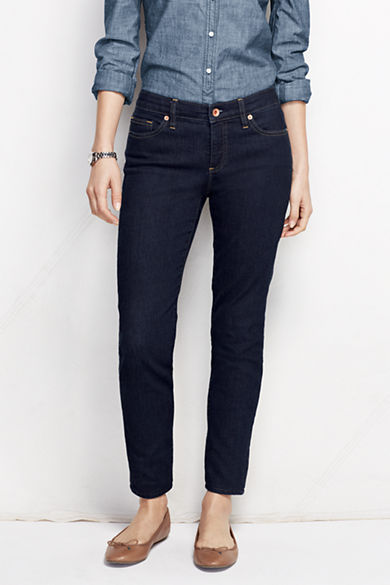 They're also featured  here in Lands' End's fab fashion magazine, Apostrophe. (As is my birthday scarf!)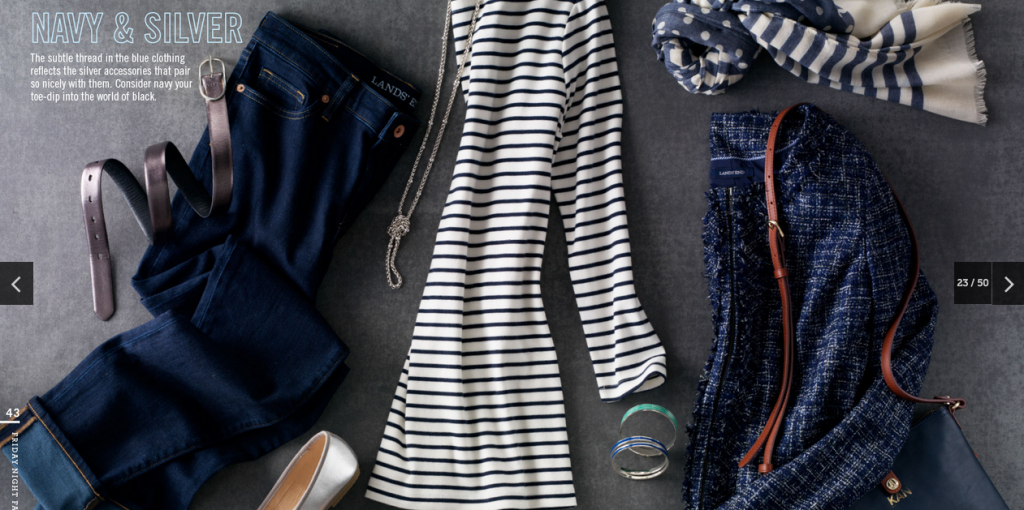 I love everything about this page – navy and silver is a great dressy alternative to black.
Another look I adore from the fall Apostrophe magazine is this "on the clock" work outfit: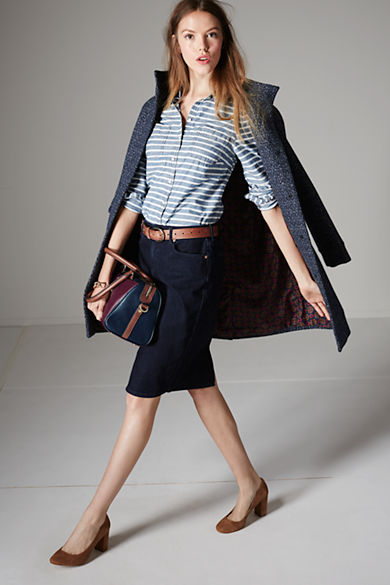 This denim pencil skirt is so dark it's super-dressy! But it would be great for a casual outfit, too. I adore this. I want to order the whole ensemble and wear it for a week solid! And carry that handbag every day for the rest of my life.
A more cozy fall item I'm dying for (Mom, this is what you can get me for Christmas) is this Women's Drifter Texture Sweater. I WANT it! Isn't the pattern so fun?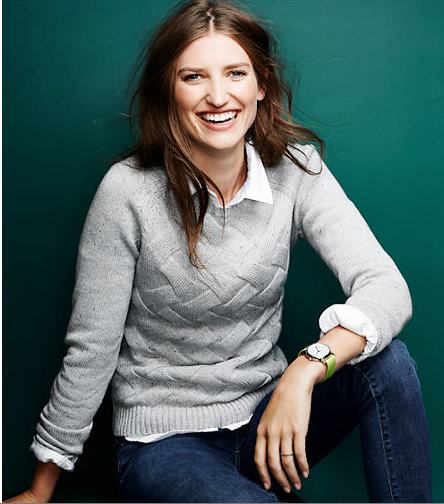 (Clearly this sweater also makes the wearer VERY happy. Once again, I need it.)
Are you now jonesing to add some Lands' End fall goodness to your wardrobe? (My work-at-home uniform DEF needs THAT SWEATER!) Well good news, TODAY ONLY you can get 25% off your whole order at Lands' End! Just use promo code COOL and PIN 1652 – plus, orders of $50 or more ship free with this deal! I loves me a coupon code! Get crackin' because the 25% off ends tonight at midnight CST.
Have you checked out Apostrophe and the Lands' End fall line yet? You guys know it's about all I wear…what are your favorite pieces?