Okay I have to get a couple of things out before I can move on here.
A) OMG BFF have you SEEN the women's fall clothes at Lands' End? I went through the catalog yesterday and I want one of EVERYTHING. Check out the new arrivals here. Not kidding, I need one of everything. In every color. And they just redesigned their jeans.
B) In case you can't live without what I'm about to show you here, you should know that there's a promo code for 20% off your order today – the code is FALLBREEZE and the Pin is 1755.
C) I think I am going to use said code and pin to order this. I just need one of you to tell me to pull the trigger.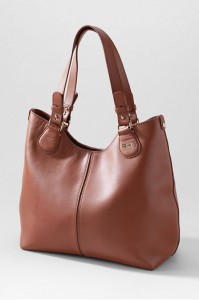 Isn't that lovely? Sigh.
So! Back to the subject at hand – fall looks for kids!
Fall really arrived here in Ohio over the weekend, and it was the perfect time to pull out the kids' new Lands' End clothes. Every time I pull a piece out of a box or their closet or whatever, I'm struck by the solid construction and the overall quality. We've said it before, but the Lands' End clothes and outerwear that start with my kids still look great after they've been passed on to Jenny's kids and then to my niece and nephew. It's amazing, really!
Let's start with Kate, since she was a bit of a better model than her brother! (although don't ask me what is up with the glasses. They are from a 3D movie and she popped out the lenses.)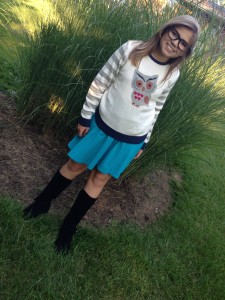 Kate's wearing the Long Sleeve Crewneck Sweater with the Solid Knit Twirl Skirt in capri breeze. She loves them both because they're cute and comfortable, I love them both because they are age-appropriate! Which is another great thing about Lands' End – the "big girl" clothes go up to a size 20 and are, without exception, tasteful, suitable clothes for girls. If you've been shopping in a girls' section lately, you know what a rare quality that is.
Kate's also wearing the Molly Riding Boots, which I am a little obsessed with myself. Aren't they cute? She loves the braided strap on the front. They're genuine suede and have a printed cotton lining.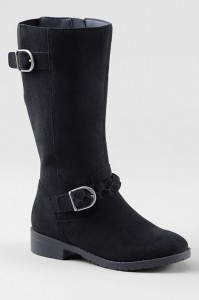 Another thing I love at Lands' End are the printed Graphic Tees, for boys and girls both. Here's Kate in the Soft Mineral Yellow Fox shirt.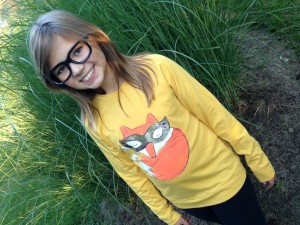 It's super soft, but clearly made well and durable. Kate is super obsessed with both foxes and owls right now, so she was thrilled with both of these picks!
Another fall must-have is Lands' End fleece. Kate has the T-200 Fleece Jacket in burgundy now, but it's far from the first LE fleece that's hit our home! In fact, we ran across some on sale a few years ago and bought one in every size for Sam – they're a classic staple I know he's going to use for years. Of course, Andy and I have a few for ourselves as well! The comfort and quality can't be beat.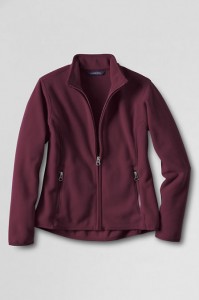 I've waxed poetic before about how much I love little boys' clothes, and this year's LE collection is so cute I can hardly stand it. I mean, look at this hoodie.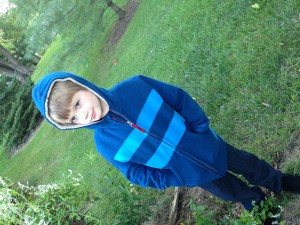 Have you ever seen anything this cute? I didn't think so. The Pieced Long Sleeve Sherpa Hoodie is amazingly soft and comfortable. I love the cozy sherpa lining and that it is full-zip. This is another classic Lands' End piece that we've had several of – Kate and Sam both had them last year. They're great as an outer layer on chilly days, or as an added layer under a parka when it's super cold.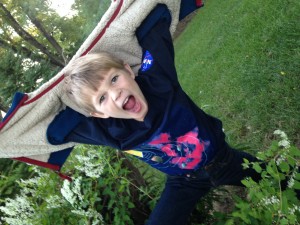 Sam was not in a terribly cooperative mood when I was taking these pictures! Here he's wearing the hoodie (and giving you a good look at the sherpa lining!) over a graphic tee – this particular one is the Classic Navy Solar System. Sam's a super science nerd (he gets it from his father) and he LOVES this shirt.
Quick story – last spring we were perusing the Lands' End section at Sears, and Sam saw a graphic tee featuring an Anglerfish. Don't ask me what that is – but he knew, because he'd been studying it in school. He and Andy discussed all the finer points of Anglerfish, and determined Sam had to have the shirt. He was so excited to wear it to school and show his teacher the next day!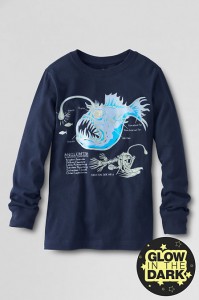 In the picture above, Sam's also wearing the Rinsed Indigo Slim Fit Iron Knee Jeans. Lands' End's Iron Knee Pants are ridiculously awesome. As anyone who has ever had a boy can attest, knees are the first part of the pants to go. These pants are reinforced in the knee, but the patch is invisible. They're amazing. Check them out:
I am like a broken record here, but another staple in our house is the Navigator Rain Jackets. We first bought them for the kids three years ago when we went to Michigan for summer vacation. I kid you not, both kids are still wearing the same jackets we bought (a little big) then, and they look brand new. In fact, they both wore them on the first day of school (when it was raining and we were running down the street. I still need to tell that story).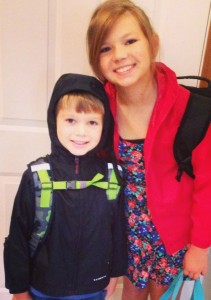 I love the new ColorBlock version they've got this year!
Finally, Sam needed a new backpack for first grade, and he picked the FeatherLight backpack, complete with an embroidered shark (?!? My kids are weird.). I know he'll get several years out of this backpack, as Kate has hers – they really do stand up to the beating kids put them through all year long! Sam's using the ClassMate Soft Side Lunch Box that he used last year, and it still looks brand new.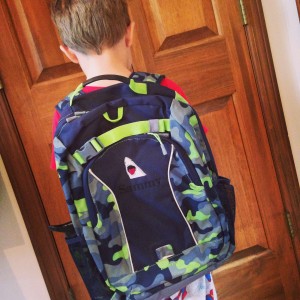 Lands' End has it all when it comes to kids clothes. What are the fall must-haves for your kids?