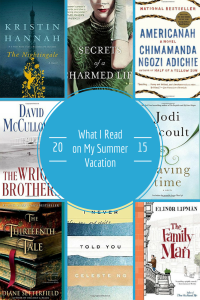 So "vacation" might not be the appropriate word for my summer, but during my surgery recovery I read a lot of books. At one point I had read something like 10 books in 12 days. It was glorious! You know, except for the gaping hole in my abdomen.
Anyway.
I'm always looking for book recommendations and I know many of you are too, so I wanted to share some that I've enjoyed in the past few months. Here we go, in no particular order:
The Nightingale by Kristin Hannah
With courage, grace and powerful insight, bestselling author Kristin Hannah captures the epic panorama of WWII and illuminates an intimate part of history seldom seen: the women's war. The Nightingale tells the stories of two sisters, separated by years and experience, by ideals, passion and circumstance, each embarking on her own dangerous path toward survival, love, and freedom in German-occupied, war-torn France–a heartbreakingly beautiful novel that celebrates the resilience of the human spirit and the durability of women. It is a novel for everyone, a novel for a lifetime.
I loved, loved, loved this book. I did not want it to end. I've read about a zillion books on the second world war, but not many set in France, so I learned a lot, but beyond that, I was captivated by the story. Highly recommend!
Everything I Never Told You by Celeste Ng
A profoundly moving story of family, history, and the meaning of home, Everything I Never Told You is both a gripping page-turner and a sensitive family portrait, exploring the divisions between cultures and the rifts within a family, and uncovering the ways in which mothers and daughters, fathers and sons, and husbands and wives struggle, all their lives, to understand one another.
I enjoyed this book, even though it was pretty sad. It made me consider the things our kids may never tell us, and what consequences that may have.
Leaving Time by Jodi Picoult
A deeply moving, gripping, and intelligent page-turner, Leaving Time is Jodi Picoult at the height of her powers. This book… it surprised me. I did not see that coming. I'll leave it at that!
Secrets of a Charmed Life by Susan Meissner
1940s, England. As Hitler wages an unprecedented war against London's civilian population, hundreds of thousands of children are evacuated to foster homes in the rural countryside. But even as fifteen-year-old Emmy Downtree and her much younger sister Julia find refuge in a charming Cotswold cottage, Emmy's burning ambition to return to the city and apprentice with a fashion designer pits her against Julia's profound need for her sister's presence. Acting at cross purposes just as the Luftwaffe rains down its terrible destruction, the sisters are cruelly separated, and their lives are transformed…
Again with the WWII novels! This one is set in England, which is another facet of the war I had not read much about. Evacuating children? Hard to even comprehend. Susan Meissner is new to me, but I will seek out her other books as well.
Americanah by Chimamanda Ngozi Adichie
A powerful, tender story of race and identity by Chimamanda Ngozi Adichie, the award-winning author of Half of a Yellow Sun.
I will admit, the size of this book nearly scared me off. (Can you see me cringing with embarrassment right now?) It was an investment of time, to be sure, but it was well worth it. It offers a fascinating glimpse into life as an immigrant in America.
The Thirteenth Tale by Diane Setterfield
Sometimes, when you open the door to the past, what you confront is your destiny.
I had had this on my "to read" list for quite a while but had not gotten around to reading it. A good friend dropped it off at my house a few days into my recovery, and I am so glad she did! This is another one that I didn't want to end. I loved it!
The Family Man by Elinor Lipman
A hysterical phone call from Henry Archer's ex-wife and a familiar face in a photograph upend his well-ordered life and bring him back into contact with the child he adored, a short-term stepdaughter from a misbegotten marriage long ago.
I ran across Elinor Lipman's name on a list of well-written, smart "chick lit," and now I want to read everything she ever wrote. This book was a funny, easy read, and I found myself quite invested in the characters. It's a compelling story.
The Wright Brothers by David McCullough
Two-time winner of the Pulitzer Prize David McCullough tells the dramatic story-behind-the-story about the courageous brothers who taught the world how to fly: Wilbur and Orville Wright.
Jenny brought this book to me when I was in the hospital, and even though I had to read each page about three times because I kept falling asleep (yay for pain meds!), I loved it. I had never given much thought to just how amazing their accomplishments were until I read this book; it is astonishing. And to think it all happened in our backyard! Crazy. Most importantly, David McCullough answers the age old question of exactly which state gets to claim "First in Flight." Spoiler alert: It's not North Carolina.
That's a wrap for today! Tell me, though – what book should be next on my list?
Pin It