Managing my mess of digital pictures is a source of anxiety for me. I've written about it before… asked for advice and gotten great suggestions… but I've yet to put anything into place. I have pictures all over – multiple places in the cloud, facebook, my phone, Andy's phone, various computers. I never know where to find the picture I'm looking for.
It's a mess, and it stresses me out.
Enter Kwilt.
Kwilt is the first mobile app to automatically create a personal and complete live digital photo stream by gathering users' digital images from Facebook, Instagram, Flickr, Google+, Google Drive, Dropbox, DLNA Certified® servers, iPhones and iPads. Kwilt reconnects users with their personal photos – often scattered across the web – by bringing them together in one beautifully designed hyper-fast streaming media platform.
Kwilt connects to Facebook, Instagram, Flickr, Google+, Google Drive, Dropbox, DLNA Certified servers, and iPhones/iPads. It streams all your pictures into one place, and puts them in a – very lovely – sequence chronologically, by location, or by theme.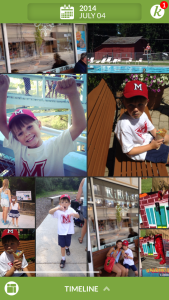 You can also make custom albums and share them on social media. You can even display them on your television using Airplay, Chromecase, Roku, LG or Panasonic. And, you can hide pictures you don't want to show up, which is handy – I take pictures of lists and papers and things that I wouldn't want to see in a Kwilt!
After connecting all my accounts to Kwilt and seeing my pictures pop up in a beautiful, organized display, I sent an email to the Kwilt team that said "This app is what I've been waiting for my entire life!"
See for yourself – download it here.
*******
This post was written in partnership with Kwilt and TheMotherhood.com, but, as always, opinions are my own.