It doesn't take much to amuse me. Clearly. I mean, I think this blog is freaking hilarious.
My standards aren't terribly high.
Take this hand soap, for example.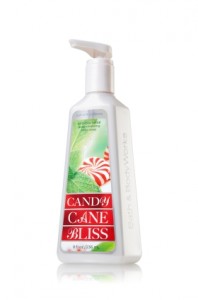 The lovely woman who cleans our house left it for us right before Christmas, and a few days later I told Andy "This good-smelling hand soap makes me ridiculously happy." He was all, "I know! Me too! We should get more!" So then a few days after Christmas we went to Bath and Body Works to invest in more small bottles of happiness.
It was tough to decide, though, how many to buy. I mean, we are talking about soap that smells good. It's a major investment! Andy said, "We have four sinks. We should buy one for every sink!" And then I said, "But wait – they are six for $20…. maybe we should buy six." Andy justified this extravagant purchase by saying that we'd definitely get around to using all six eventually – and then he hit his estrogen limit, grabbed Sam, and ran out of the store, leaving Kate and me to make the tough decisions on exactly which scents to buy.
Spending that $20 seemed like an agonizing decision, and I don't know why. I'm sure we spent more than that at Wendy's on the way to the mall that day. But even after I made the purchase, I was comparing the price to the 10 for $10 Softsoaps available at CVS, and it even crossed my mind that I should check Pinterest for ways to make my own smelly soap for a nickel.
That is dumb.
The soap makes me (and Andy and Kate. I'm not sure Sam cares. Or washes his hands.) happy every time I use it. It's a simple, cheap (yes, cheap) way to infuse a little happiness into my day. That's well worth $20.
What simple things make you happy? How do you (or can you start) to work them into your daily routine?