I know I just wrote, like, a week ago about how I was having a rough time with Jonah…maybe that is why we had such a good week this week! I am happy to report that I am feeling awesome and optimistic about my baby boy…even though he's officially given up his nap (oh, I am very sad about that!)
One of the things he's really started to do this week is talk about school. A couple weeks ago he started going through their schedule, he'd randomly say: "We go to school. We have  breakfast. We have circle time. We have centers. We have story. We have music. We have scooters. We have snack. We go home!" And then he'd smile triumphantly. I love it!
Then last week he was walking around going: "Sit down. Sit down. I said sit down!" in a very STERN voice, and it was CRACKING me up. "Jonah, what are you talking about?" I said. He grinned and reported: "I'm talkin 'bout school!" I then cracked up even more – let me just say preschool teachers are my HEROES! This week, he's still been saying it, I realized he was saying someone's NAME before he said "Sit down." Of course I had to know whoooo's name. So we began a guessing game.
"Jonah, what name are you saying? Is it ___?" I went through a couple names and then he said "How about Austin?" (not his real name.)
"Oh!" I said. "Austin needs to sit down?"
"Yes!" he said triumphantly. "Austin, SIT DOWN! Sit down Austin!"
(Let me just insert here, part of the reason it took me awhile to figure out he was saying a name is because this kid's real name is pretty unusual. Come on people…)
Anyway…we are COMMUNICATING here people!!
Then today after school, he was kind of talking about circle time I think. There was more talk of sitting down, but, he was saying "Jonah sit down on the carpet, Molly sit down on the carpet, Miss Miller sit down on the carpet…" etc. Pretty cool. Maybe one day he will start telling me more – like what and who he plays with. I can't wait!
He also sings songs from school. It's pretty adorable, and he's also been reciting nursery rhymes, which he definitely did not get from me, so I have to assume that's from school, too. Oh, how I wish I could be a fly on the wall!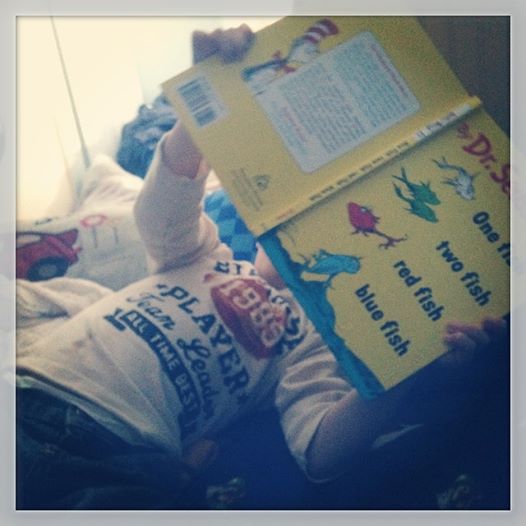 (He's also in a super-obsessive  One Fish Two Fish Red Fish Blue Fish stage, and he quotes it all the time, and bursts into verse from it every time you say any word that is IN the book. Words to avoid: red, blue, fish, hat, bird, old, hold, told, sad, bad, mad, glad, wink, yink, fox, box, and of course gox.)
Anyway. I'm super proud of him, and I think he's really coming along. I really enjoyed this week with him and I hope he keeps up the conversation and the happy moods. (And maybe starts napping again? Yeah, I doubt that's happening. 🙁 )
Conversing with my cheerful boy was definitely the bright spot in my week. Tell me, what was yours?