Is dog crap.
At least, that's what Sam's decided he wants. Not real dog crap – there's plenty of that in the back yard that I haven't noticed anyone clamoring for – but fun dog crap.
Doggie Doo, to be more exact.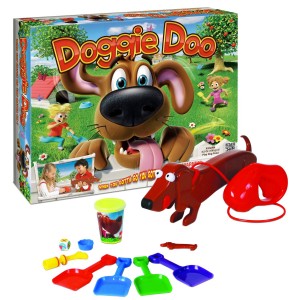 To play, feed your Doggie and take him for a walk. When you squeeze his leash, he makes a gassy sound that gets louder and louder until…plop. The first to clean up after the dog three times wins!
Are you *&#$ing kidding me????
Silly, funny sounds add to the fun!
Kids will laugh and love the hilarious sounds the doggie makes as the food gets digested! Air pressure from the bone in the doggie's mouth moves the yellow slime down the body of the dog and creates gassy sounds that will have everyone laughing out loud.
Everyone will be laughing out loud except me, who will be running to the bathroom to throw up. Who comes up with this crap??? (heh. crap.)