This shop is part of a social shopper marketing insight campaign with Pollinate Media Group™ and Project 7 but all my opinions are my own. #pmedia #chewforchange  http://cmp.ly/3/8vNxcO.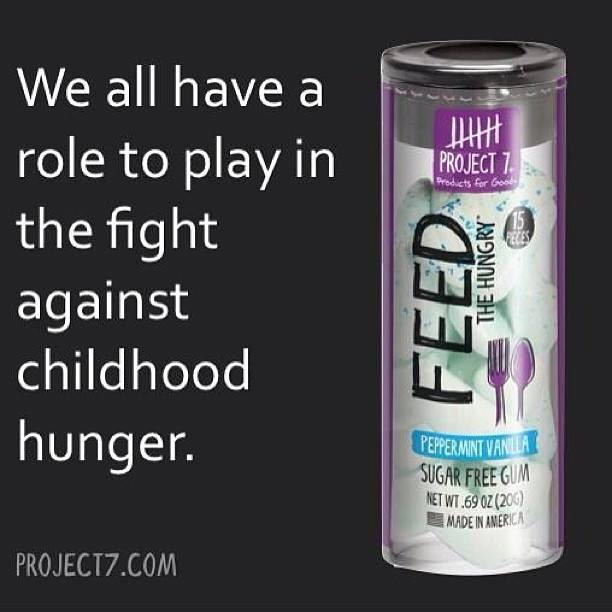 If you've been reading this blog for awhile you might know that I can be a little passionate about doing good. Whether it's raising money for a friend fighting cancer, helping fit kids in need with new shoes and socks, or walking to raise funds to better the lives of people in my area with Down syndrome, doing good makes me happy. And I am doing it not because I am good, but because I truly believe that God calls us to love our neighbors as ourselves. The last thing I tell my kids before they go to school every morning is "Have a good day! Love your neighbor!" And every night when I put Sophie to bed, I pray that God would help her to love her neighbors. My kids know this is important to me, and I pray they will embrace this as they grow up.
I recently found out about a brand called Project 7 that also loves to love on their neighbors, and they do this by making products for good. Naturally this company's mission really appeals to me! It's so simple but so awesome – the profits from the products they make – from gum to bottled water to coffee – all give back to do things like provide meals for hungry American families and plant trees to keep our ecosystem healthy.
I really, really, really LOVE that this company is built on doing good!! LOVE IT! It's so simple, and it inspired me to give back in a simple way, too. So I headed to my local Meijer and went a-shopping, as you do. I picked up some Project 7 gum:
 I also purchased ingredients to make a meal for a family I've been thinking about.  (Aaaand some other things we needed and a bunch of stuff for Sophie's birthday party in November because it was on clearance! SCORE!) I do love making a meal as a simple way to show kindness. Especially if it's a surprise! 
The family I chose to make my meal for is not exactly "needy" in the typical sense – I chose a friend of mine who is a single mom (a GREAT mom) to three great children, who works really, really hard, and who rarely gets a break. Someone who could use a night when she doesn't have to come home from work, strap a fussy baby into the Ergo, and make dinner. Tonight, she will get to come home and snuggle the baby while she re-heats a meal that was made for her and enjoys some special treats that her friend threw in.
Before I knew her, my BFF was a single mom with two children who worked really, really hard and rarely got a break. So I've got a soft spot for those awesome mamas who do it all. And love the crap out of their kids.
You guys, I have three kids, and I cannot imagine doing it all on my own! Bobby works later than most and I whine about that sometimes. But I shouldn't, because I am not a single mom. I am not working to provide for my family and do ev-er-y-thing else that 3 children and a household need.
I have been thinking about this friend a lot lately. Learning about Project 7  gave me the impetus to put those thoughts into action. So I planned out a couple of my favorite recipes, loaded up my cart at Meijer, and got cooking! And I used my crockpot for each recipe!
The main dish is maple-mustard chicken sandwiches. You read that right. They are delicious!
All you need for this recipe is chicken, maple syrup (I chose praline-maple to change it up a bit), spicy brown mustard, and garlic.
I first began experimenting with maple and mustard after making this recipe here, so that was the inspiration for the recipe I used here – I just made it my own.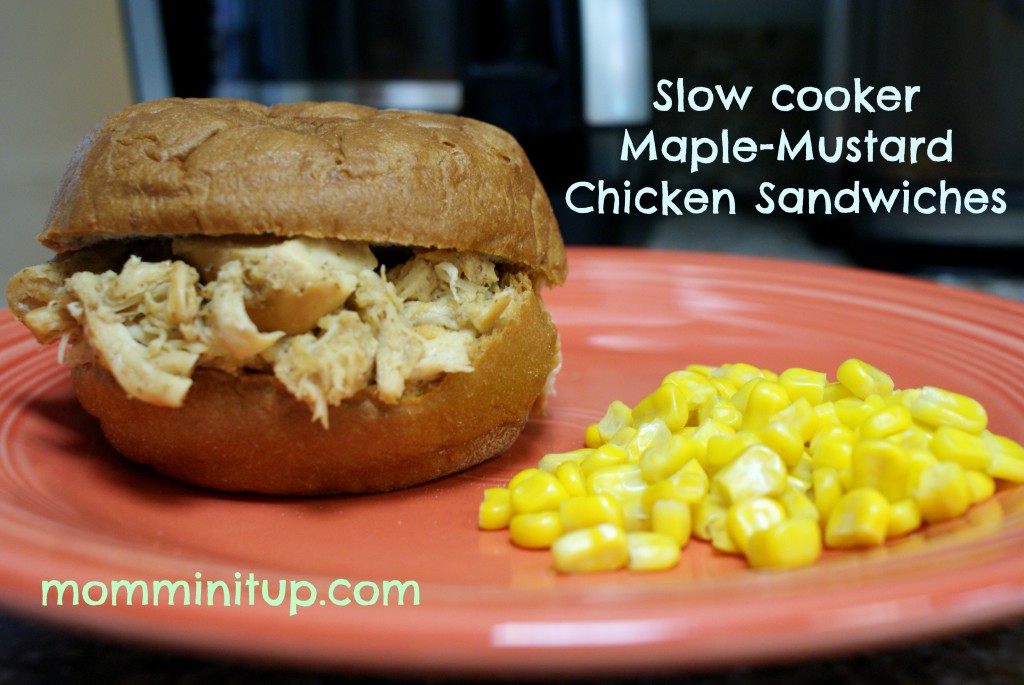 Maple-Mustard Chicken Sandwiches
Ingredients:
2 lbs. frozen chicken breast tenders
1/2 cup maple syrup (choose whatever flavor you like, plain maple is also delish.)
5 tbsp. spicy brown mustard
1 clove garlic, pressed or minced
Combine all ingredients in a slow cooker. Cook for 4 hours on high or 6 hours on low. Chicken should  be very tender. Shred with two forks and drain excess liquid. Serve on bread or sandwich buns. Makes 8 sandwiches.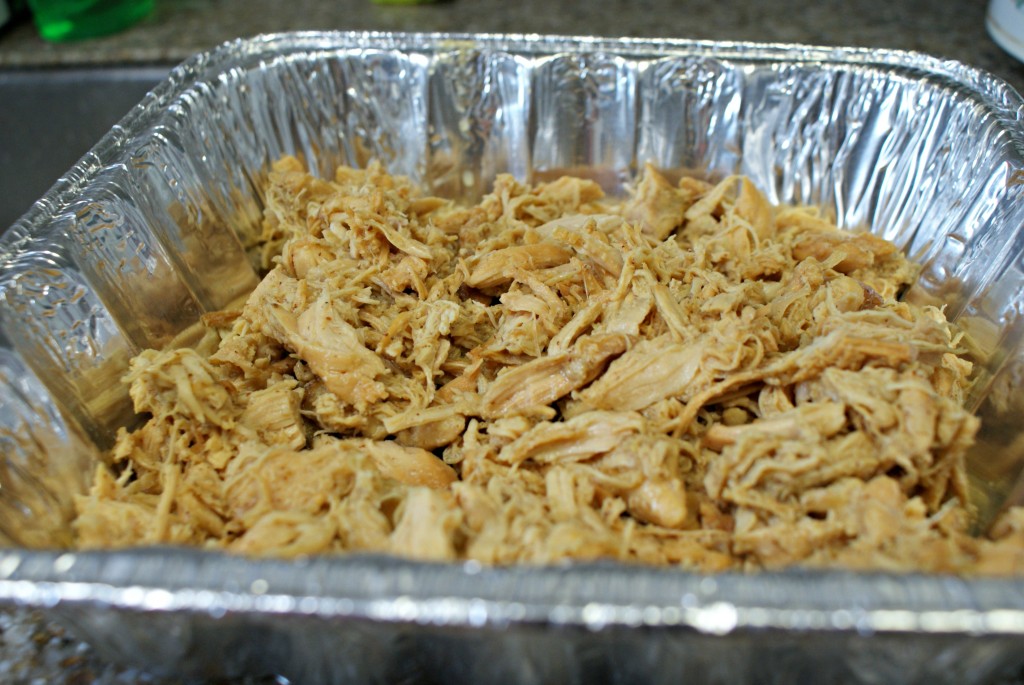 I also made smashed garlic potatoes and threw in some microwave-steamable sweet kernel corn, as well as some treats for dessert!
It was as easy as can be, and reminded me that giving back doesn't need to be this huge, overwhelming, time-consuming, back-breaking effort. It can be as simple as giving a hard-working mama the night off from cooking or buying a pack of gum from a company whose profits go to work feeding our nation's hungry.
It can be as simple as leaving a pack of gum in your mailbox with a note for your mail carrier.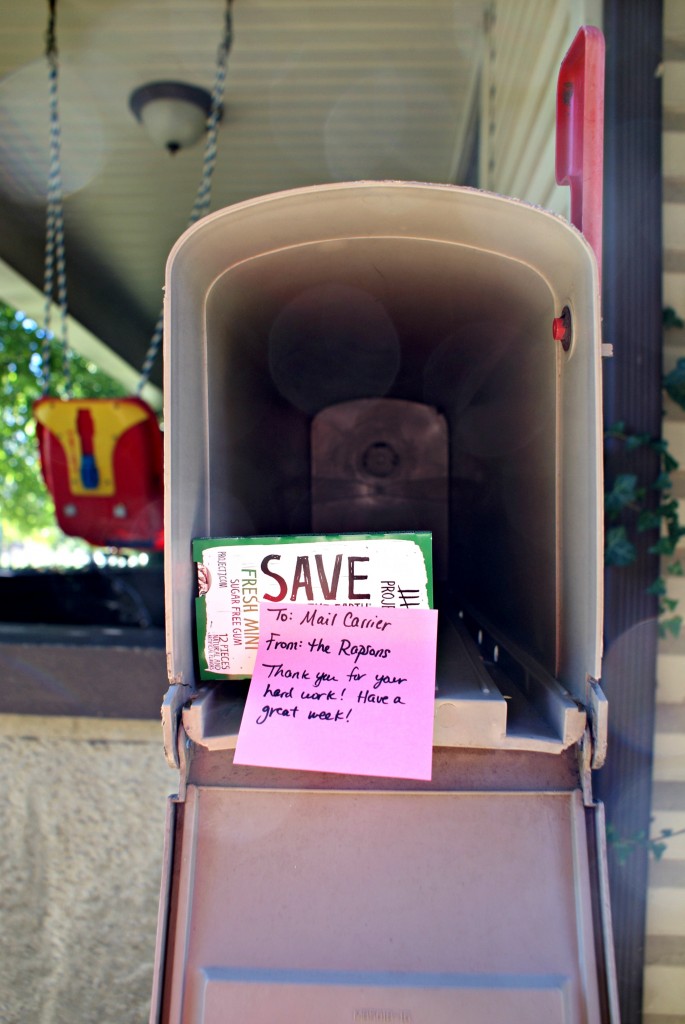 Or the person who takes care of your kid in the nursery so you can enjoy church.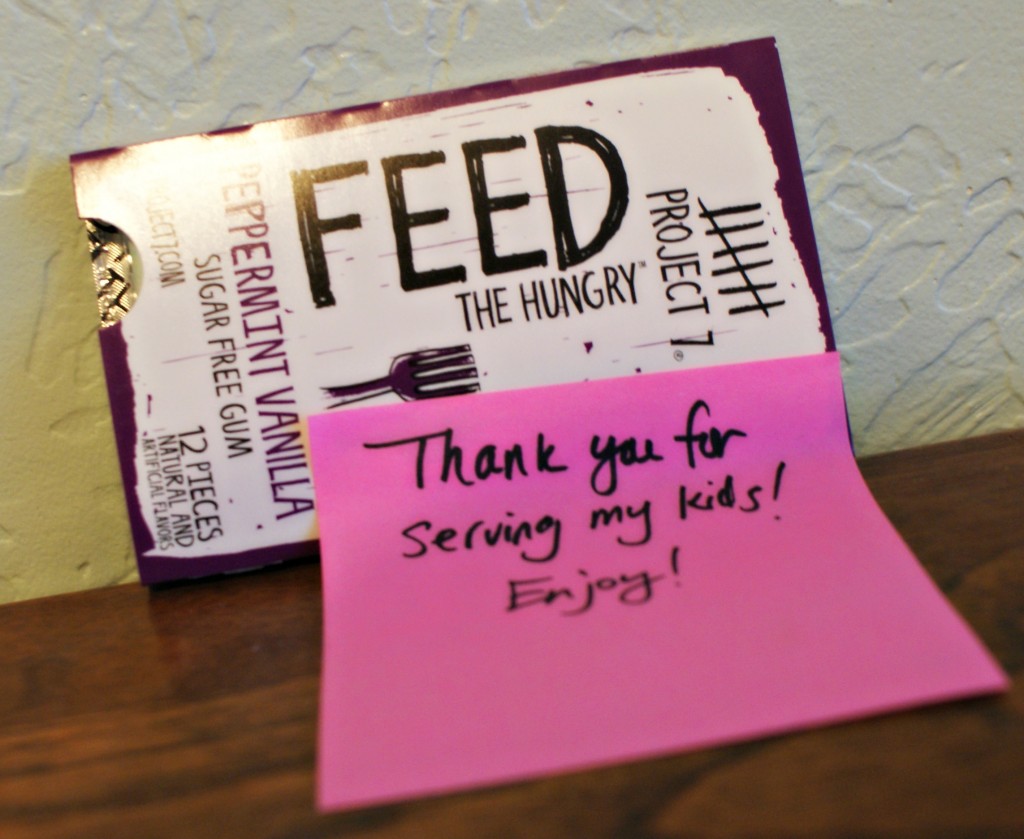 Or it could be as simple as buying an extra pack of gum for your cashier at Meijer and telling him or her about the Project 7 mission.
As you're reading this, a surprise package is on its way or has already been delivered to my friend.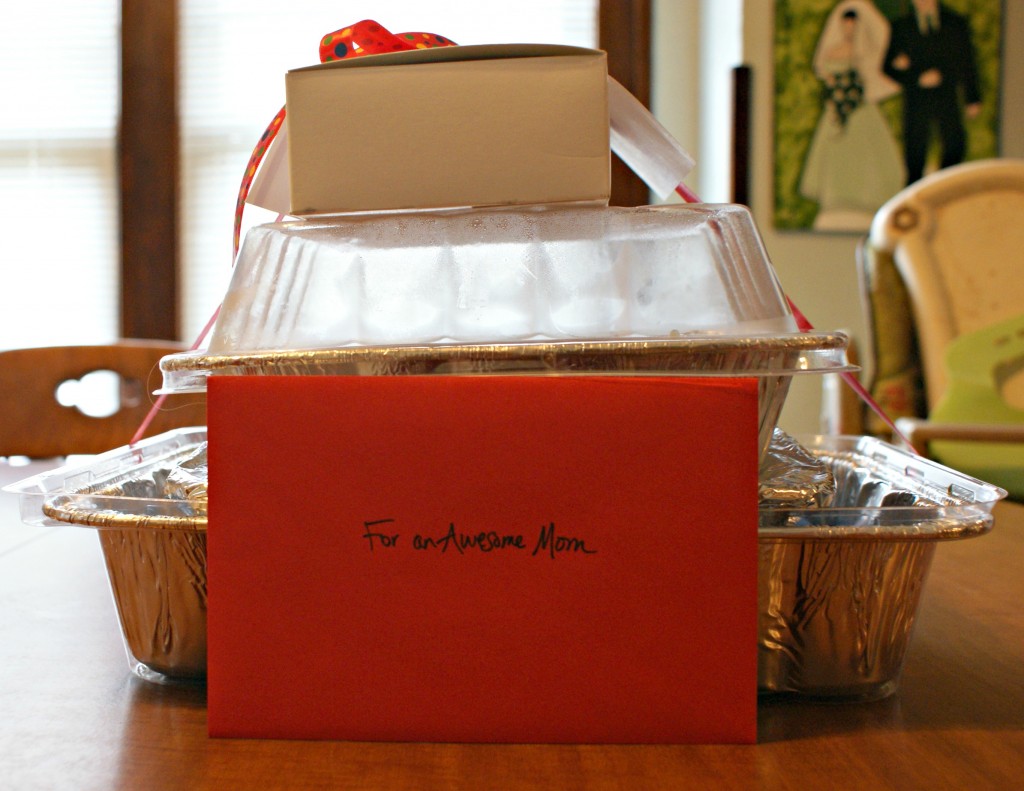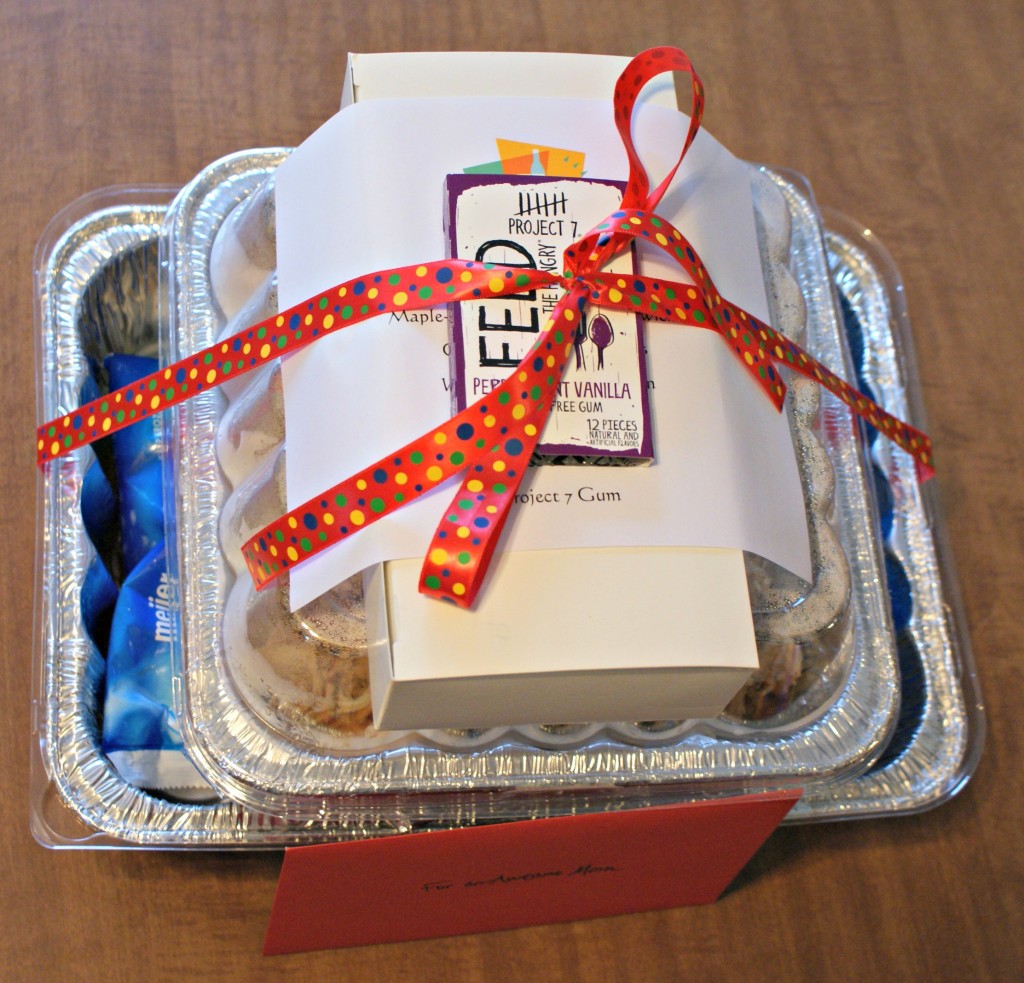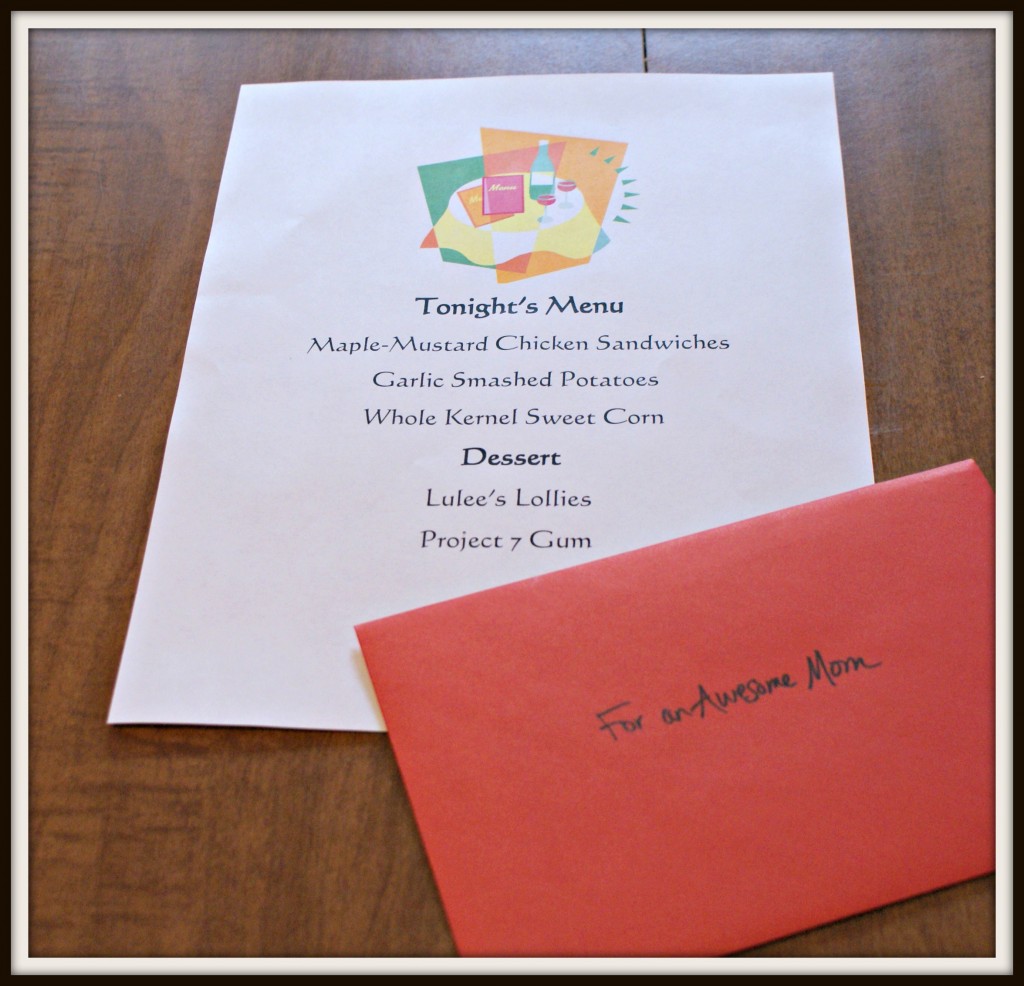 I hope this package makes her day. Putting it together for her sure made mine!
You know what else would make my day? If you watch this short video about Project 7. It. Is. Awesome. Not only will it give you warm fuzzies AND goosebumps at the same time, it tells you all you need to know about why they do what they do, and how you can help them change the world.
Did you catch that? They want to give away 1 million meals and plant 1 million trees next year!
Wanna help? For starters, head to Meijer and grab some gum! Don't forget to pick up an extra pack or two to give away and help spread the word. I love the Project 7 mission!
What products do you love to buy because they give back?