This post is part of the SPLENDA® 365 SWEET SWAPS ™ blogger program by McNeil Nutritionals, LLC. and The Motherhood, who sent me products and compensated me for my time. Opinions, experiences and photos shared here are my own, and I hope you enjoy them.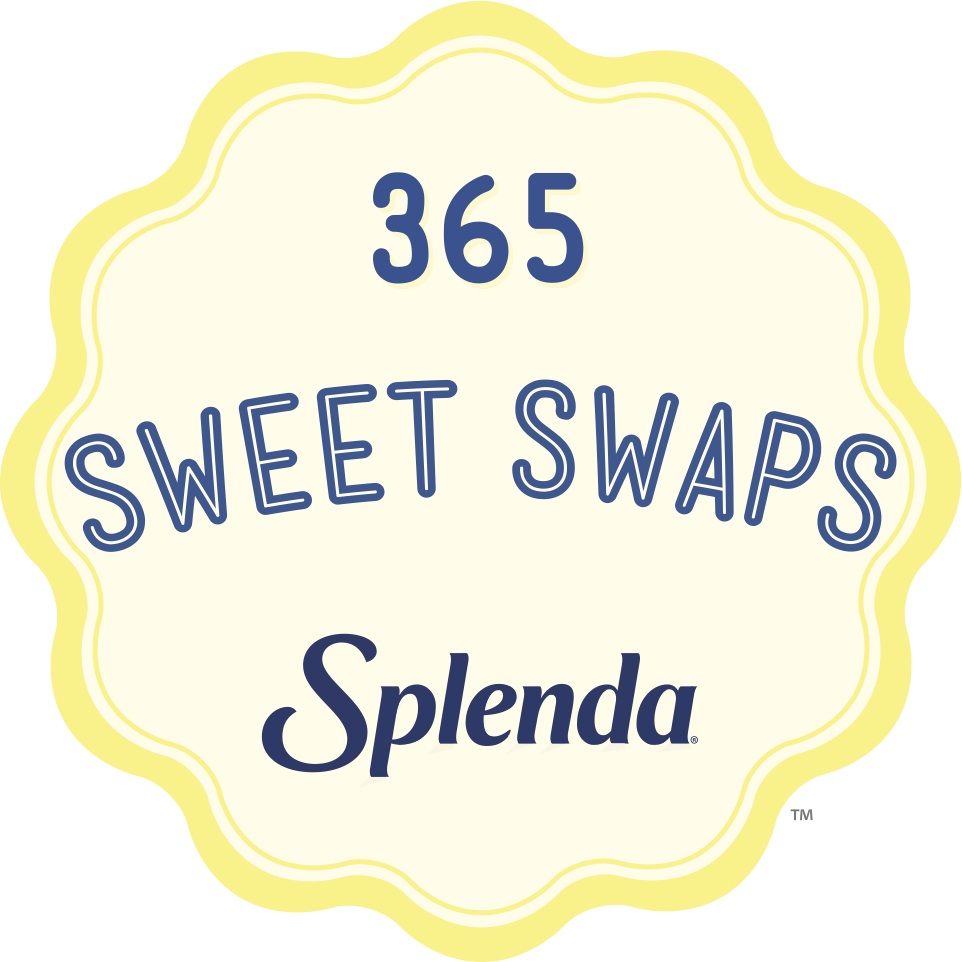 Hey! Remember last week when I shared with you about how Splenda® has a really cool 365 Sweet Swaps™ Tumblr page where they're giving us one way every day to swap sugar for Splenda® No Calorie Sweetener or one of their other fab products to cut back on calories and added sugar? REMEMBER? I know you do! Did you try any Sweet Swaps for yourself? I thought of several others after I was done writing my post…I put cinnamon & Splenda® on my toast instead of cinnamon & sugar, for one. DELICIOUS! It's a simple, every day way to cut out added sugar. Other ways I've swapped out sugar and used Splenda® No Calorie Sweetener in cooking before (not baking, but actual meals)inlcude using it in my famous corn cake and in home made salad dressings, too. YUM.
I must confess I do like to use brown sugar in a few of my favorite dishes (especially meat marinades!), so I decided to fully take the Splenda® Sweet Swaps challenge and take the plunge into less added sugar and fewer calories with Splenda® Brown Sugar Blend. This fantastic product is actually a blend of Splenda® and brown sugar (it's not just a clever name, ha!), so while it does contain some sugar, it contains less sugar and fewer calories than regular brown sugar. As a bonus, when you are baking or cooking with Splenda® Brown Sugar Blend, you only need to use half as much. So, my original recipe called for two tablespoons of brown sugar, and I only needed one tablespoon of Splenda® Brown Sugar Blend.
I decided to really put Splenda® Brown Sugar Blend to the test with one of my FAVORITE recipes: slow cooker tangy pork ribs. This is a sweet, tangy dish that I LOVE. The marinade recipe is one I've concocted over the years, but is based on this original recipe (for the marinade only) found here. I actually use a lot fewer ingredients, but again, this was the basis. After I made my wonderful ribs with Splenda® Brown Sugar Blend, let me tell you, they tasted EVERY bit as scrumptious as if I'd made them with straight brown sugar. My husband loved them, too, and last night I doubled the recipe and put the same marinade with Splenda® Brown Sugar Blend on a pork tenderloin and took it to my house church group and it got rave reviews from the whole group!
Here's how the ribs turned out, and I've also put my recipe below: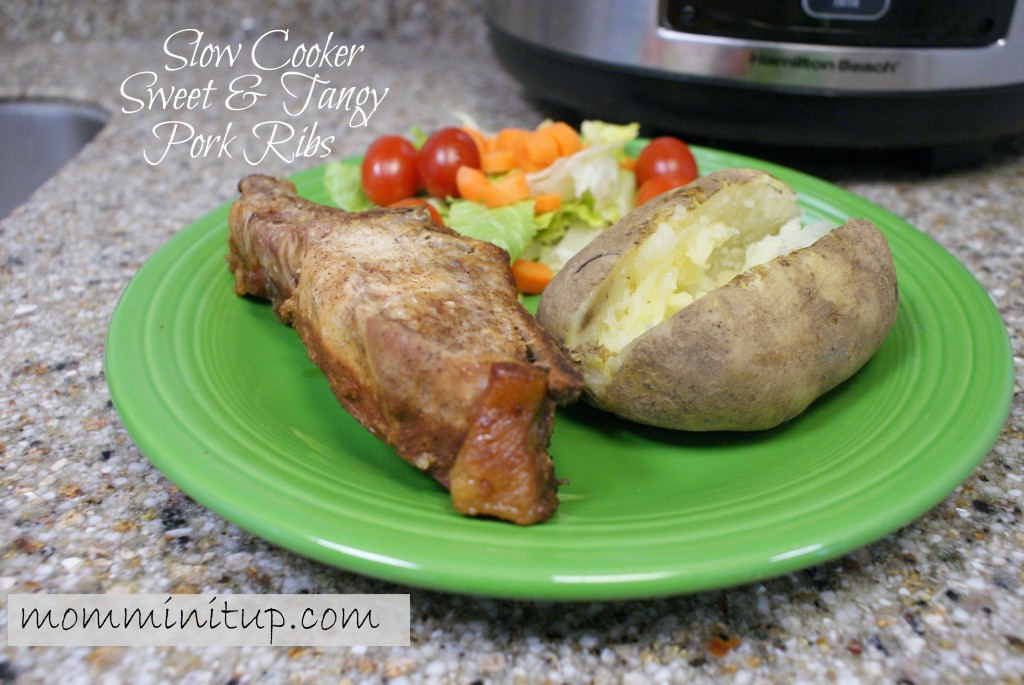 Lower-sugar Sweet & Tangy Slow Cooker Pork RibsApprox 2 lbs. pork ribs
Approx. 2 lbs. pork ribs
 2 cloves garlic, pressed or minced
 1 tablespoon Splenda® Brown Sugar Blend
 1 tablespoon honey
 3 tablespoons soy sauce (I used gluten-free since I am allergic to wheat)
 2 teaspoons ketchup
 1/2 teaspoon ground ginger
 1/4 teaspoon ground cinnamon
    Place pork in crock pot. Combine all other ingredients in small mixing bowl and whisk until smooth. Pour over ribs in crock pot. Cook on low for 6 hours or high for 4 hours. ENJOY! This is one of my FAVORITE recipes to pop into the slow cooker, and I'm so glad now I can make it with less sugar and calories without losing ANY taste! For my next Splenda® Sweet Swap, I decided to try something more DARING. You see, Jonah has been gluten-free for over a year now, but dairy-free also for about 5-6 weeks. I've been buying him some tasty (yet expensive) GFDF cookies to use as rewards for working on speech therapy with me at home, but I've really been wanting to make him some at home to save on the cost of those. SO, I decided – why not make them lower sugar as well as gluten and dairy free? With the Sweet Swaps challenge entering my life at this time, it all just came together! To make these cookies, I just took the recipe right off the back of the Splenda® Brown Sugar Blend bag and used gluten-free all purpose flour and coconut oil instead of butter. I also added some xantham gum which is used in GF baking to bind ingredients together. AND…they came out…AMAZING!!!!!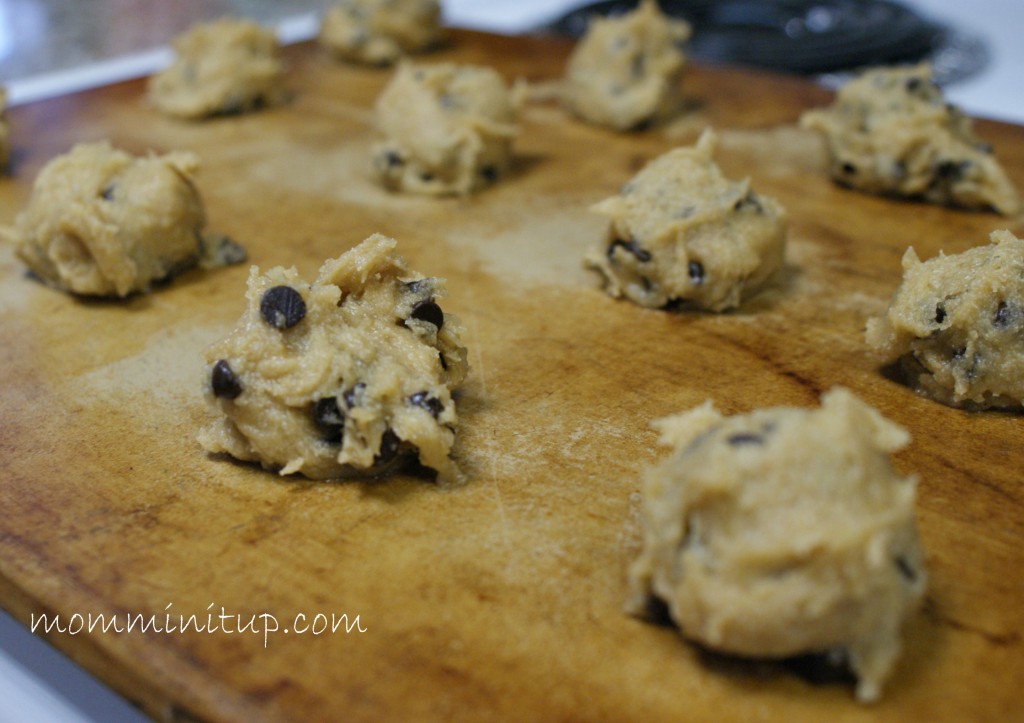 (Here I'm going to note a Splenda® baking tip: if you are making a cookie recipe that calls for both white granulated sugar and brown sugar, you should generally leave the brown and replace the white with a Splenda® product, because brown sugar really adds to the cookie texture.  Since this was a Splenda® recipe and did not call for white granulated sugar, it worked great using the Splenda® Brown Sugar Blend.)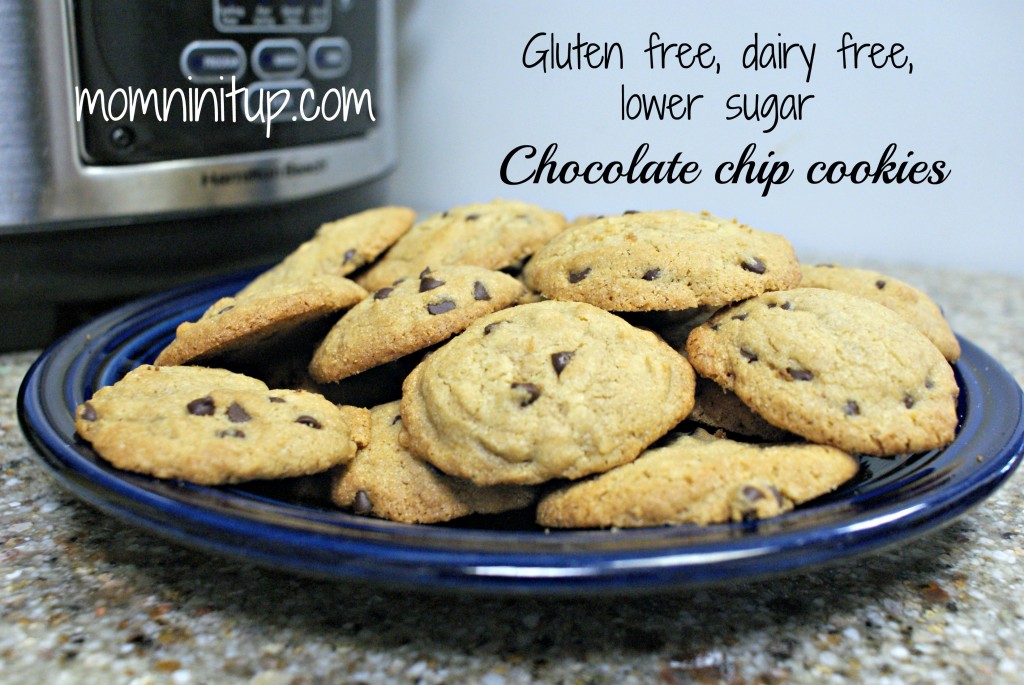 You guys, these turned out SO GOOD. SOSOSOSOSOSO good! They are a crisp, tasty, delicious, wonderful, perfect-with-milk (or coconut milk as the case may be!) cookie. And they are gluten free, dairy free, and lower in sugar thanks to Splenda® Brown Sugar Blend! My kids, including the ones who don't have to eat GF DF, LOVE them. And so do the hubby and I! Here's the recipe I used, adapted from the original Splenda® recipe which is right here on their website.
Gluten-free, dairy-free, lower sugar chocolate chip cookies
2 1/3 cups all-purpose flour
1 teaspoon xantham gum
1 teaspoon baking powder
1 teaspoon baking soda
1/4 teaspoon salt
3/4 cup softened coconut oil (soft but not complete liquid)
1 cup SPLENDA® Brown Sugar Blend
2 large eggs
1 tablespoon vanilla
2 cups semi-sweet dairy-free chocolate chips
The rest of the recipe is just as Splenda® originally directed, except I had a slightly shorter cooking time.
Preheat oven to 375 degrees F. Line cookie sheets with parchment paper. Combine flour, baking powder, baking soda and salt in small bowl. Set aside. Mix coconut oil and SPLENDA® Brown Sugar Blend in a large bowl. Stir in eggs one at a time. Add vanilla and mix. Stir in flour mixture. Fold in chocolate chips. Drop dough by rounded tablespoons onto cookie sheets. Bake for 9-10 minutes. Allow cookies to cool for 2 minutes before moving to wire racks to cool completely.
That's ALL! So simple, and it made such delicious lower-sugar cookies that fit with my kiddo's allergy needs. I was thrilled!
I've had a lot of fun expanding my love of and use for Splenda® products and I know I'll be doing lots of sweet swaps this year to cut out added sugar since I've bookmarked the Splenda® 365 Sweet Swaps™ page.
What did you think of my recipes? Are you going to give them a try? And what sweet swaps are you planning on making to cut out added sugar and calories?