In case you haven't been inundated with pictures of apple picking and pumpkin patches on Facebook noticed, it is officially fall… time to break out the jeans, sweaters, boots, and slow cookers.
I've been using a slow cooker regularly for a long time, and while I love the convenience of having dinner ready when I get home from work, I've shied away from lots of recipes that require extensive prep work. (At least I've shied away from them after the infamous spaghetti chicken incident of 2010.) To me, the point of using a slow cooker is that, well, you use the slow cooker, and only the slow cooker! However, that theory seriously limited what I was able to make.
Until, that is, this magical small appliance appeared on my doorstep.
The Nimus 2000. I mean, the Cuisinart 3-in-1 Cook Central. It is a slow cooker, yes, but it's more than that – you can also brown, saute, or steam food right in there. No extra pans required.
The first thing I tried was chili. I programmed it to heat up to 400 degrees…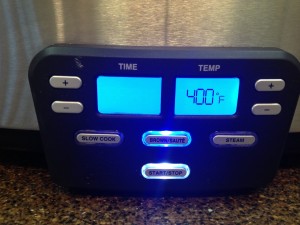 And browned the hamburger and onion right in the slow cooker itself. After that was done, I just switched it over to slow cook and added the rest of the ingredients. Extremely convenient!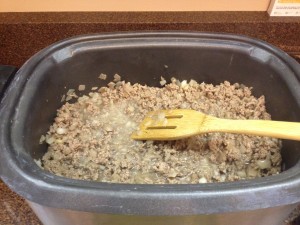 I've used the Cook Central a number of times since then, and here are some things I've noticed:
- The pot is long and shallow – at first I didn't think it was going to hold nearly as much as my old slow cooker did. However, after I actually put food in there, I was pleasantly surprised by how much it would hold. As it turns out, it holds six quarts, just like my old one. I wanted to make sure to mention that because I may have passed over this whole contraption at first glance because of my misconception of its size.
- The cooking pot is removable (HUGELY important for clean up!) and it's nonstick aluminum – I've been impressed at how easy it is to clean each time I've used it. I don't use the slow cooker liners anymore, because there's no need. Nothing sticks to the pot! It's also dishwasher safe (thank goodness).
- I love that it automatically switches to "keep warm" after the designated cooking time expires. Not all slow cookers do that, and I think it's a great feature. In fact, it will stay on "warm" for up to 24 hours.
- It's pretty. I love the stainless steel look and the blue backlit LCD display.
The combination cooking feature has prompted me to expand my slow cooker repertoire – earlier this week I tried this recipe for shredded beef tacos. Before, I wouldn't have given it a go because of the need to sear the meat (I know I am lame, but it's true). Since I could do it all in the slow cooker, though? I gave it a shot, and it was delicious.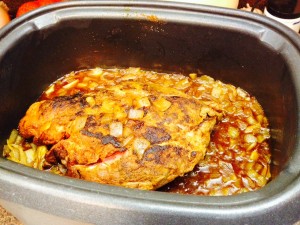 The 3-in-1 cooker and I will be spending a lot of quality time together this winter!
To learn more about all of Cuisinart's products, head over to their website and follow them on Twitter!