Last week I told you a little about my work with Chef Boyardee on their Little Chefs eCookbook. This week my kiddos and I tried out a recipe together! We cooked a Chef Boyardee recipe using Beefaroni, called Cheeseburger-roni. We had a great time cooking together, and the recipe was fast and easy!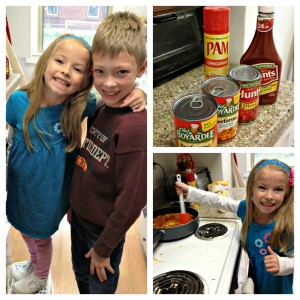 We cooked together in preparation for a fantastic event on theMotherhood.com tomorrow afternoon that I hope you'll join me for! It's a "Cook-Along" chat on the "Fun with Flavors" chapter that I contributed to in the Little Chefs eCookbook. It's a 30-minute text chat and we'll have lots of great flavorful ideas for you! Check out all the details below!
When: Thursday, November 8, at 2 p.m. ET.  It will last 30 minutes.
Where: The Motherhood – here is the link to the page where the class will be held: http://bit.ly/TcCMzR

About the class: Have picky eaters? Try creating a new, quick and easy recipe WITH them!  Introduce them to fun new flavors, like dips and spices, and encourage them to help you pick ingredients and create meals. Little Chefs are more likely to eat food they helped you cook! For more tips and tricks, join us in this fun and informative Cook-Along.
To participate, just click the link above, log into The Motherhood using your member ID (if you don't have one, it's easy and free to sign up), and chat away in the text-based comments. We'll also have a video feed running during the half-hour Cook-Along, so you're welcome to show up simply to watch if you'd like!
The Cook-Along is sponsored by Chef Boyardee, and it is hosted by The Motherhood.  You can visit Chef Boyardee online at http://www.chefboyardee.com/ or on Facebook at http://www.facebook.com/chefboyardee.

I'll be there with several other bloggers to co-host the class, and I hope you'll join us!  The fabulous people who will be co-hosting with me are:
Jennifer, The Suburban Mom http://www.thesuburbanmom.com
Kerri, The Maven of Social Media http://themavenofsocialmedia.com
Sarah, In the Trenches of Mommyhood http://www.sarahviz.com
Shannon, The Mommy-Files http://www.themommy-files.com

I hope you'll join us for this fun, creative 30-minute chat! We'll give you some great ideas to get your picky eater into cooking and EATING the meals you make for your family!
______________
I am being compensated for my work on the Chef Boyardee Little Chefs project.