This shop is part of a social shopper marketing insight campaign with Pollinate Media Group™ and Kleenex but all my opinions are my own. #pmedia #KleenexTarget  http://cmp.ly/3/8vNxcO
As I mentioned recently, I don't exactly welcome cold weather with open arms. I mean, if we could just hibernate like the bears do (furry geniuses!!), we could avoid snow, ice, and cold and flu season altogether. I think I'm going to start a hibernation petition!! Who's with me? We've had an early start to sickie season; Sophie, Jonah and I all got hit with nasty colds in OCTOBER, for goodness' sake! If that's any indication of how this winter is going to be, I'd prefer to just opt out. Because this happy guy?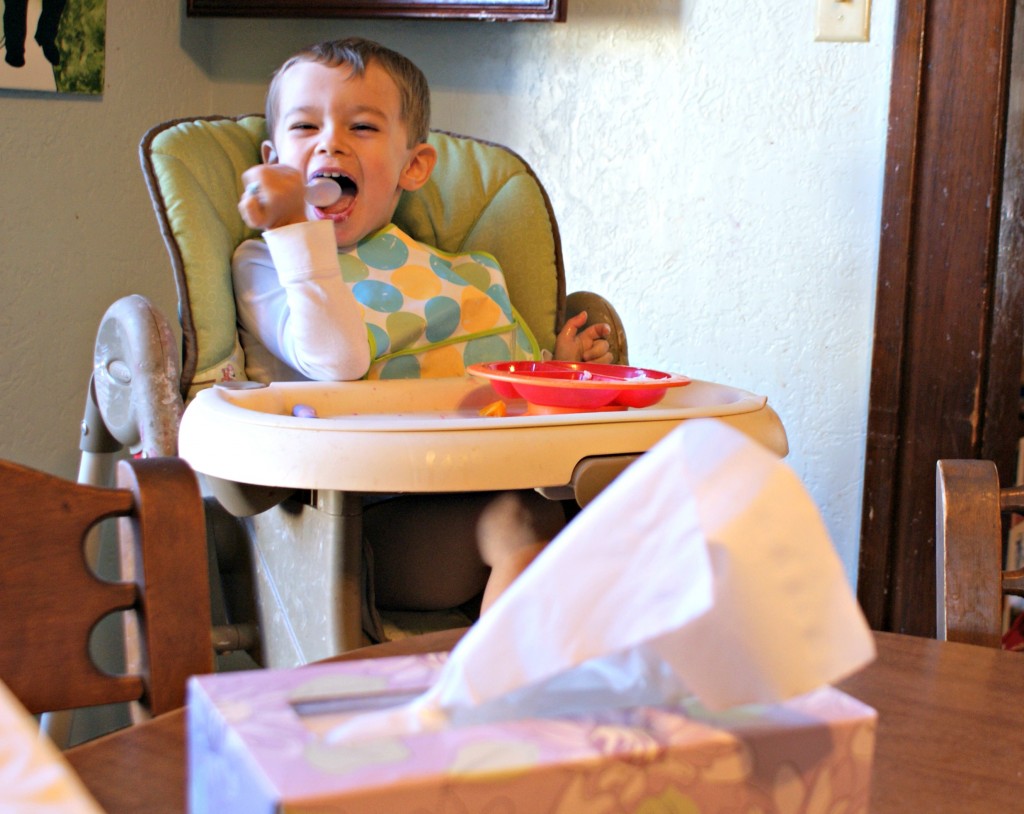 Turns into a tiny devil when he has a cold. The coughing, the sneezing, the sore throat – it all just ticks him off HARD. So when Jonah or any of my family is suffering, I don't just pull out the honey cough medicine and the vaporizer, I also bring out items that will keep us as comfortable as possible: Kleenex for our noses and my (soon to be famous??) potato corn chowder for our tummies.
Of course, with three young kids, I don't just have Kleenex around during cold and flu season, I've always got a box or two handy. You can typically find one sitting on our (decorative old) organ in our dining room, and on the ottoman in our living room amidst Jonah's favorite toys. We just always have a box of Kleenex around and they do the job here so very well (and often times it's a really snotty job!) I love Kleenex with lotion for my delicate little nose and all those delicate little noses I am privileged to wipe when the need arises. It's my fave!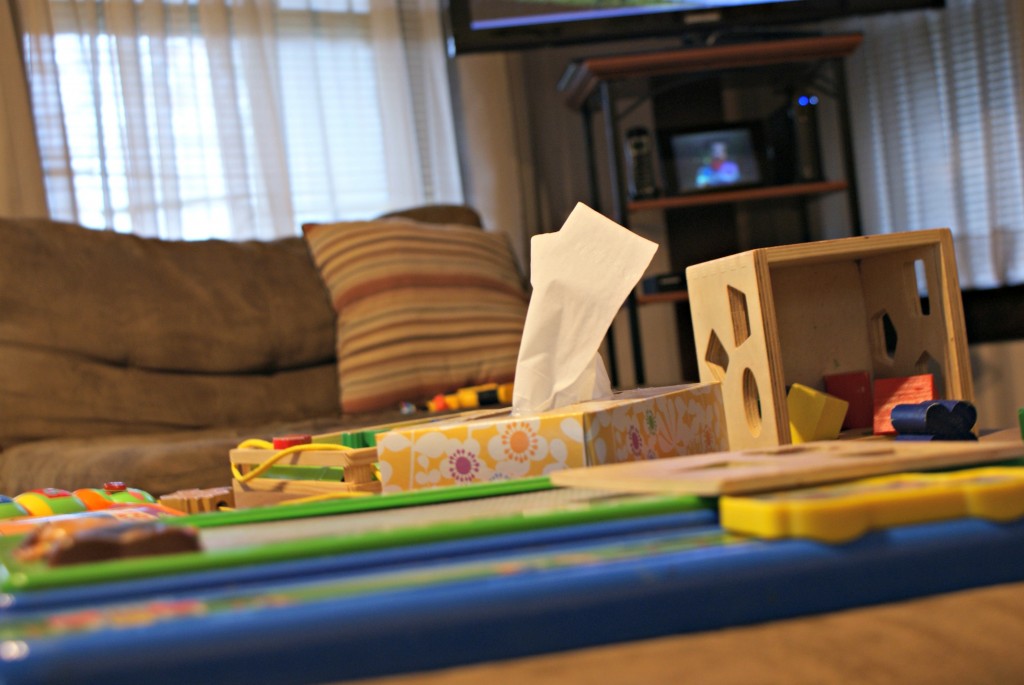 Last week I had a late-night coffee date/much-needed Mommy break at Target with my friend Tess (Starbucks in Target? Best invention since the KLEENEX!!) and threw a 4-pack of Kleenex into my cart, which is always a great value…but since you know I'm cheap thrifty, of course I had a $1 off Kleenex multi-pack Target printable coupon to use (and you should print before heading to the store as well!) I also happened to have a manufacturer's coupon from the paper and saved 5% off Kleenex with my Target Cartwheel app at the same time, so basically I totally scored on my Kleenex! Woot! I love saving on our must-haves!
To go along with our comforting Kleenex, another must-have in the Rapson house during cold and flu season is my favorite soup EVER, potato corn chowder. It's a hybrid of three different potato soup recipes I've used over the years, and I've finally found the PERFECT mix. It's delicious, hot, and totally hits the spot when you've got a cold, or when the weather outside is frightful and you're just plain cold. It starts with just some simple baking potatoes.
Then you add milk, onions, and garlic. Mmmmm.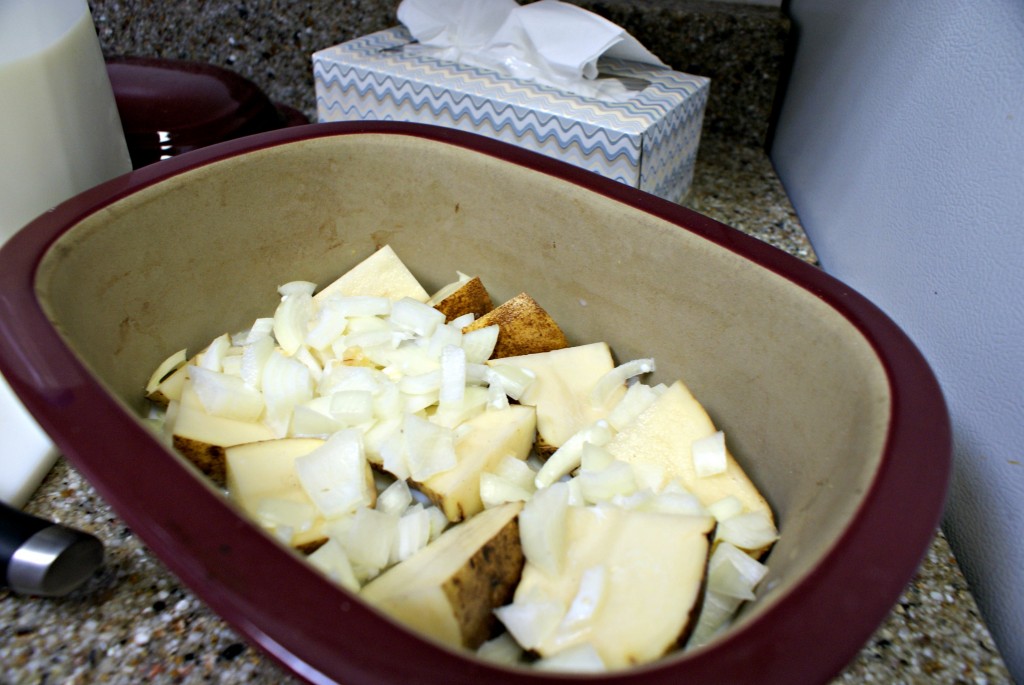 (I love making mine in this Pampered Chef baker in the microwave. If you don't have one, I recommend making it in a slow cooker.)
Then add creamed corn, more milk, sour cream, butter, bacon, and cheese(I didn't say it was health food, I said it was COMFORT food!)…
…and you'll end up with the yummiest, richest, most comforting soup ever. It really soothes what's ailing ya. Don't worry, I'll include the full recipe below!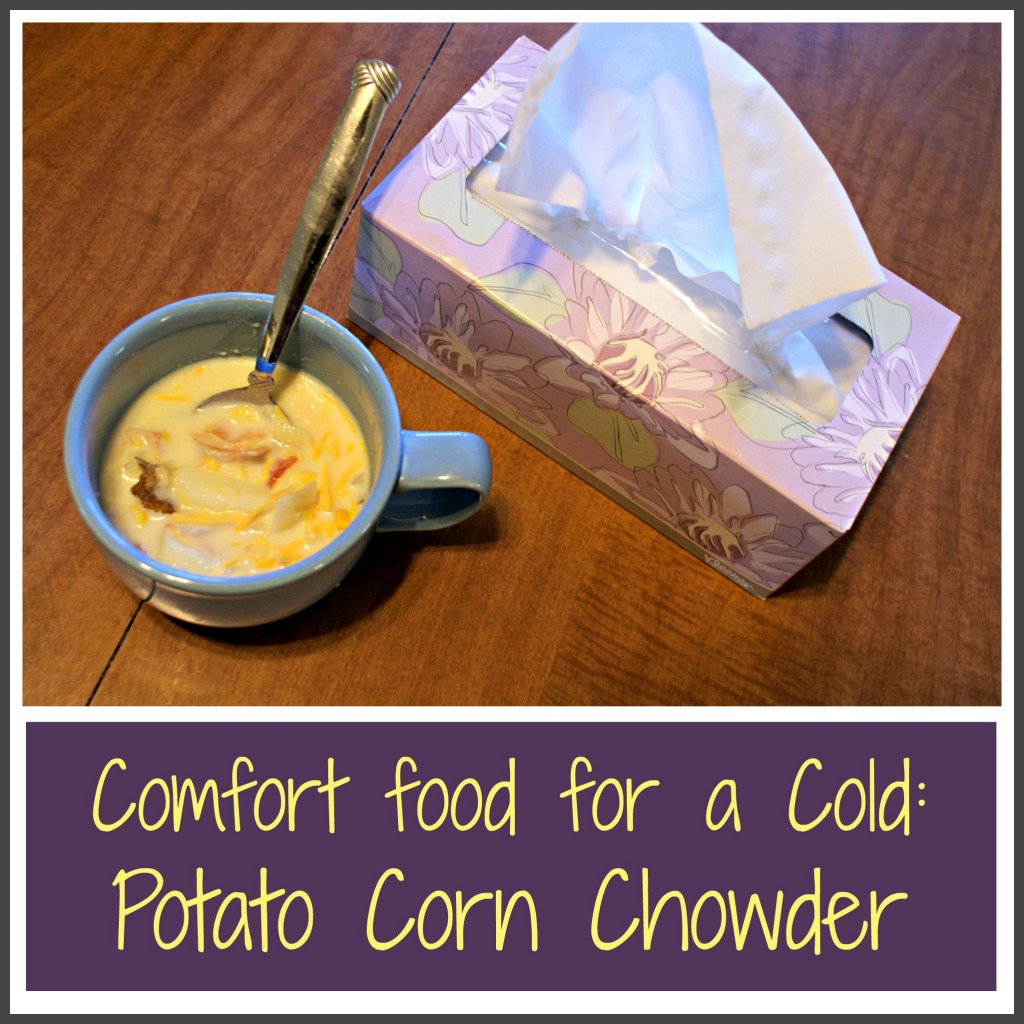 I will confess, picky Sophie isn't into soup. She doesn't know what she's missing. But my favorite oldest child, Joshua, really digs it!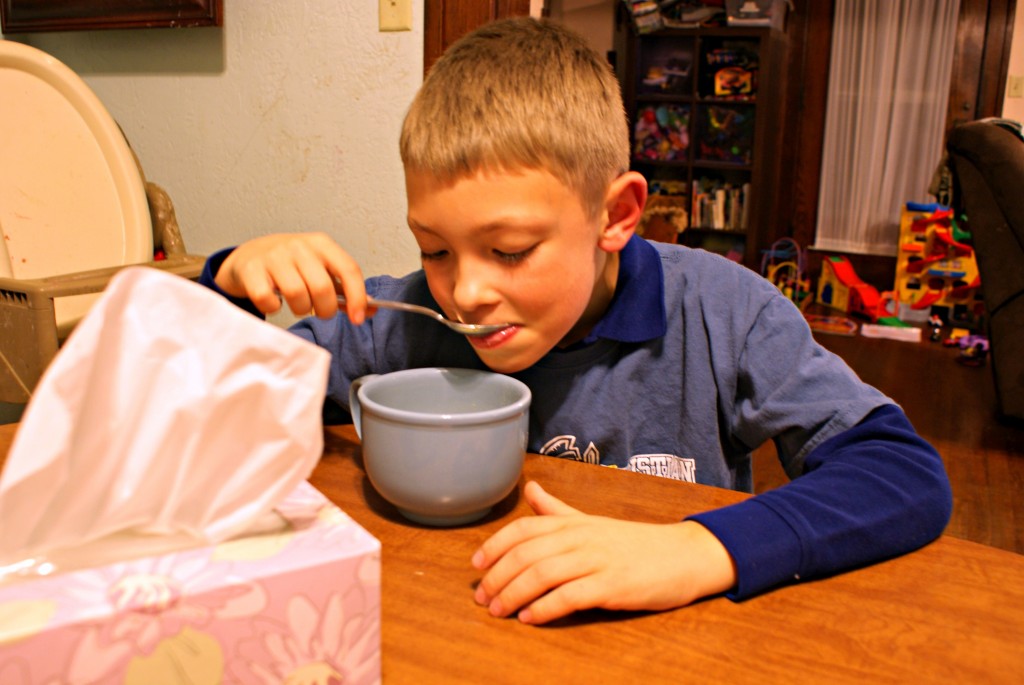 And Bobby and I *may* have had occasion to fight over the leftovers. Honestly, like my Kleenex, this soup is something I can't get through cold & flu season with out. And? Making it for the fam, or my house church group, or a friend who's had a new baby, is an act of love. It's just. That. Good.
As promised, I'll list the recipe I follow below, but first I want to know: what are your must-haves to get through cold and flu season? And what's your favorite comfort food?
Potato Corn Chowder – Slow Cooker Version
6 large baking potatoes
2.5 cups milk
1/4 cup sour cream
2 tbsp butter
1 can cream corn
1 onion, chopped or diced
1 clove garlic, pressed or minced
optional toppings: bacon and cheddar cheese
Directions: Cube potatoes (I leave the peel on, up to you). Combine with diced onion, 1/2 cup of the milk, butter, and garlic. Cook on low for 4 hours. Add creamed corn, remaining 2 cups of milk, and sour cream. Turn slow cooker up to high and cook an additional 2-3 hours, until potatoes are very tender. Top with cheese and bacon crumbles if desired. Add salt and pepper to taste.
Microwave version (I use a Pampered Chef Deep Covered Baker, I don't know of any other dish you can do it in like this):
Note: I only use about 4 large baking potatoes in this version because of space in the baker.
Combine cubed potatoes, 1/2 cup milk, garlic, and onion in deep covered baker. Cover and microwave on high for 10 minutes. Remove and mix potatoes around. Cover and microwave for an additional 10 minutes. Add creamed corn, remaining 2 cups milk, butter and sour cream and stir, coarsely mashing potatoes. Return to microwave for 4-6 minutes. Top with cheddar cheese and back and add salt and pepper to taste.
Enjoy!