Are you tired of hearing about back-to-school yet? ME NEITHER! I can't get enough of school, glorious school!! That's why when French Toast School Uniforms contacted me about doing a review and giveaway, I said "let's do it!" After all, I love trying new things and I love being able to offer the chance to win for one of you uniform mamas! French Toast sent me one bottom and two tops to review, and one of you lucky readers will win one bottom and two tops of your choice, wee-hoo!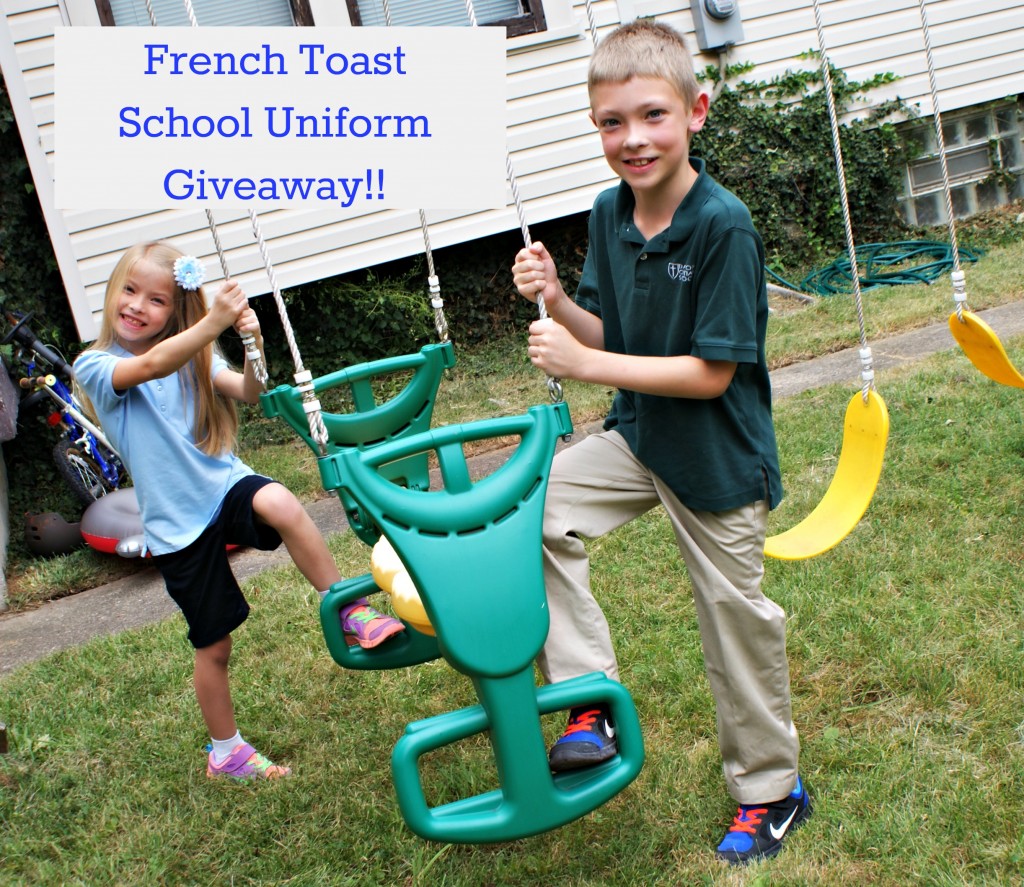 I had heard of French Toast before but never tried them. I have pretty high standards for uniforms, so I put these to the test. (As much as one can with just a couple wearings.) Obviously, the FULL TEST will be to see how they do over time. One of the things I've found about uniforms is that you can't really tell the quality until you wash them. So, I washed these before the kids wore them, had them wear them, and then washed them again.
So far, these get an "A" for wash and wear! They came out of the dryer looking great! I was really pleased and impressed.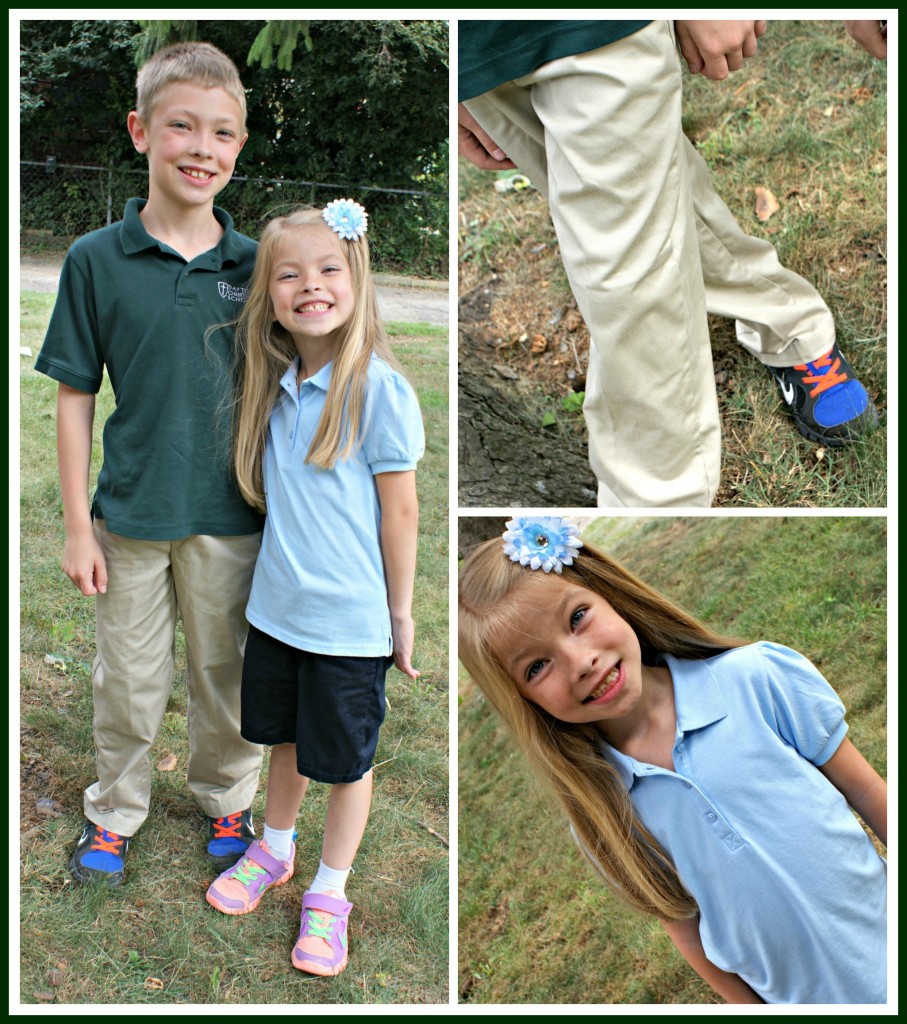 Let me tell you about the specific items I reviewed. First, I got Sophie this long-sleeve feminine-fit polo with a picot collar detail. I couldn't prevail upon her to do any more modeling (and we had to get to gymnastics to time was short the day I took these photos), but it is a beautiful shirt. The knit is very soft, and the feminine picot collar is an adorable detail.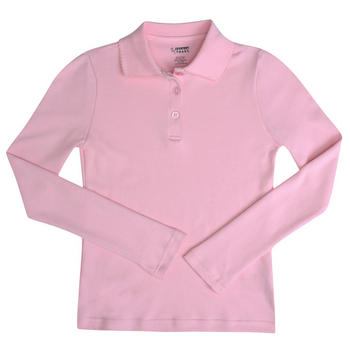 I also got a short-sleeve skinny placket polo which Sophie is wearing, in the photos above. French Toast's site recommends ordering 2 sizes up in this one because of it's but I think I could've gotten away with one size up. In any case, now she can wear it longer and I think it still looks great! It's so soft, and I really love how it washed so well and looks really sharp. The sleeves are very feminine too, which I enjoy!
Now, for Joshua – like most boys, he can be tough on pants, so we gave these adjustable waist slim double-knee pants a try. Joshua is super-slim, and so he needs both a slim fit AND adjustable waist and these had both and fit really well. Sometimes even slim pants that have the right length are too wide on him but these are perfect! And I checked – they do have the reinforced knee which most boys need! Once again, they passed my wash-and-dry test – I was very impressed with how nice they look coming out of the dryer. And Joshua attests that they are comfortable as well! Even for horsing around with your little sister!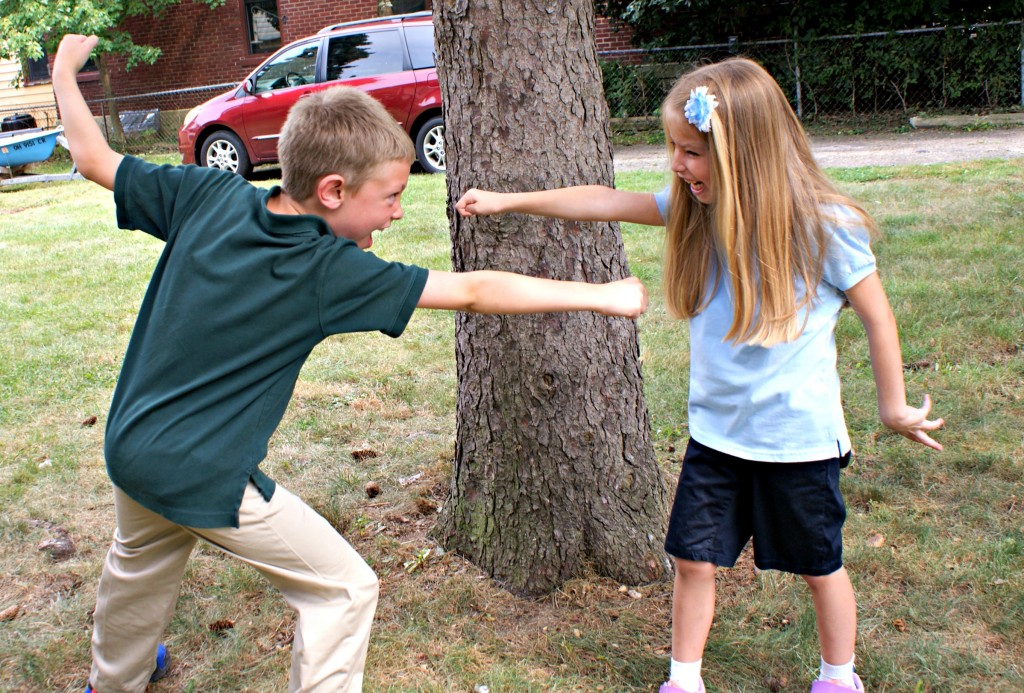 The last thing that impressed me about French Toast uniforms was the price – they are very reasonable and you know I like a bargain! I also found out that you can buy them through Staples (helly, EASY button!) which is very convenient. If you buy through Staples here, you can also get $5 off a $25 order, woohoo!
We are very pleased with the French Toast uniform items so far, and I look forward to seeing how they hold up over the school year! Feeling lucky? Enter below to win two tops and one bottom of YOUR choice from French Toast! Here's how to enter:
1) Go to French Toast's website and look around. Then leave a comment below telling me what uniform item you like the best (you can choose a different one if you want if you are the winner, no worries.)
2) An extra entry is available for Mommin' It Up Facebook fans. So let us know if you are a fan by leaving a separate comment for another entry!
One winner will be chosen at random on Wednesday, September 10 at 6pm EST! GOOD LUCK and have a GREAT school year!