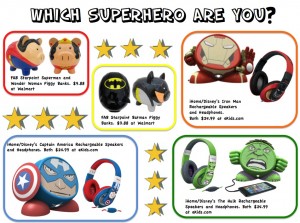 We have a couple superhero fans in our house these days, so I was excited about the chance to review the iHome/Disney Hulk wireless speakers.
Actually, since I'll never have the opportunity to use the things (my kids have an elaborate schedule of ownership, and it doesn't include me), I asked Kate to review it for me.
Here's what she had to say:
I think the Disney/iHome speaker is great. I would usually turn the iPad on full volume and when I wanted to dance, jump around, and sing, it wasn't enough. The new speaker makes it perfect. I've only had it for about 45 minutes and I already know it's awesome!
Mama said that it was for my brother and me, but I think it was obvious that it would be mine. I really have been enjoying it. The speaker is really awesome. I'm listening to it now. I really like it. I think you would too!
And there you have it 😉