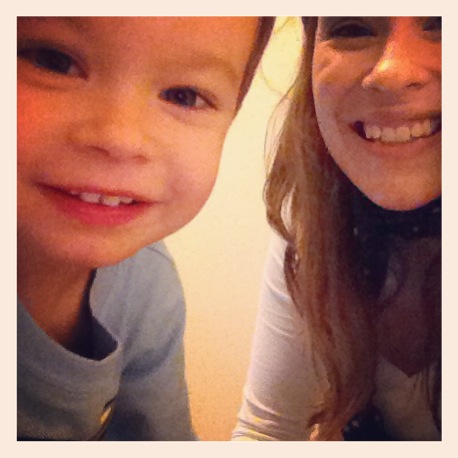 Yesterday Bobby and I made a big decision for Jonah. We decided that in January, shortly after he turns 3, he will go to preschool. It's a decision that I am all kinds of mixed up about. He is currently receiving developmental services through our county's arm of Help Me Grow; however, they kick you out of that when you turn three. And they start the transition process to the local schools fairly early so everyone has plenty of time to get ready for the next step.
So, about three weeks ago, Jonah was evaluated by a team of professionals from our local school district, and yesterday we got their results. They agreed with us that he is speech-language delayed and that he qualifies for services. He could either get services once a week at home one-on-one or go into a classroom where he'd be taught by and Intervention Specialist and receive speech once a week from a Speech Language Pathologist. Because we are able to get him into the same school and the same classroom with the same teachers that Sophie had, we opted for school. Starting in January, just three weeks after he turns three, my baby will be going to preschool 4 mornings a week!
I really cannot believe it. Part of me feels very nervous about sending him out the door 4 days a week at such a young age. Honestly, if I would not have been able to get him in that classroom, I might have opted for the home intervention. But I LOVED Sophie's teachers and I feel genuinely happy that Jonah will get to be with them. And also? Jonah needs some FRIENDS. Not many of my friends kept having babies when I did, and Jonah has not had a ton of opportunity to interact with peers. He really, really, really needs that social experience and I think it's going to do wonders for his speech.
Now, I have 3 months to get him to be cooperative in a classroom setting. Yikes! That is what I'm most worried about. He has class for one hour at Help Me Grow, and he does not like to go with the flow. He likes to do what he wants to do, when he wants to do it. But, he's only been in the classroom setting 4 times so far, and one hour a week makes it hard for him to adjust. Twelve hours a week of preschool I think he'll catch on to much more quickly. I'm praying fer-vent-ly that he does!!
In addition to all this, he's still seeing his private speech therapist once a week and he's doing really well with her. And, he's doing great at home. He's really starting to let the 3-and-4-word phrases slip out a lot now. He has made some great progress, but he still has a long way to go.
Thus, preschool!
I'm usually the mom who's thrilled to kick her kids out the door to school, but I think this is going to be hard on me. I'm not ready to let my baby go out that door yet! I think I'll be crying for a few weeks and nervous for a few more.
In the mean time, I'm going to enjoy the moments I still have with him at home, and keep working with him on his speech. I sure am proud of my sweet little guy!