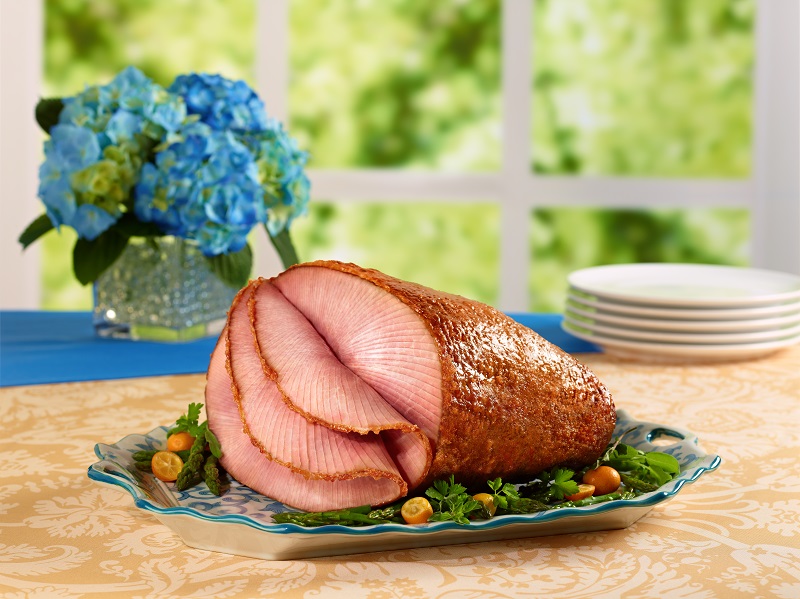 Well hey there, remember last week when we had a $50 HoneyBaked gift card giveaway? That you ALL wanted to win?
Well, the winner has been chosen, completely 100% randomly but also completely 100% ironically – it's Holly Michael! Congrats Holly! Holly's win is ironic because her husband is…wait for it…a PIG FARMER. And her blog is called "Bringing Home the Bacon". I'm cracking up! Well, Holly, you, like me, may have lost the funny writing contest (*cough*robbed*cough) but you WON the HoneyBaked gift card. CONGRATS!
Now, if you are bitter that YOU didn't win (I'm looking at you, MOM) – never fear! It's National Spiral Ham Day (I'm serious. As a heart attack. So just focus on this new meaning to April 15th and forget about your tax deadline!) so Emily and I are joining together with HoneyBaked and some other great bloggers for a fun Twitter party tonight to talk about ALL things HoneyBaked and Easter traditions. Of course, we will have PRIZES – lots of $50 HoneyBaked gift cards to give away!
Still jonesing for a HoneyBaked WIN? Join us tonight on Twitter from 8-9 PM EST. Follow @jennyitup, @momminitup, and the hashtag #HoneyBakedHost to win! If you're coming, please let us know by RSVPing at this link.
Can't wait to tweet with you all tonight! Happy Ham Day!