Life is crazy right now. Andy's (16th and final) tennis season has started, both the kids have birthdays this month, Sam's playing t-ball and Kate is swimming. It seems we're always moving, going, doing.
Last night, though, I sat at the kitchen table alone. The kids had already eaten at Grandma's and Andy was eating with the tennis boys. I was eating leftovers and playing Candy Crush, not paying too much attention to either one.
Before long, I looked down and saw this.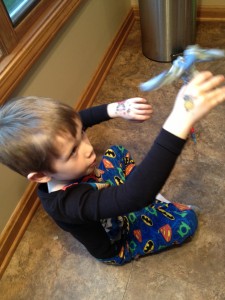 Sam picked a spot on the kitchen floor, right beside me, to play with his action figures. He didn't say anything to me, and we didn't talk, but we were close to each other, and that was enough.
A couple minutes later, someone else joined our party.
Kate came out to discuss her costume for her upcoming school play.
As I sat there with the two of them, with nothing special, nothing in particular going on, I felt an overwhelming sense of gratitude for those two amazing kids. Gratitude for the simple moments, for that moment in time. For kairos.