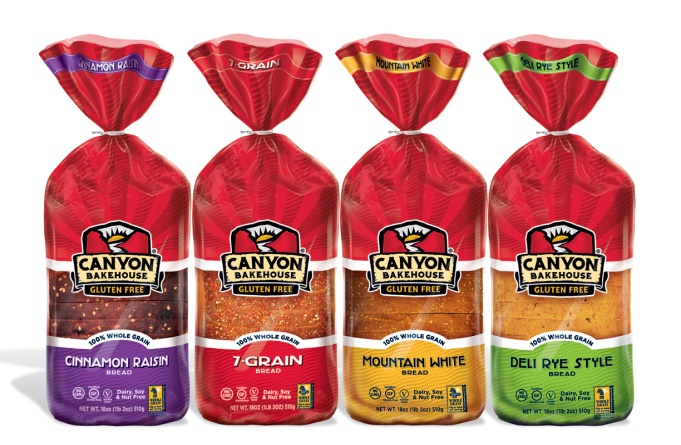 Even though I've been gluten-free for almost a year and a half now, I am still continually challenged to find great GF products. Now that Jonah is gluten-free AND dairy-free, that challenge has gotten even more…challenging! So when Canyon Bakehouse asked if Jonah and I would like to try their gluten-free dairy-free breads, I may have responded IN ALL CAPS because I WAS SO EXCITED!!
The Canyon Bakehouse box o'goodies arrived and I tore into it…I tried the 7-grain bread and Jonah tried the Cinnamon Raisin bread (I don't like raisins, so I picked them out – but he LOVES them.) They were both totally delicious and SOFT. Canyon Bakehouse is definitely Jonah's favorite bread of all the kinds we've tried so far. He always wants seconds!
I was also really, really, excited that Canyon Bakehouse included a loaf of their Rosemary-Thyme Focaccia bread in the package. I hadn't had any sort of specialty bread in a LONG time and it was a REAL treat. (I also LOVE Rosemary, so yay!) It is so, soooo, sooo soft and delicious. Definitely the softest, tastiest GF bread I've ever had. I LOVED it. Mmmmm I wish I had some more RIGHT NOW! I was sad to see that loaf go (well, not too sad, because it was in my BELLY!) I am definitely going to need more of this.
I have to give these breads two enthusiastic thumbs up! And I am super-happy that I get to GIVE AWAY a box of Canyon Bakehouse goods to one lucky winner! All you need to do to enter is head over to their website and look around, then leave a comment below telling me which variety you'd like to try.
Contest ends Wednesday April 30 at 6 pm EST. GOOD LUCK!! And thanks Canyon Bakehouse!