One of my favorite things about the approaching holiday craziness is…that my favorite game-makers from the Wonder Forge always ask me to review some of their new games. YAY! I love this because I love playing their board games with my kids. If you've been reading this blog for awhile you know that's true, and you also know I love using games to help my kiddos who have or have had speech delays – Jonah is currently still in speech. This time around I picked two games with Jonah in mind and one for the big kids. First up – the Tickety Tock Chime Time game for Jonah.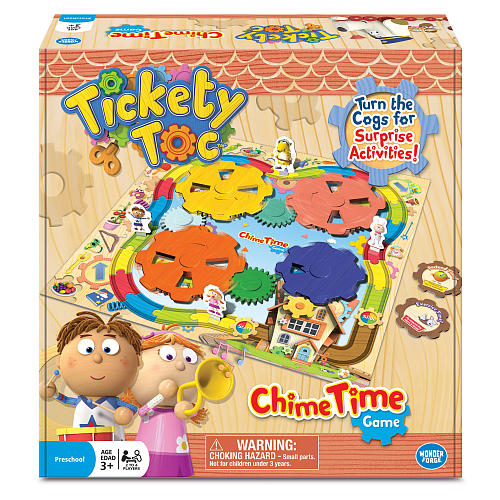 This game is a lot of fun! The reason I chose it is because there are a variety of cards you draw as part of the game that have activities on them (for example: pretend to walk a tightrope) that you have to do. This is great for teaching Jonah to follow directions and since the activities are silly and fun, he enjoys them. As a matter of fact, he gets a little impatient to get to the cards, so I've modified the way we play a little bit, but I think most older three-year-olds will love it just the way it is. I highly recommend it, it's really fun!
For Joshua, I picked out Marvel Avengers: Slide Strike! – but Sophie loves it too!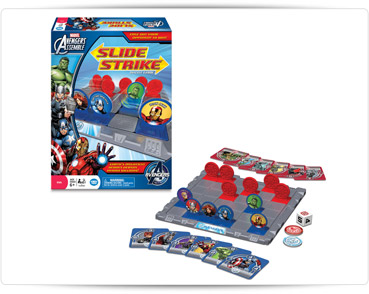 This is really fun because it involves both strategy and surprise – not to mention Joshua's favorite Marvel characters. Plus, every character combo that battles against each other yields a different outcome. So, the game is really different every time you play!
The last game I reviewed is super super fun – Dr. Seuss Charades!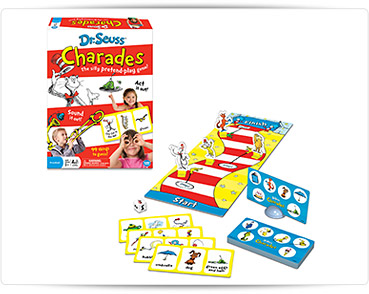 Jonah loves, loves, loves Dr. Seuss, and I'm always trying to get him to pretend, so this charades game is PERFECT! Plus it involves a little instruction-following too which is always good. Sophie really gets into this game too and we love to play it together – the whole family enjoys watching Jonah play this, he's so cute because he's having so much fun!
Well, that's the low-down on three of the new games from the Wonder Forge this holiday season, but there are plenty more where that came from! Check out all their games at their website – they even have Frozen games if you've got a Frozen fan (like most of us!)