This post is sponsored by Meijer. All opinions are my own.
Eeeeek I am so excited about the Avengers: Age of Ultron movie! Are you surprised? Perhaps you knew that my kids love the Avengers:
Exhibit A: Joshua and Jonah on Halloween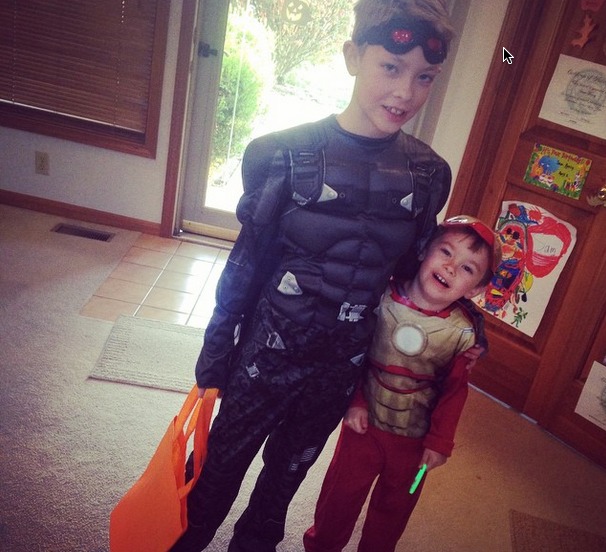 Exhibit B: Joshua and Jonah's bedroom door:
But I love them TOO! My husband does too. We really enjoy the Marvel movies and Agents of Shield on TV. I am obsessed with Joss Whedon (have loved him forever as he created Buffy the Vampire Slayer) who directs/produces the Avengers movies and Shield soooo…I AM SUPER EXCITED THAT AVENGERS: AGE OF ULTRON is coming out tomorrrow! (oops did I yell that??) So, when Meijer asked me to team up to spread the word about Avengers: Age of Ultron the movie AND products you can get at Meijer, I was more than happy to oblige!
Emily and I were just discussing (as she lives in an Avengers-crazy household, too) that we are TOTALLY drawn to the Avengers branded items at Meijer. She even bought Avengers-branded Ziplock bags because, well…AVENGERS! Here are some of the products from Meijer that my family has been enjoying.
Breakfast with Avengers Age of Ultron? But of course!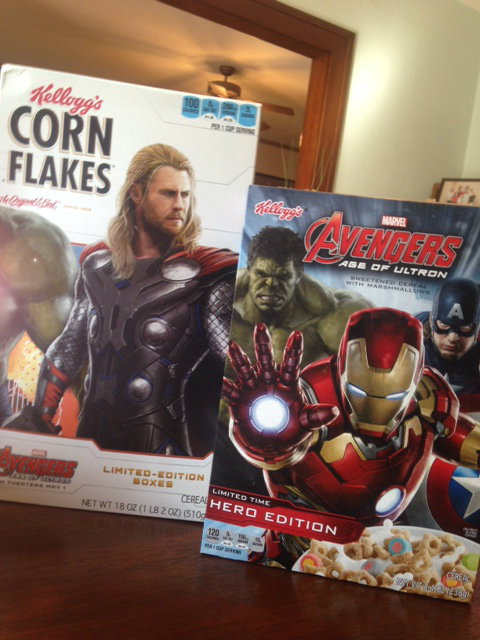 I forgot to take a pic of the Avengers Age of Ultron Dr. Pepper I bought for myself at Meijer and drank. It was even more delicious than usual!

As I mentioned, Meijer has all these great products and many more with Avengers Age of Ultron packaging your whole family will LOVE! And to celebrate, I am giving away TWO ticket vouchers for Avengers Age of Ultron and a $25 Meijer gift card! Whoop whoop!! All you have to do to enter is comment below with your favorite Avengers Age of Ultron character AND your favorite product to buy at Meijer (can be anything! Not just Avengers stuff.)
I will pick one winner this FRIDAY, May 1 at 6pm EST! Ticket vouchers will be emailed so you can use 'em quick, and the gift card will be sent via mail.
Good luck and happy Avenging!!