Well, guys, it's D-Day. Really H-Day, but that doesn't sound so catchy, now does it?
By the time you read this, Emily will begin her transition from a being woman to being a man with a uterus, ovaries, and fallopian tubes, to being one without those oft-crucial but now unnecessary and troublesome parts.
Yesterday I was at the OB-GYN for my yearly fun and to follow-up on that business with MY ovaries from last month (apparently the SuperCousins are keepin' the doc's kids in college this year) and so I said, "Hey ya know, Dr. P, Emily was in the OR when I had my last C-section so I think I should be allowed into the OR when you do her hysterectomy on Wednesday so I can live tweet it!"
She laughed really hard.
And then she said NO.
DANGIT! Can you believe that?? Dr. Buzzkill! She also told me I can't make Emily laugh for 2 weeks, which is going to be difficult because
a) I am naturally hilarious and
b) I plan to be by her side literally 24/7 as she recovers. (Except for when I'm working, sleeping, taking care of my kids, showering, running carpool, at speech with Jonah, or at church.)
But I'll try not to make her literally bust a gut.
Anyway, naturally last night we had one final text convo before the big change: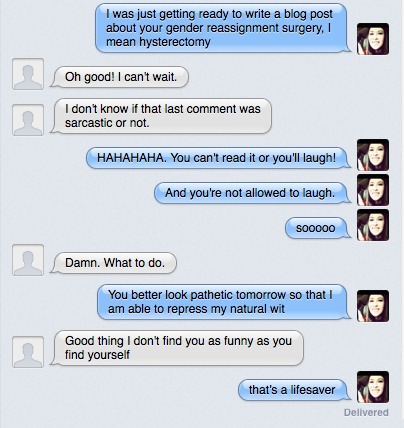 I won't screen shot what Emily texted next because she will literally kill me as soon as she regains her strength. SO. Sorry!
Anyway, on the off chance Em does wake up a dude, instead of just a lady with no lady innards, I've been thinking about what name she should give her male persona. And since the famous Olympian-turned-reality-star-turned-chick has recently vacated the name "Bruce" – I think that's definitely on the table!
I'll keep you updated on Facebook on how Em is doing, especially if I get any videos of her getting wacky on painkillers.
But really…she appreciates your prayers as she gets operated on and recovers tomorrow. I'll keep you posted!