So a few weeks ago I told you I was gettin' a little bit crunchy. You know, just a tiny bit more into natural foods and natural remedies…I still wash my hair and everything, so don't get TOO alarmed (I do use salt deodorant, though. That's happening.) but I am looking into using natural when I can and should. And that's why about a year ago after reading some very informative articles on the interwebz, I started using tea tree oil LIKE A BOSS. I started using it for two reasons: 1) it deters lice and I am terrified of my kids getting lice, so I put it in their shampoo, detangler, etc. and 2) I heard it was good for acne and I mentioned last week, I have struggled on and off with hormonal acne.
Long story short, I love tea tree oil and I use it for some reason or another pretty much every day. It has antiseptic properties and it's amazeballs. GOOGLE IT! You'll find out it's true.
That's why earlier this year when I heard there was a natural tea tree oil-based skin cleanser coming out soon, I got SUPER EXCITED. Did I want to cleanse my face with something completely all-natural? Yes I did. Did I want it to have the benefits of tea tree oil? HECK yes I did. So when Tea MD Skincare finally came to be, I couldn't wait to try it.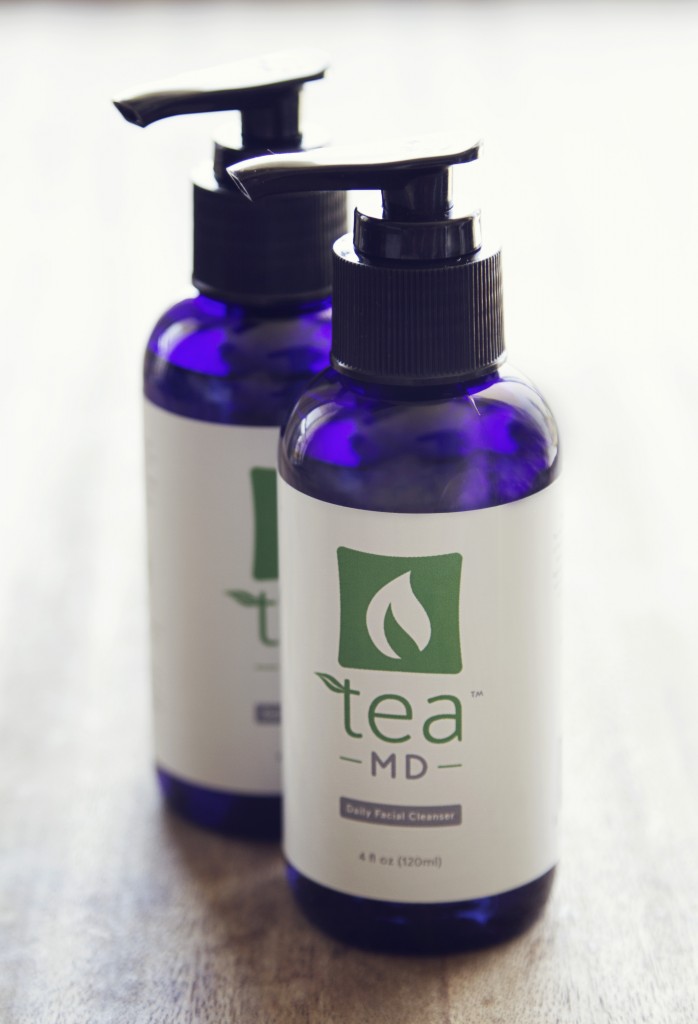 I MAY happen to know some of the folks that work at Tea MD Skincare and I may have BEGGED them to let me review it…so this isn't exactly a sponsored post, though they did give me a bottle to review, which I super-appreciate! Let me tell you why I was so excited to review it.
Tea MD Skincare was invented, if you will, by a doctor (who just happens to be local to my area, by coincidence) who for years helped patients with big skin problems. When "traditional" medications didn't always work and the alternatives were harsh on skin, he turned to  a natural solution – tea tree oil – and began treating his patients with it. Based on these years of successful treatments, he felt he needed to get this product into the hands of the general public so they could kiss their skin care woes and acne troubles goodbye. So, Dr. Ismailjee put Tea MD into a bottle and ta-da – here we are!
Ok, so it possibly wasn't that simple, but here's the deal: Tea MD is AWESOME and now it's available to regular old skincare freaks like you and me.
After using Tea MD for two weeks, I can tell you this: it's amazing. I love the minty-fresh scent and the tingly feeling it leaves behind (it's a good tingly, I promise!) And I can attest to it's acne-fighting prowess; I had a hormone breakout slip through last week and it went away MUCH faster than usual and left way less damage in it's wake. Previously, I have always just had to let these run their course, and no treatment was effective. Needless to say I was REALLY pleased with the results I saw while I was using Tea MD! And also that those results were achieved with an all-natural face wash. All I did was wash my face, nothing more! No chemicals required!
I am using a lot of exclamation points, because I am EXCITED! About! Tea MD!
If you are also excited about natural skin care, about acne-fighting, tingly feel-good faceness, then I have good news for you in the form of a 25% off coupon code. Say what?!?! That's right, you can get the good stuff shipped to your door at a discount using the code BC1411 at checkout. So go check out Tea MD Skincare and get on your way to a fabulous skincare relationship! The 25% off code expires October 31st so go use it lickety split!
Thanks Tea MD, for letting my try our your fantastic face wash!