I wrote this post as part of my participation in a blog tour for The Motherhood on behalf of the makers of Children's MOTRIN® and received compensation to thank me for taking the time to participate. However, all opinions expressed are my own.
When I became a mother, I had no idea what I was doing. I think a lot of us can say this, right? Despite the fact that I had long hoped to become one, despite the fact that I had a wonderful mom and sisters-in-law to model motherhood for me, when it came down to it, I was clueless as to what I was in for. Luckily, with Joshua, I had a pretty easy baby. And even the tough times with him were pretty easy to get through. Parenting for me became a real challenge when he got old enough to discipline. When you had to tell that sweet baby "no" to keep him safe and teach him to respect others. But again, he was a fairly easy and compliant child.
And then I had this one:
And my world was rocked. It was only after I went from one kid to two, from a laid-back kid to a difficult one, that I struggled as a mom. Sophie didn't sleep for squat and neither did I. She nursed CONSTANTLY and I can remember being zombie-tired, nursing Sophie while trying to get Joshua on and off the potty, or get his lunch, or build a train track – all with a baby on my boob and running on a couple hours sleep.
But I did it. Because I'm a mom. And I think you don't know what you're capable of as a mom until you're in the thick of it. But as hard as it was, time after time, I managed to rise to the occasion. Because that's what moms do – we are equipped, I believe, to rise to that tired, messy, sometimes scary occasion over and over and over again. Because we know somehow that it is going to be worth it. We know that we can do it even when it feels like we can't. And we do.
Now even though I think we as moms are totally equipped to rise to the occasion, we are still human. No one is more human than I, and thankfully when I REALLY needed help, I had family and friends who jumped in to make sure I wouldn't lose my mind during those difficult weeks. I hope and pray you all had that, too!
When I was pregnant with Sophie, about 3 months before she was born and turned motherhood on it's head for me, I met my best friend Luanne.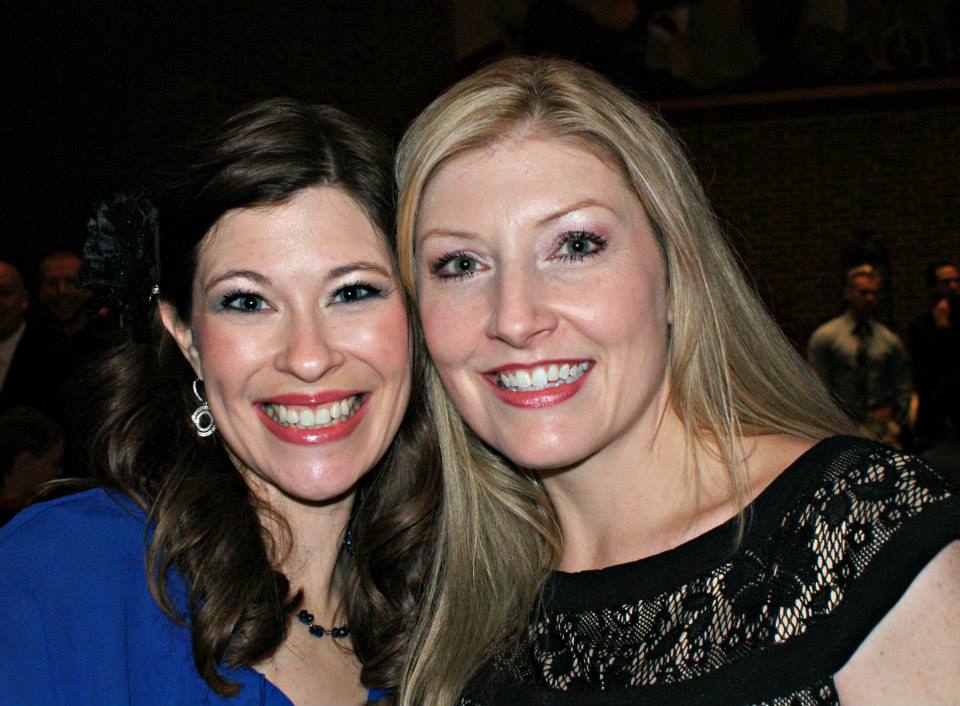 I know that the Lord brought her into my life at this time for a reason. Just when mom life was about to get really hard for me, he gave me Luanne as an example of a truly Unstoppable Mom – one who faced all kinds of challenges and handled every single one with God's help and who was always there for her kids no matter what the circumstances. Ever since I met her, she has been there to show me as one who has "been there, done that" (and a whole lot more) that I could do it, that I would do it, that I was the best person to be my kids' mom. And she still provides me with this encouragement all the time.
Luanne was a single mom to two girls for a long time, working hard full time and taking great care of them, being and providing everything for them day in and day out through plenty of  heartache and adversity. She has mothered her girls through situations that are unfathomable to me. And done a hell of a job. And then she became a stepmom also, and homeschooled three children while dealing with some serious health challenges brought on by lupus, polymyositis, and rheumatoid arthritis.
The fact is: Lulee (as I like to call her) has spent just about every moment of every day of the last 15 years in a lot of pain. Like, a lot. And 99% of you who have met her would never know it. I am a total wimp and I am quite sure I can't grasp how much pain she has to slog through every day. And yet she has just worked through it. Mothered through it. Homeschooled through it. And now that her kids are grown, she works full time again through it and she Grandmas through it. She is truly, truly, unstoppable. I have never met a stronger or more determined mom. If you know Luanne, you know that God put her on this earth to be a mom. And luckily, to show younger (I had to, Lulee) moms like me  how we can rise to the occasion with the Lord's help and do what he has equipped us to do -be unstoppable! She was a great encouragement to me through all my struggles with Sophie's developmental delays, when I was very, very scared and it was very, very hard, I had a great example to look to in Luanne as someone who had walked through scary and hard things with her kids. And she encouraged me and prayed me through it. I honestly every day of my life don't know what I'd do without her.
The Makers of Children's MOTRIN® gave me this opportunity to write about my BFF Lulee, the most unstoppable mom I know, because they want to celebrate moms and what makes ALL of us unstoppable!  So they, and I have two questions for you.
What makes you unstoppable as a mom? Who is an unstoppable mom in your life?
The makers of Children's MOTRIN® would love for you to share your unstoppable tips over on the Motrin Facebook page. Because one of the best ways we can help each other be unstoppable is to share what works for us! And what's awesome about that? For every tip shared, they will make a $1 donation made to Safe Kids. Your tip might also win you $100 just for posting (all details on the Motrin Facebook page)
*NO PURCHASE NECESSARY, OPEN TO LEGAL RESIDENTS OF THE 50 UNITED STATES & D.C., 18 AND OLDER. VOID WHERE PROHIBITED. Promotion ends 11:59p.m. ET 12/28/14.  Sponsor will donate $1 for each approved Submission made as part of the promotion, with a minimum donation of $30,000 and a maximum donation of $50,000.  For Official Rules, and complete details, visit www.unstoppablemoms.com. Sponsor: McNeil Consumer Healthcare Division of McNEIL-PPC, Inc.  To learn more about Safe Kids Worldwide visit safekids.org
Go give the unstoppable moms who have  inspired you a big shout-out today, and share your tips to help other moms, too!
Who's the Unstoppable Mom in your life?? I'd love to hear all about her!