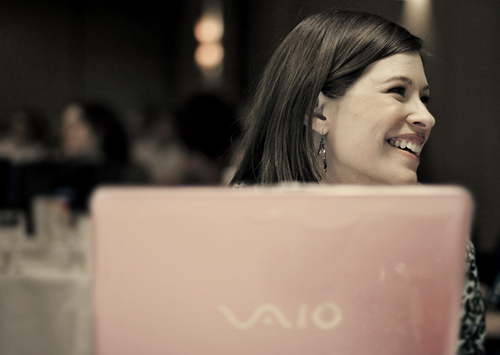 Photo by Secret Agent Mama
Jenny is the mother of a toddler, a five-year-old and an eight-year-old and is currently inching toward her mid-thirties whether she wants to or not. She has been married for twelve years to her high school sweetheart. In addition to her duties at Mommin' It Up!, she is a stay-at-home mom.
Jenny loves being a mom,  beauty, blogging, Jesus, apps, and coupons – not necessarily in that order. Recently she been focusing on blogging about how to help your child overcome developmental delays, based on the experience she's had with her daughter.  Jenny enjoys being a contributing writer for the Baby Brezza blog.  She is also a member of the ConAgra Foods Shared Tastes Panel on ReadySetEat.com, and along with Emily, was one of Frigidaire's Test-Drive Moms and a Granite Transformations Trendsetter Blogger. Some of her other favorite brands she's worked with include Lands' End, Intel, and Vicks VapoRub.  You can contact her via email at jenny at momminitup dot com.
And now…
100 Things About Me
Edited and updated on January 1, 2009! Some of these things have changed since I wrote this!  Edited and updated on April 18, 2011.
1. I grew up in the suburbs of Dayton, Ohio.
2. I have two older brothers who are both teachers.
3. My parents are also teachers.
4. My brothers married teachers.
5. I am not a teacher.
6. I grew up going to church and went to a Christian school from kindergarten and a Christian college, so
7. I am kind of weird.
8. I met my hubby in 6th grade.
9. We got married at age 22 after 4 years of dating.
10. My hubby is an auto tech at a Lexus dealership.
11. I have three children, Joshua, Sophia, and Jonah.
12. I have two cats, but I wish I had zero cats. (I am now down to one cat! Holla!)   I have zero cats! Yes!
13. My favorite ice cream is Chocolate Marshmallow from United Dairy Farmers.
14. I looooove Will Ferrell.
15. I saw Happy Gilmore seven times in the theatre – 6 with my husband (who was then my boyfriend) and once with my cousin Emily.
16. My best friend growing up, Erin, and I had our baby boys on the same day, at the same hospital, 15 minutes apart. We were in rooms next to each other until…
17. I had to have a C-section with my son, because although I tried to push him out, his head was too large for the opening in my pubic bones. So I opted to have one with my daughter also. She was bigger than him and also had a ginormous head.  Also had one with baby #3, so I could get my tubes tied while I was at it.
18. I hate wearing shorts.
19. I went Asbury College in Wilmore, KY.
20. I have a bachelor's degree in Media Communication.
21. I used to work at the local WB affiliate.
22. I used to work for our local minor league hockey team.
23. I used to work for the National MS Society (with Emily!).
24. I used to work for Home Instead Senior Care (best job I've ever had!).
25. My husband and I work with the youth group at church. Go to a new church now and are not yet selflessly sacrificing of our time in this manner. 🙂
26. My husband is constantly afraid I am going to embarrass him on this blog.
27. I love to sing, but not in public.
28. I was in Annie and The Music Man in high school.
29. I still have three living grandparents. I have always had only three.  Now I only have two.  Both my Grandmas.
30. I'm claustrophobic.
31. I have sleeping problems.
32. My name is just Jenny not Jennifer… thanks MOM!
33. The mortgage company that handles our mortgage says my name is Jennifer.
34. I had to sign both Jenny AND Jennifer when we closed our mortgage, or they wouldn't have been able to close that day.
35. I am a stay-at-home-mom.
36. I go to a really small big and awesome church.
37. I live in the city in an old house.
38. My mom calls me Scooby Doo.
39. My husband calls me Tuter.
40. Emily calls me Jen-Jen.
41. My dad called me Shelly when I was little because…
42. My middle name is Michelle.
43. I can kick your butt at Trivial Pursuit.
44. I have been a bridesmaid 9 times (one more coming up in May 2008 for my Megan!!). 10 times.
45. I do a wicked Jan Brady impersonation.
46. I looooove Saturday Night Live and have since I was about 12 or so (way too young…thanks Older Brothers!!).
47. I love Buffy the Vampire Slayer.
48. I went to the Dominican Republic on my honeymoon.
49. I love chicken parmesan.
50. My favorite candy is plain old Hershey bars.
51. I also love chocolate with mint.
52. I love to read, especially biographies.
53. My favorite fiction writer is Jennifer Weiner.
54. I was born on Labor Day and my birthday falls on it every few years.
55. I love Mountain Dew. I heart it actually.
56. I love sweet coffee. I am becoming an addict.
57. After my first c-section, my Dr. asked my mom and my husband, "Would you like to see the inside of her uterus?"
58. My mom and my husband have seen the inside of my uterus!!!!!!!!!!!
59. My husband said my fallopian tubes look like tubes and are "the color of innards."
60. I graduated from college a semester early because I wanted to get married and get on with my life!
61. In my one year old picture, I had hair past my shoulders and no teeth.
62. I drink a glass of chocolate milk every morning.
63. I have never been drunk.
64. My dad says about me, "Girl, you have every bad trait I have!"
65. My dad and I are a lot alike personality-wise.
66. I am not nearly as nice a person as my mom is.
67. My freshman year of college, three out of four people in my suite were named some form of "Jenny" – but we all spelled it differently. (Again, THANKS MOM).
68. I didn't learn to swim until I took a swimming class in college. I was the only one in the class who couldn't swim.
69. I am not a very good swimmer.
70. I am a total plant-killer.
71. I hated riding the bus when I was a kid.
72. I love books with old pictures of Dayton, where I live.
73. My house was built in 1917.
74. My parents moved out of my childhood home when I was 20 and it didn't make me sad at all for some reason.
75. I am a big crier.
76. I am not crafty at all.
77. I hate folding laundry.
78. I think my mom is the best mom in the whole world, even though – GASP – she didn't breastfeed me or my brothers.
79. I breastfed my son for 13 months and will about the same for my daughter (she is 8 months as I write this). HA HA HA HA! I weaned her at 23 months. Cause she wouldn't let me do it sooner.  Still nursing Jonah at 16 months…
80. If I could, I would sleep in til 10 a.m. every day.
81. I like lima beans.
82. My favorite flower is the iris. We always had tons of them at my house when I was growing up.
83. My wedding bouquet was a replica of my mom's.
84. I am a major cheapskate.
85. I LOVE to shop at Big Lots CVS.
86. I like to talk about my kids' poop.
87. I like to make up songs about my kids. My son knows all the words to my silly songs.
88. I am extremely unathletic.
89. After I had my first child, I got a wicked carpel-tunnel-like syndrome in my left hand called DeQuervain's Disease. It hurt a lot. I had a recurrence with my 2nd child, but not as bad.  With my third, it was super-bad again.
90. I like to wear orange.
91. Tangerines are my favorite fruit.
92. I love bowling but I am horrible at it.
93. I hate aerobic exercise.
94. I love Pilates.
95. I won my school spelling bee in 5th grade.
96. I was valedictorian of my high school class.
97. I only took one math class in college. HOLLA!
98. I was a French minor in college.
99. I don't remember much of it.
100. I love it when my children play with my hair.